Solved NEET Questions on Biology for Class 11 and 12
BYJU'S provides a list of articles outlined by experts who suggest the most important concepts for NEET exams as per the NEET syllabus covered for all three subjects (Physics, Chemistry, Biology). The table below takes you directly to the corresponding topic where the detailed article along with MCQs is provided for a smooth, effortless searching experience.
Before going ahead to solve NEET question papers or taking up mock tests, make sure you cover the basic concepts in NEET and solve some sample questions appearing in the exams. Previous year subject and chapter-wise questions for NEET is a reliable study material covering all important topics and chapters. Including these in study plan will certainly help boost preparation and score high in NEET.
Questions provided will further enable students to understand concepts clearly. All the questions provided here cover essential points that could be missing in other NEET study material. Find NEET Questions With Answers here.
Also see: Answer Key NEET 2022
The topics listed below range from the basic to the most advanced topics, thereby having you covered. Have a look at the list of topics for NEET Biology questions for classes 11 and 12 below:
List of MCQs for NEET Biology – NEET Biology Important Questions Topicwise
Listed below are topics from all the chapters covered in NEET. These NEET biology important questions with solutions are provided for students to revise and solve and later assess their learnings.
NEET Questions With Answers:
NEET Questions on Biology with solutions – Important Questions of Biology For NEET
NEET is the most coveted medical entrance examination carried out across the country. It is an objective type, pen-paper test comprising 4 sections – Physics, Chemistry, Botany and Zoology. The maximum number of marks that can be scored is 720 marks and consists of 180 questions.
Biology NEET Questions and answers
50% of the paper is dedicated to Biology, as the NEET exam primarily aims at enabling students to take up seats in medical courses. Biology is one of the most important and vital sections in NEET. It includes theories, descriptions, discoveries, diagrams, definitions, explanations of differences and relations. Most of the concepts covered in the NEET syllabus are from the NCERT syllabus of Class 11 & 12. Other related sources make up for the rest of the syllabus.
Also Read: NEET Biology Study Material for 2023
Important Topics for NEET Biology – Categorizing Chapters Based on Weightage
Provided below is the categorization of chapters covered in NEET syllabus as per their weightage from previous trends. Note that this categorization is subject to change each year depending upon the number of questions appearing. The information provided below is data taken on an average from previous years' NEET question papers.
Most Important Chapters for NEET biology
Biological Classification
Morphology of flowering plants
Molecular Basis of Inheritance
Principles of Inheritance and Variation
Animal Kingdom
Sexual Reproduction in Flowering Plants
Human Reproduction
Moderately Important Chapters for NEET biology
Reproductive Health
Environmental Issues
Photosynthesis in Higher Plants
Breathing and Exchange of Gases
Plant Kingdom
Chemical Coordination and Integration
Cell- The Unit of Life
Organisms and Population
Biotechnology- Principles and Processes
Biotechnology and its Applications
Biodiversity and Conservation
Cell Cycle and Cell Division
Neural Control and Coordination
Anatomy of Flowering Plants
Digestion and Absorption
Biomolecules
Reproduction in Organisms
Evolution
Ecosystem
Less Important Chapters for NEET biology
Strategies for enhancement in food production
Mineral Nutrition
Transport in Plants
Human Health and Disease
Structural Organisation in Animals
The Living World
Microbes in Human Welfare
Plant Growth and Development
Excretory Products and their Elimination
Locomotion and Movement
Body Fluids and Circulation
Respiration in Plants
Don't miss: Detailed NEET syllabus for Biology
Students must study the less important chapters as well in addition to other chapters. Just that, while preparation, prioritize the most important chapters.
This was a list of NEET questions on Biology, NEET Questions With Answers, and more. Stay tuned with BYJU'S for more on NEET exams, the latest updates, and NEET notifications.
Also Explore: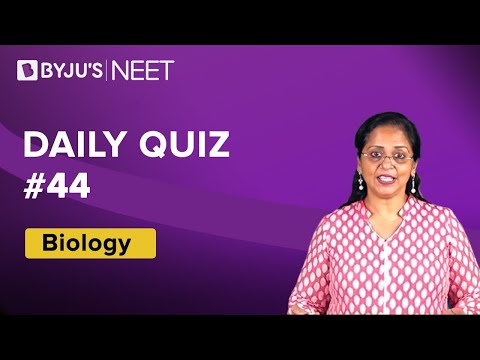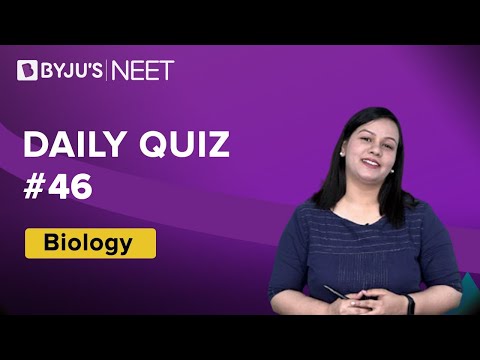 Frequently Asked Questions – FAQs on NEET MCQs
Q1
Where can I find NEET questions and answers?
Students can find questions and answers to solve for NEET on this page. NEET MCQs for all Biology concepts are provided on this page.
Q2
Are NEET questions easy to solve?
NEET is a challenging exam. Questions are framed in such a way that students must have conceptual clarity of concepts and regular practice to answer any question.
Q3
How many questions are asked in NEET exam 2023?
180 questions must be answered out of 200 questions.
Q4
How to solve NEET Questions With Answers?
While preparing, students must refer to study material and NEET questions with answers. Read the question, use the stepwise approach to answer questions, eliminate options in case of confusion, re-attempt the question later. Finally, if you still do not have the right answer, refer to the answers and solutions provided step wise to understand and solve the question again.