NTA NEET Question Paper 2017 with Answer Keys and Solutions – Free PDF Download
Students can download the NEET question paper of 2017 in PDF format, Answer Keys along with fully solved NEET 2017 Solutions from the links mentioned below.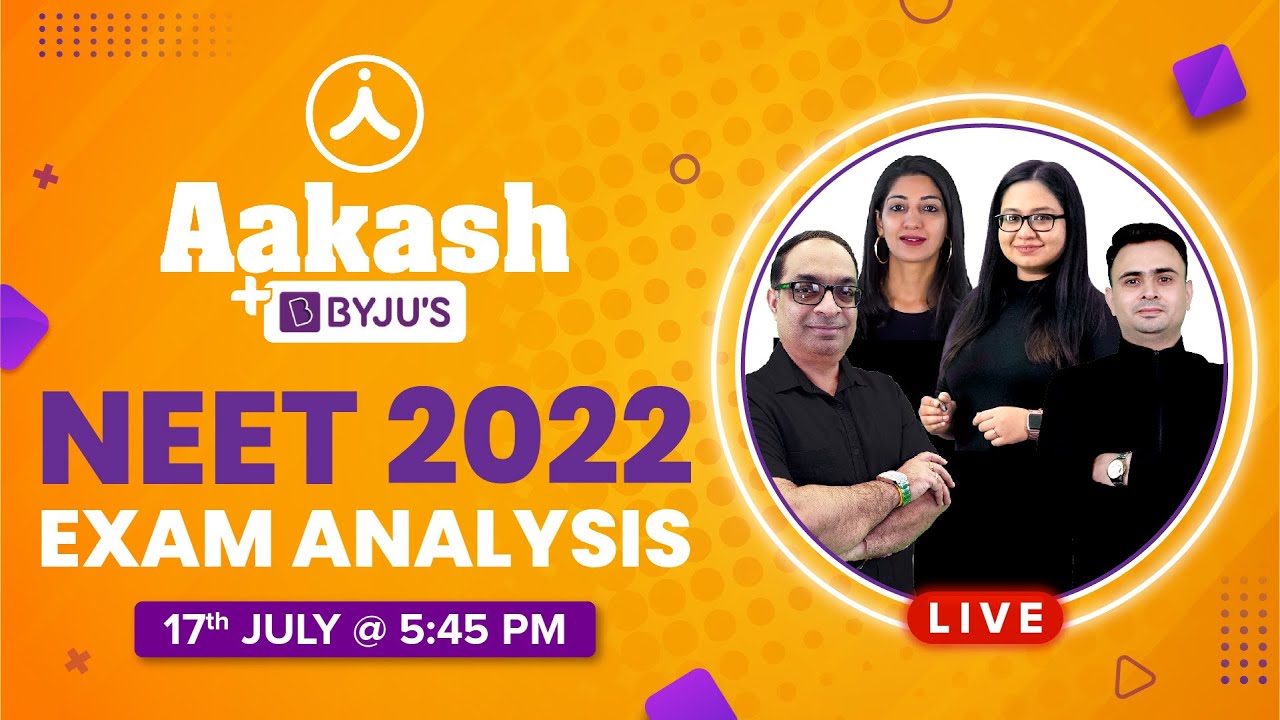 NEET 2017 Question Paper with Solutions and Answer Keys Download PDF
NEET 2017 Solutions – Free PDF Download
After solving NEET 2017 papers, the students are advised to refer to NEET 2017 solutions to understand the multiple ways of answering questions which can turn out to be of tremendous help during the main examination.
NEET 2017 Solutions – How are solutions provided for NEET 2017 at BYJU'S?
Academic experts at BYJU'S with years of experience in guiding young aspirants on the medical entrance test NEET have prepared solutions for NEET 2017 Question paper. Students can refer to these solutions during their NEET preparation after solving NEET 2017 paper. Some of the features of these solutions are –
Features of NEET 2017 Solutions
Solutions provided are to the point, concise, crisp and easy to understand
Answers to all the questions are accurate
In questions involving numericals, each step is explained, without missing any important detail
In those questions, where no option is correct, the solution is still provided to show the correct answer and justify why all the options provided are incorrect
Use of diagram wherever necessary for better understanding
Use of chemical structure to explain wherever required
Definitions and justifications provided where necessary
In match the following type of questions, apart from the answer the remaining options are matched too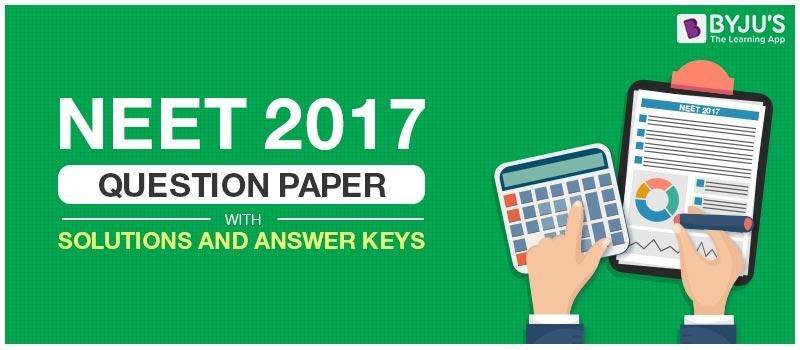 NEET Question Paper 2017 – PDF Download
Learning NEET in detail with 2017 Question Paper Answer Keys
CBSE conducted NEET 2017 in the offline mode of examination on 7th of May 2017. Soon after the exam, NEET 2017 Question Papers with answer keys and solutions were made available on the website. There were a total of 180 MCQs (4 marks each) with a time duration of 3 hours. All the MCQs were single correct option type objective questions.
There were four sets in NEET 2017 paper, namely, APRA, TARA, VANI & PITA (Regional Language). There were 90 questions from Zoology and Botany sections of Biology and 45 questions from each Physics and Chemistry. The question paper was set in 10 different languages – English, Hindi, Tamil Gujarati, Marathi, Oriya,  Telugu, Bengali, Kannada, and Assamese.
Also see: Important notes on NEET
2017 NEET Question Paper with Solutions
The students are advised to practice these question papers to get familiarized with the latest examination pattern. These NEET question papers will also help students to boost their speed, accuracy, and time management skills. Given below is the subject wise detailed analysis of the 2017 NEET question paper.
NEET 2017 Question paper – Difficulty Level Analysis
Subjects
Difficult Questions
Moderate Questions
Easy Questions
Total Questions
Total Marks
Total Questions
Total Marks
Total Questions
Total Marks
Chemistry
3
12
10
40
32
128
Botany
14
56
27
108
9
36
Zoology
15
60
20
80
5
20
Physics
10
40
22
88
13
52
Total
42
168
79
316
59
236
Our experts feel that the difficulty curve of the NEET 2017 paper and the 2016 paper was almost similar. Botany and Zoology were difficult while Chemistry was simplest in comparison to the other three subjects. Overall, 42 questions were tough, 79 moderate questions and 59 questions were easy.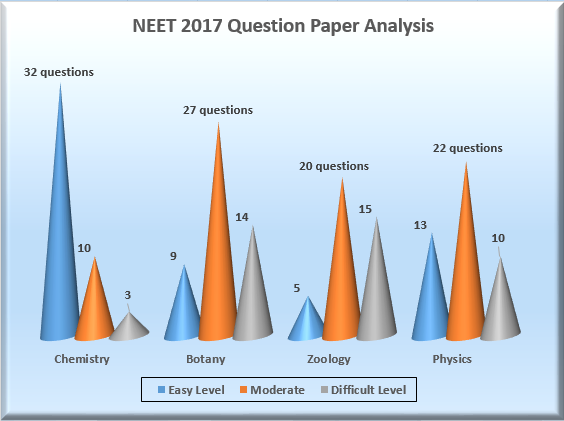 You might like:
NEET Quiz videos
NEET 2017 Question paper Physics Analysis
Topic wise Marks Allocation: Physics

Topic
Questions
Marks
Heat & Thermodynamics
5
20
Electrodynamics
10
40
Modern Physics
8
32
Mechanics
13
52
SHM & Waves
4
16
Optics
5
20
Total
45
180
NEET 2017 Question paper Chemistry Analysis
Chemistry Analysis

Topic
Questions
Marks
p & s block
2
8
Chemical Bonding
5
20
Coordination Compounds
4
16
Periodic Table & Periodicity
1
4
d & f block Elements
2
8
Qualitative Analysis
1
4
Metallurgy
1
4
Alkyl Halide, Ether, and Alcohol
2
8
General Organic Chemistry
3
12
Biomolecules
1
4
Aromatic Compounds
1
4
Chemistry in Everyday Life
1
4
Carbonyl Compounds
4
16
IUPAC & Isomerism
2
8
Environmental chemistry
1
4
Atomic Structure & Nuclear Chemistry
1
4
Practical Organic Chemistry
1
4
Ionic Equilibrium
1
4
Chemical Equilibrium
2
8
Chemical Kinetics
2
8
Mole Concept
1
4
Thermodynamics & Thermochemistry
2
8
Solid State & Surface Chemistry
2
8
Solution & Colligative Properties
1
4
Electrochemistry
1
4
Total
45
180
NEET 2017 Question paper Botany Analysis
Botany Analysis

Topic
Questions
Marks
Biological Classification
3
12
Cell Biology
4
16
Ecology
6
24
Genetics
5
20
Living World
1
4
Molecular Basis of Inheritance
6
24
Morphology
1
4
Morphology of flowering plants
1
4
Plant Anatomy
3
12
Plant Kingdom
6
24
Plant Morphology
2
8
Reproduction in Flowering Plant
5
20
Total
50
200
NEET 2017 Question paper Zoology Analysis
Zoology Analysis

Topic
Questions
Marks
Animal Morphology
1
4
Animal Kingdom
3
12
Biomolecules
4
16
Animal Physiology
1
4
Evolution
1
4
Biotechnology
3
12
Human Physiology
16
64
Human Health and Disease
3
12
Microbes in Human Welfare
3
12
Human Reproduction
1
4
Strategies for Enhancement of Food Production
2
8
Reproductive Health
2
8
Total
40
160
Referring To NEET 2017 Question Paper with Solutions
How Preparing with 2017 NEET Question Paper PDF Can Be Beneficial?
Preparation with previous years' question papers has always been on the students' checklist for NEET preparation. This way, when students prepare with the last 10 years' question papers and more, it only solidifies their learnings and other important metrics which are decisive for a good NEET rank.
Solving questions with solutions and answer keys can give students an insight into the actual NEET exam as to how questions are answered in the easiest way possible to save time in addition to getting acquainted with the answer keys for NEET. Hence, we have provided here the 2017 NEET question paper PDF along with answer keys and solutions to check from and assess performance side by side.
The students preparing for the examination should formulate a well-planned preparation strategy. To get success in any exam, practicing previous years' question papers is one of the best ways to prepare. NEET Question Paper with solutions and answer keys could help the students to prepare for the exam more effectively. Solving the question paper will give aspirants an idea about the question pattern, the difficulty level of the examination, and the question weightage.
NEET Question Paper with Answer keys and Solutions – 2017
All in all, if you aim at performing exceedingly well at NEET to secure a seat in your dream college, cracking previous years' NEET papers is a must. It is an excellent and authentic way to prepare for this competitive medical entrance test. Ensure to solve at least one NEET question paper each day to reap maximum benefits and for best results.
For your ease, we have provided NEET question papers from previous years below.
Recommended Question Papers for NEET Exam
This was brief on NEET 2017 question paper with solutions PDF. Stay tuned with BYJU'S to get information on physics, chemistry, and biology syllabus, marking scheme, exam pattern and other important exam related notifications.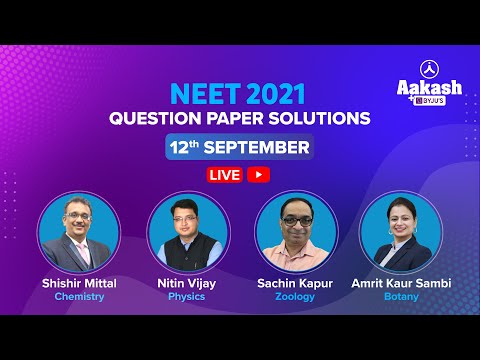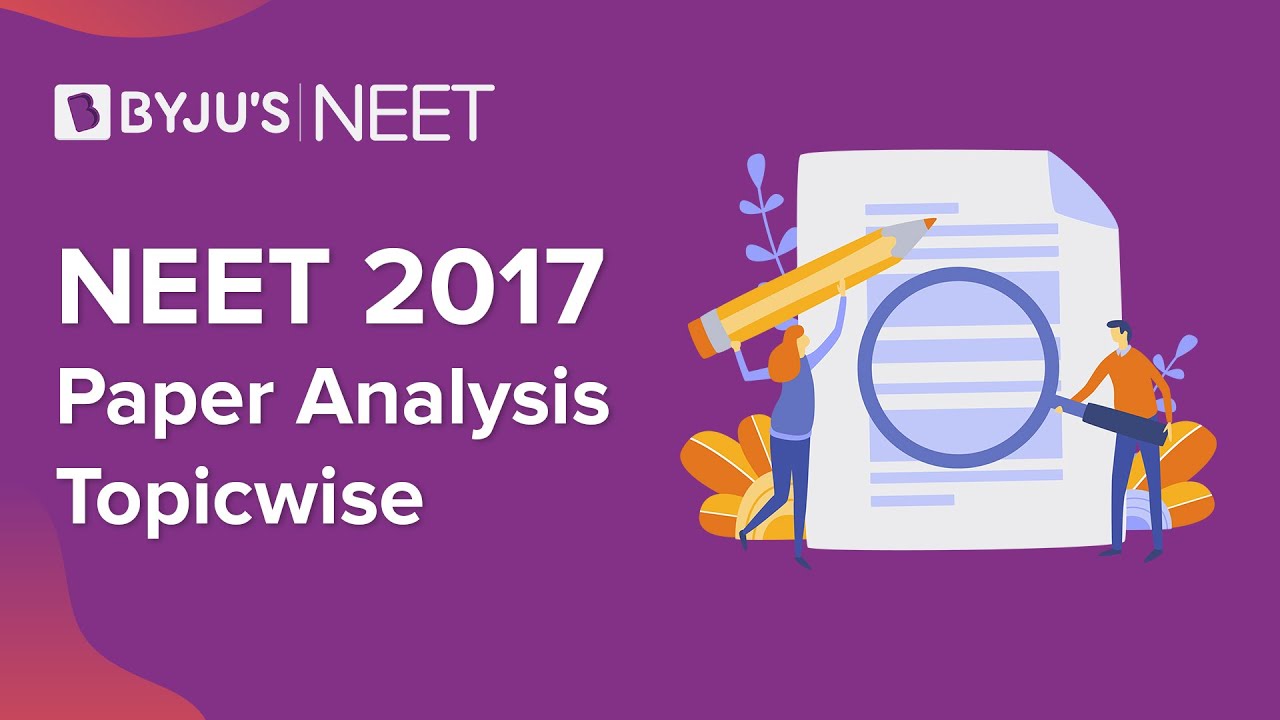 Frequently Asked Questions on NEET 2017 Official Question Paper
Q1
Where can I download the NEET 2017 official question paper?
The regulatory body of NEET, the NTA (National Testing Agency) conducts the NEET examination. The question paper for NEET 2017 can be downloaded from the official website for NEET, ntaneet.nic.in. Alternatively, for easier access can download the official question paper for NEET 2017 from this page. Just click on the download NEET 2017 paper with answer keys and solutions in PDF and click on the download icon. Save it for future use.
Q2
Was NEET 2017 tough?
As per experts, NEET 2017 was deemed to be moderate in terms of being lengthy and difficult, both of which are key in deciding the ultimate NEET score of students.