JEE Advanced eligibility criteria are important guidelines that aspirants should adhere to before filling the application form. Students are suggested to carefully check the detailed information on the eligibility criteria listed out by the exam conducting body. It will help them know a lot of important details about the exam like age criteria, nationality, number of attempts and more. Students will basically get to learn about the minimum requirements that they need to fulfil in order to appear for the exam. By checking the information provided students can analyze if they are eligible or not. Those who fail to meet the requirements will not be able to appear for the exam.
JEE Advanced Eligibility 2020
The complete information on eligibility for JEE Advanced is discussed below.
Nationality: Students who are the citizen of India, PIO (Person of Indian Origin), OCIs (Overseas Citizen of India) and Foreign nationals are eligible to appear for JEE Advanced exam.
Age Criteria: Students who have reached 25 years of age and above are eligible for writing the exams. The General category of students that are born on or after October 1st, 1994 and for SC, ST and PWD students the age limit has been relaxed to October 1st, 1989.
Total Number of Attempts: Students can appear for a maximum of two times in consecutive years for the JEE Advanced exam.
JEE Advanced Eligibility On The Basis Of Performance In JEE Mains
To be eligible for JEE Advanced, the students should rank within top 2,24,000 (including all categories) in JEE Mains. The percentage wise reservations of different categories are:
| | |
| --- | --- |
| Category | Percentage |
| OPEN | 50.5% |
| Scheduled Caste (SC) | 15% |
| Scheduled Tribe (ST) | 7.5% |
| OBC & NCL | 27% |
| PwD | 3% |
In JEE Advanced eligibility criteria, the top 2,24,000 students from different categories will be selected by the counselling authority in the following structure:
Category
Candidates
Total

OBC & NCL

62843

66150

OBC, NCL & PwD

3,307

OPEN

1,08,229

113925

OPEN & PwD

5,696

Scheduled Tribes (ST)

17456

18375

ST & PwD

919

Scheduled Caste (SC)

34,913

36750

SC & PwD

1,837

GEN-EWS

9310

9800

GEN-EWS-PwD

490

Total Students

2,45,000
JEE Advanced Eligibility On The Basis Of 12th Class Board Exams Or Other Equivalent exams
Students who are appearing for their class 12th board exams or any other equivalent examination in the year 2019 for the first time in all the subjects or have appeared for the same in the year 2018 are included in JEE Advanced eligibility criteria.
Students are eligible to appear for JEE Advanced if the results of their class 12th board exams or any other equivalent examination for the academic year 2016 & 17 were declared after June 2017.
The students belonging to general category must secure a minimum of 75% of marks and for students belonging to SC, ST and PWD categories must secure a minimum of 65% of marks in their class 12th board examinations or they must be from the list of category wise top 20 percentile in their respective class 12th equivalent board examinations.
The following five subjects will be considered to calculate the cut off marks and aggregate marks for fulfilling the JEE Advanced eligibility criteria of top 20 percentile:
| | | | | |
| --- | --- | --- | --- | --- |
| Mathematics | Physics | Chemistry | Optional Languages | Elective subject |
If the total marks scored in any of the subjects are not out of 100 then, while calculating the aggregate marks the total marks obtained will be scaled up and down to 100.
Students who have already appeared for their 12th class board examinations in the year 2017 and are appearing for the same in the year 2018, then, out of the two results, the best performance will be recognized.
Eligible for JEE Advanced
Not Eligible for JEE Advanced

If they were admitted in any of the preparatory course offered by IITs in the year 2018 for the first time.

If the seat acceptance fee was paid by them in the year 2017 but the seat was not accepted.

If they are currently pursuing an undergraduate course in IIT or ISM or if any of the IIT or ISM has cancelled their admission before.
If they have booked a seat in any IIT or ISM during the counselling of JEE Advanced 2018 by reporting at the respective centre.
Eligibility Criteria For Foreign Nationals
Those candidates who are foreign nationals have a different set of eligibility criteria laid out for them by the authorities. As per the details provided in the official document, candidates are treated as foreign nationals if they are not citizens of India or their parents are not Indian origin and that they do not belong to either OCI/PIO category.
Some of the other information that candidates should be aware of are;
Foreign nationals do not have the privilege of reservation of seats under any categories as directed by Govt. of India.

T

hese candidates are not required to write JEE(Main) 2019 and they can register for JEE(Advanced) 2019 directly subject directly to after fulfilling the required eligibility criteria.

Identity proof of both the parents and the candidate is required in the form of citizenship certificate/Passport.

Talking about the availability of seats, foreign nationals are allotted a maximum of 10% of the total number of seats in every course.
All foreign candidates who are planning to write the JEE (Advanced) 2019 exam have to first register online through the JEE (Advanced) 2019 website, (https://jeeadv.ac.in). The registration fee for JEE (Advanced) 2019 applicable to foreign nationals are given in the following table.
Registration Fee For JEE (Advanced) 2019
Registration Fee for Examination

Foreign Nationals

Candidates from SAARC countries

USD 75

Candidates from Non-SAARC countries

USD 150
The registration fee does not include any processing fees or service charges or any other charges that can be levied by the banks.

Detailed instructions related to the payment of registration fee is normally provided on the online registration portal.
Documents required for registration
12th standard marks sheet/certificate for cut-off.

Identity proof.

Birth certificate for verifying the age.

Citizenship certificate/Passport of parents.

Testimonial (if required).
Foreign Centres Where JEE (Advanced) 2019 Will Be Held
Thee are several centres where the exam is conducted. The centres include Colombo (Sri Lanka), Dhaka (Bangladesh), Addis Ababa (Ethiopia), Dubai (UAE), Kathmandu (Nepal) and Singapore.
The eligibility criteria of JEE Advanced 2019 highlights some of the minimum requirements that engineering candidates need to fulfil in order to appear for the exam. Those candidates who do not meet the eligibility requirements will not be allowed to appear for JEE Advanced. 
Note: The registration for foreign nationals has already begun for JEE Advanced 2019. As for Indian candidates, the registration will open on 3rd Mary 2019.
Overview Of JEE Advanced
JEE Advanced is the second phase of IIT JEE that is mainly conducted after JEE Main. The exam is conducted every year by different IITs on a rotation basis under the supervision of IIT – JAB (Joint Admission Board). Based on the performance in the exam, students are granted admissions into various undergraduate courses (engineering, science or architecture) offered at top IITs and ISM in the country. With some recent changes, the examination will be conducted in a computer-based online test comprising of two papers (Paper 1 and Paper 2). The exam will also be carried out in two sessions on the same day. Students have to appear for both Paper 1 and Paper 2 and clear them to have their names included in the merit list.
Frequently Asked Questions On JEE Advanced Eligibility Criteria
I appeared in Class XII examination for the first time in 2019. Am I eligible for JEE Advanced 2020?
Yes, you are eligible provided you satisfy other eligibility criteria for JEE Advanced as well.
What is the relaxation period for ST, SC and PwD aspirants?
Five years relaxation is given to SC, ST and PwD candidates.
How many JEE Main candidates are eligible to appear for JEE Advanced?
A total of 2.45 lakh AIR holders of JEE Main will be eligible to appear for JEE Advanced.
What subjects are considered for JEE Advanced eligibility?
For JEE Advanced the minimum qualifying mark is 75% in class 12. Candidates need to have studied subjects like Physics, Chemistry, Mathematics, and English or Hindi.
Stay tuned with BYJU'S to know more about JEE Advanced 2019, paper pattern, question papers, important question and more.
Introduction To Chemical Bonding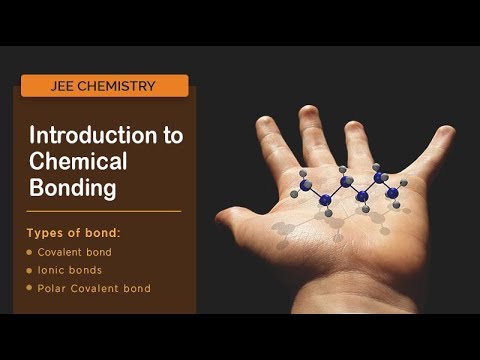 Types of Chemical Bonds