NCERT solutions class 9 maths chapter 2 – Polynomials are provided here. These NCERT solutions are created by the BYJU'S expert faculties to help students in the preparation of their board exams. These expert faculties solve and provide the NCERT maths solution so that it should help students to solve the problems comfortably. They give a detailed and stepwise explanation of each answer to the problems given in the exercises in the NCERT textbook for class 9.
In CBSE class 9 Polynomials chapter, students are introduced to a lot of important topics which will be helpful for those who wish to pursue mathematics as a subject in further classes. Based on these NCERT solutions. These solutions help students to prepare for their upcoming Board Exams by covering the whole the syllabus which follows NCERT guidelines.
Access Answers of Maths NCERT class 9 Chapter 2 – Polynomials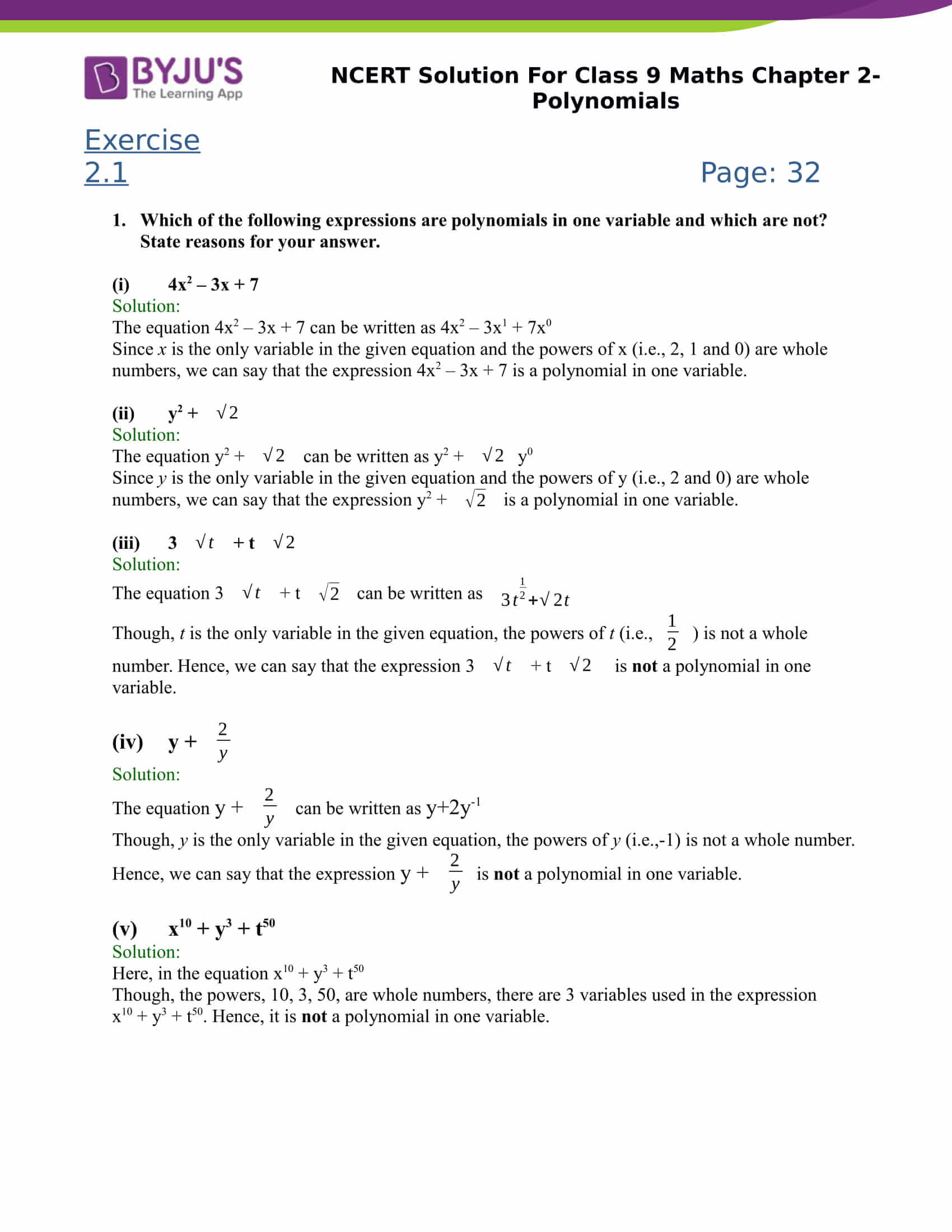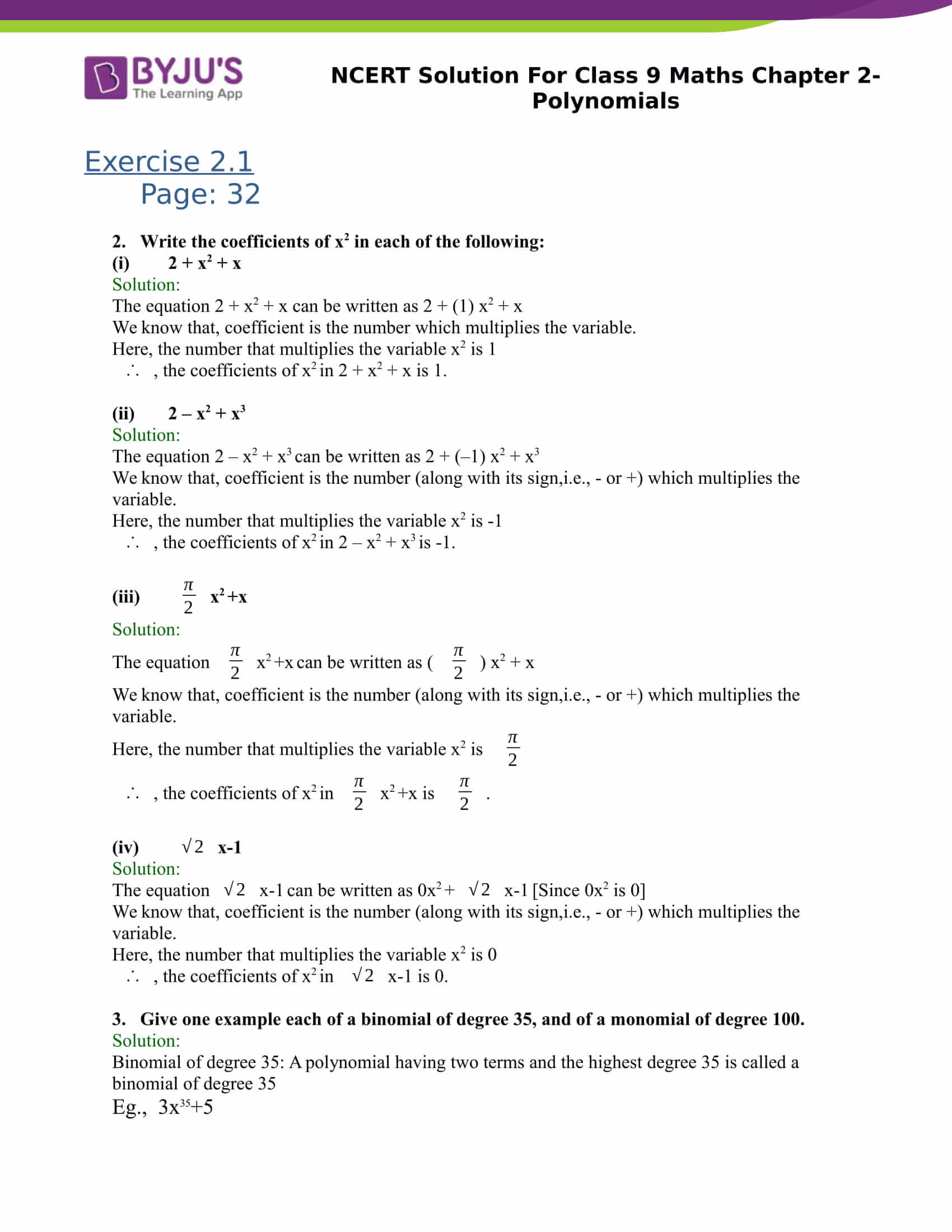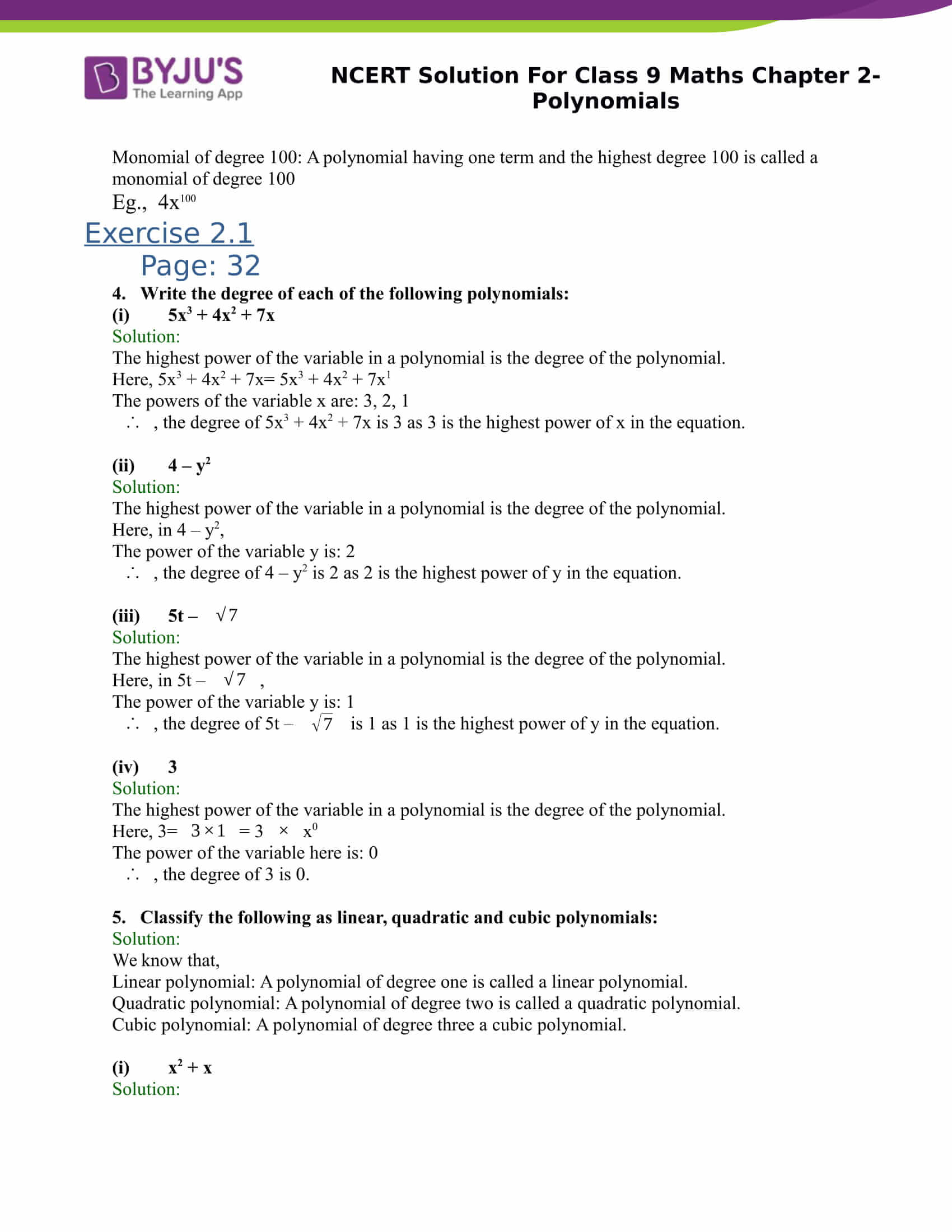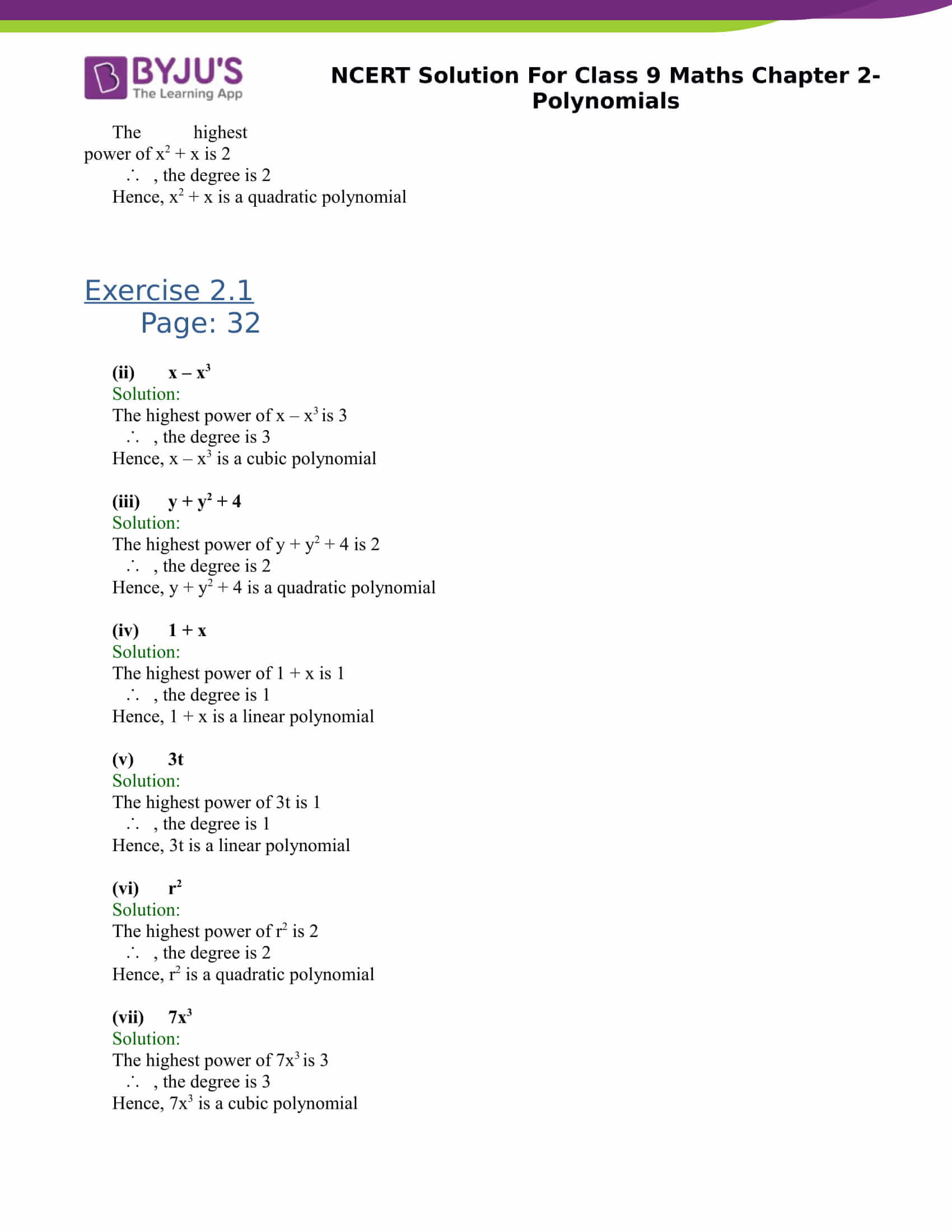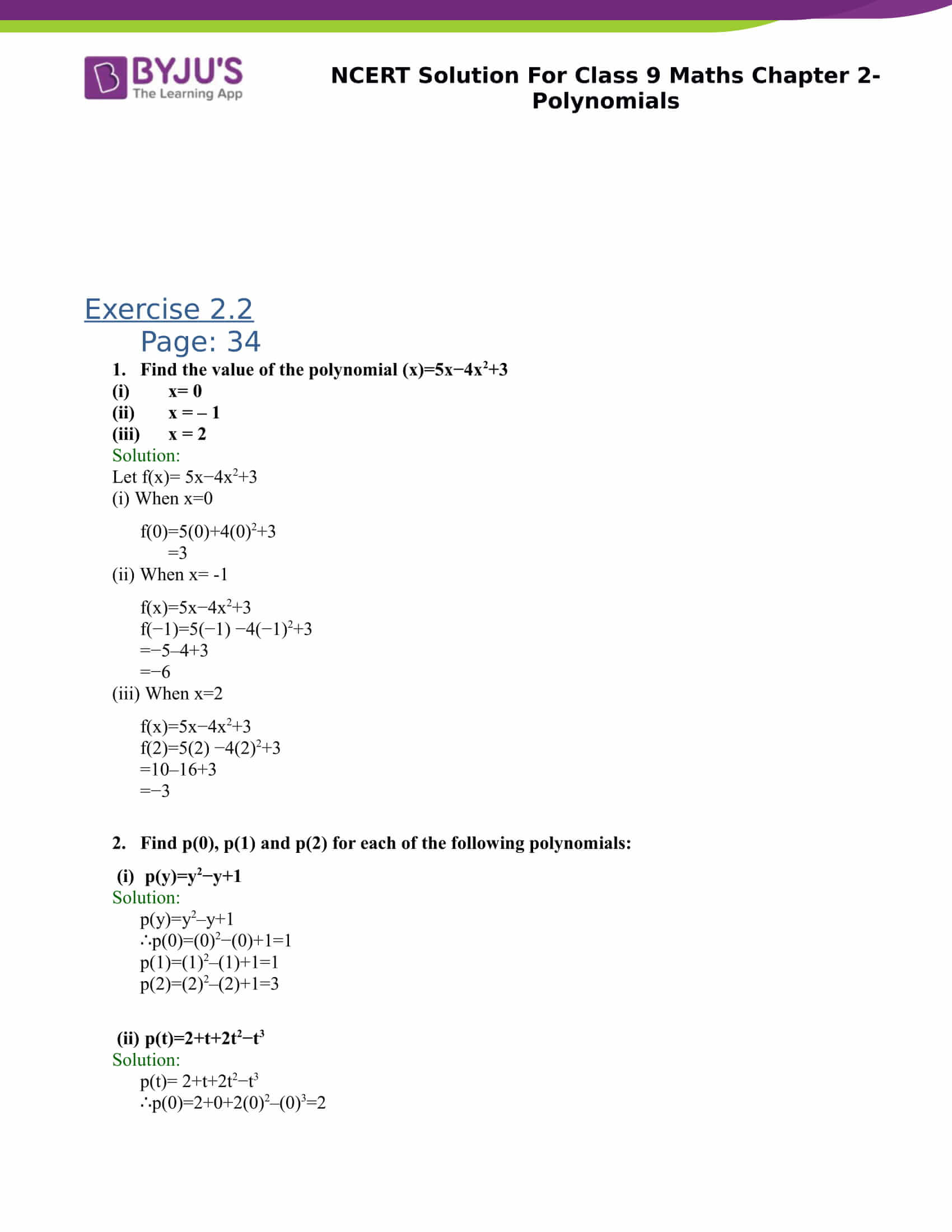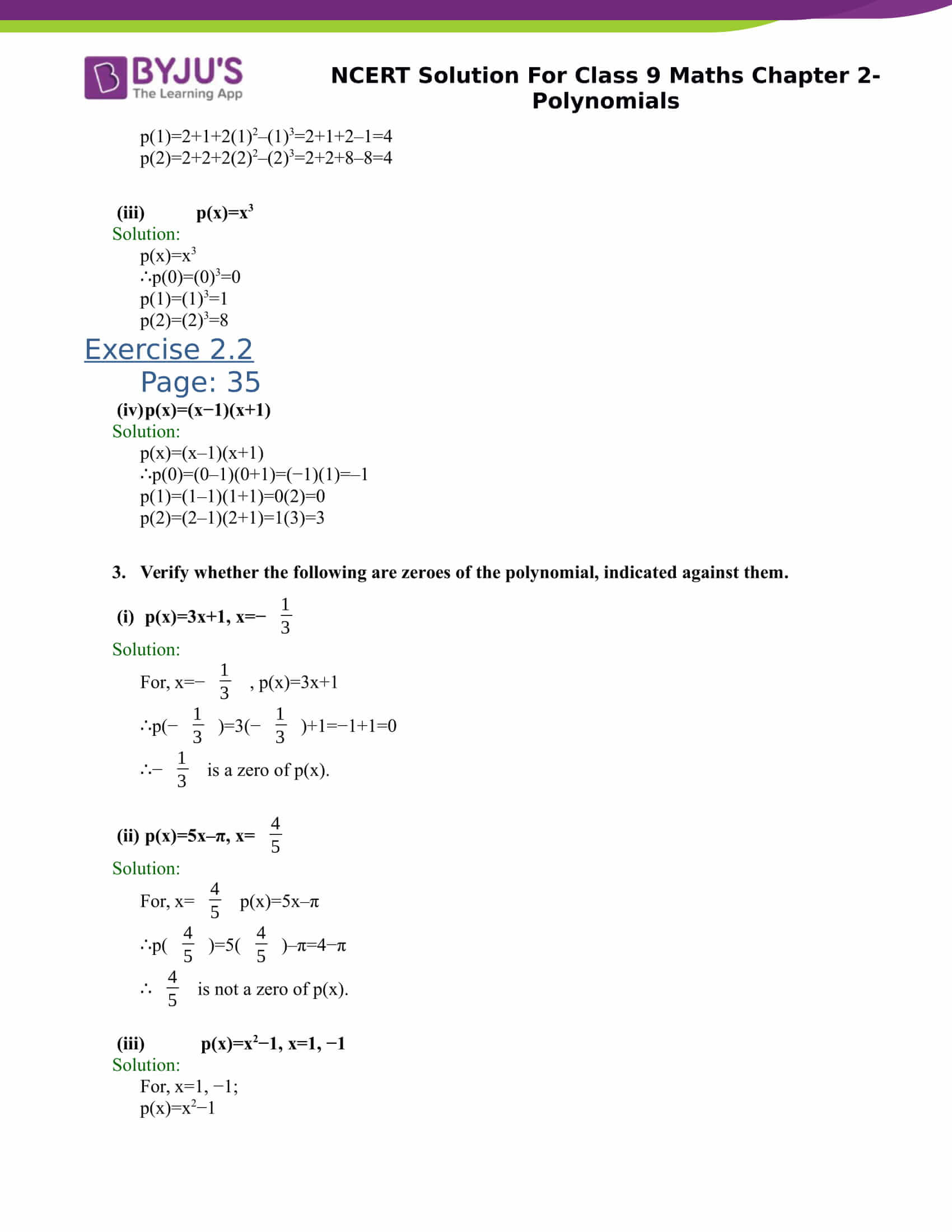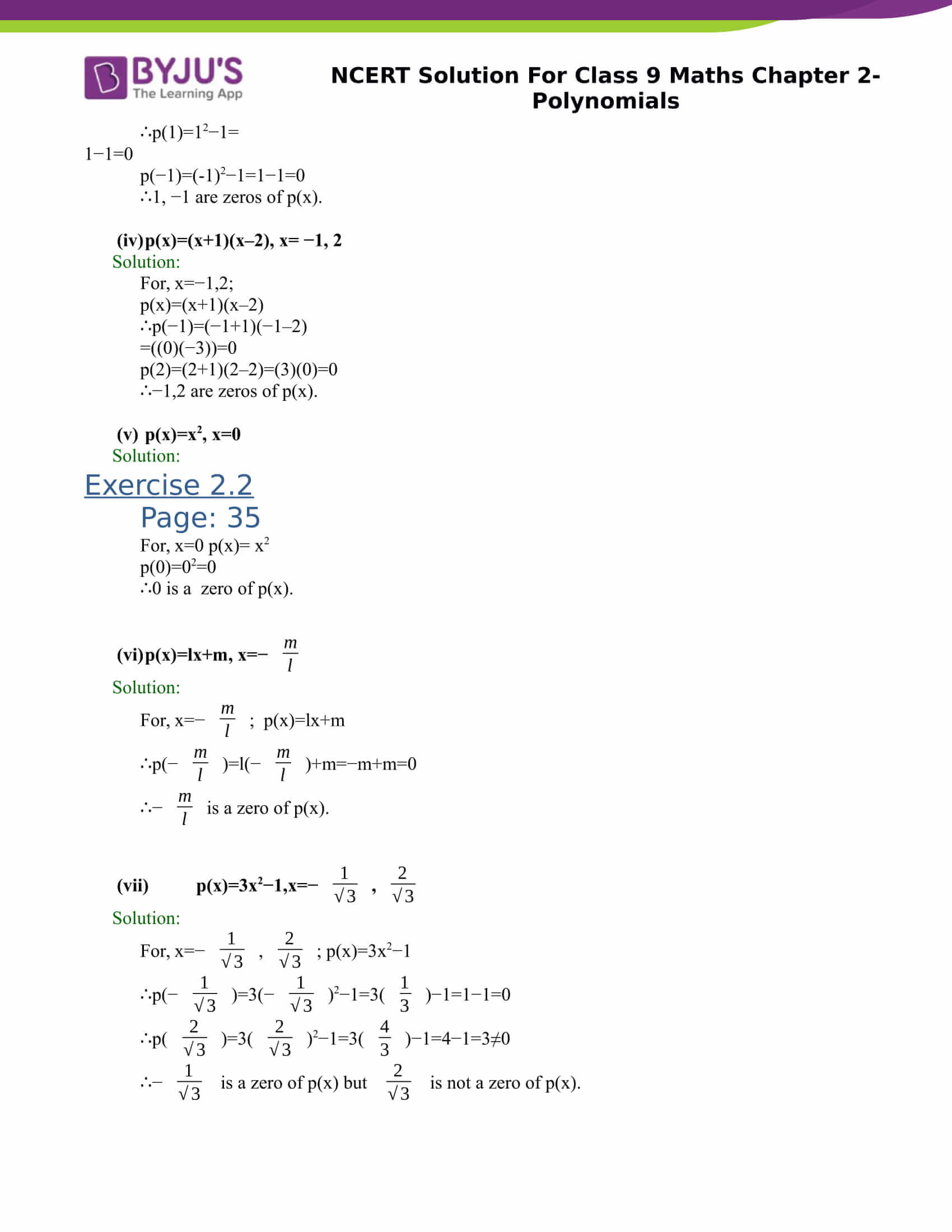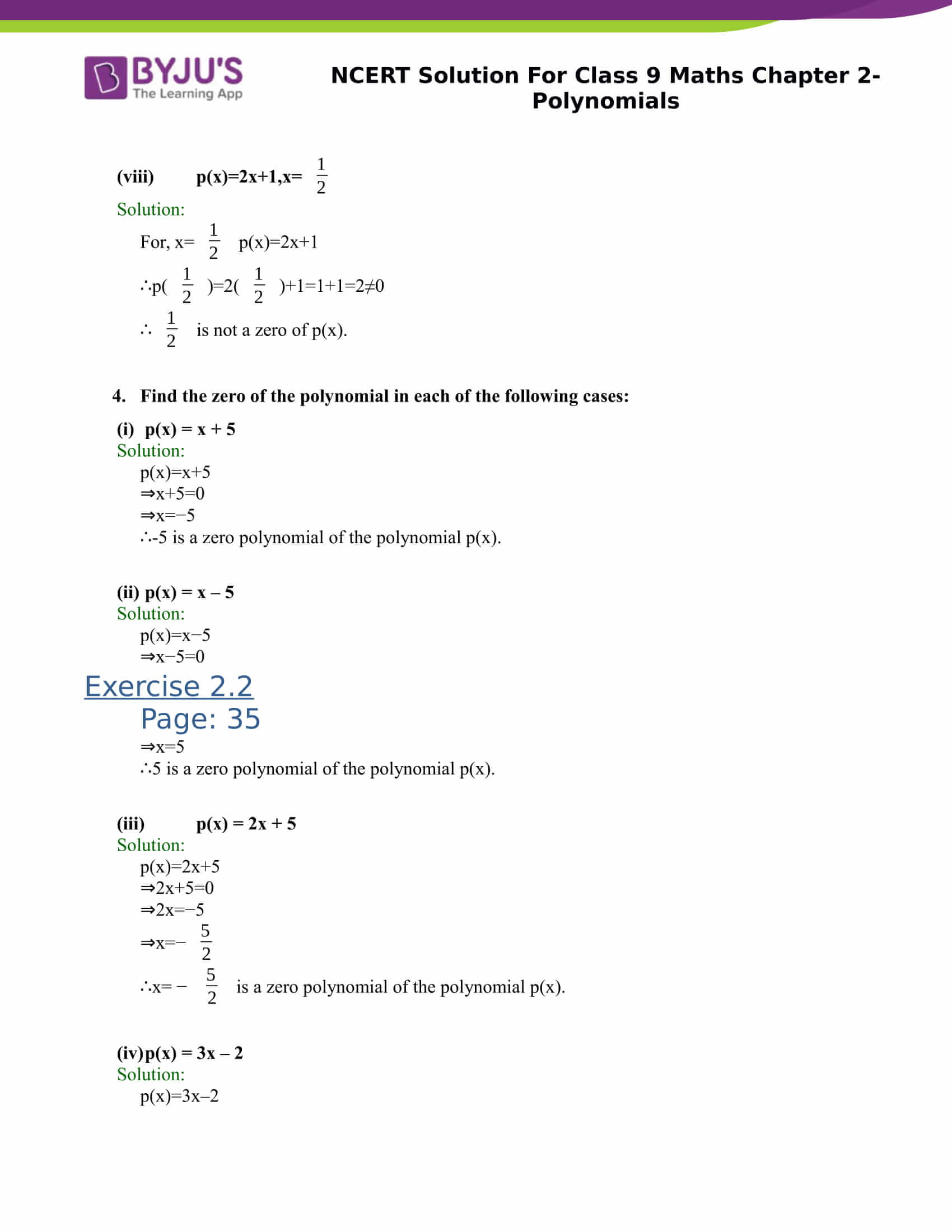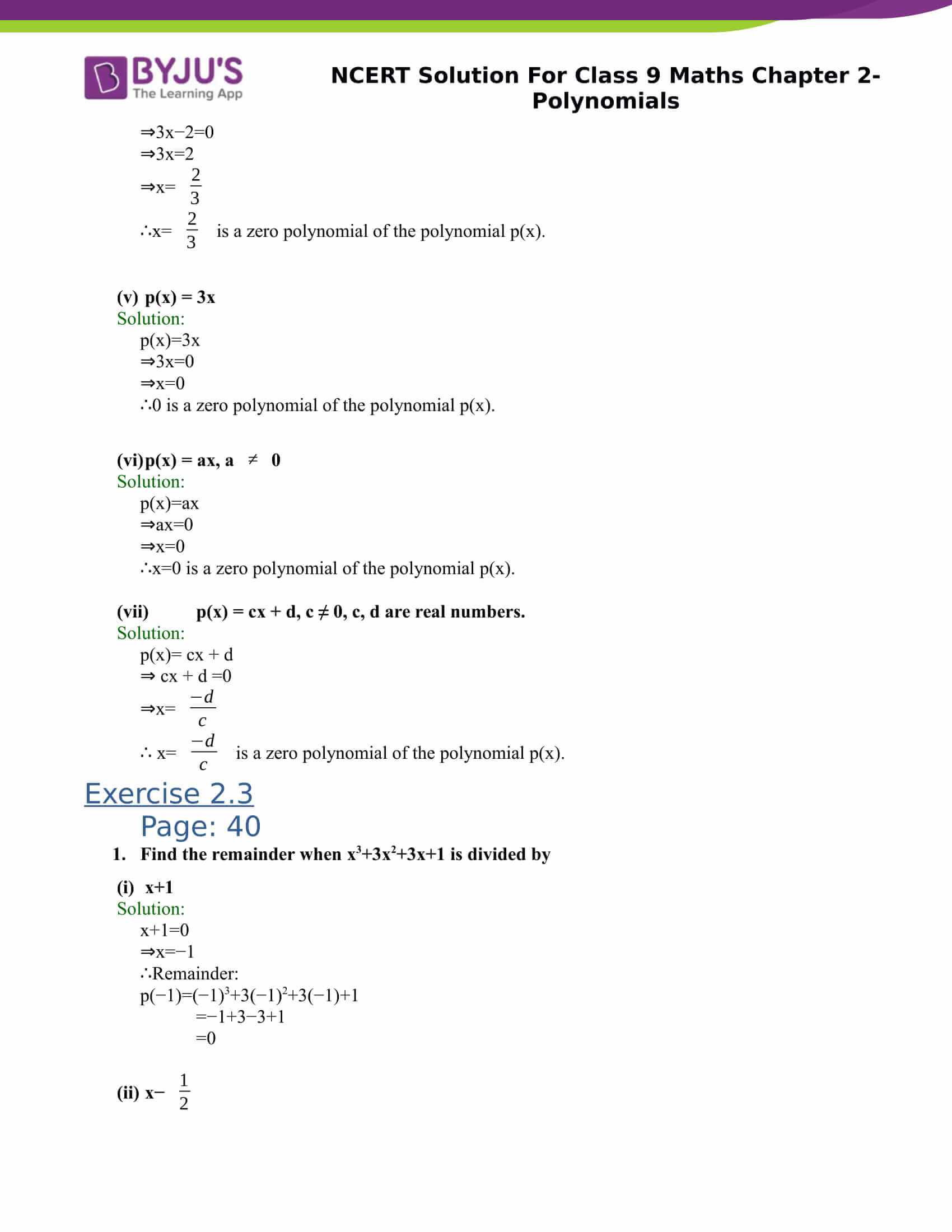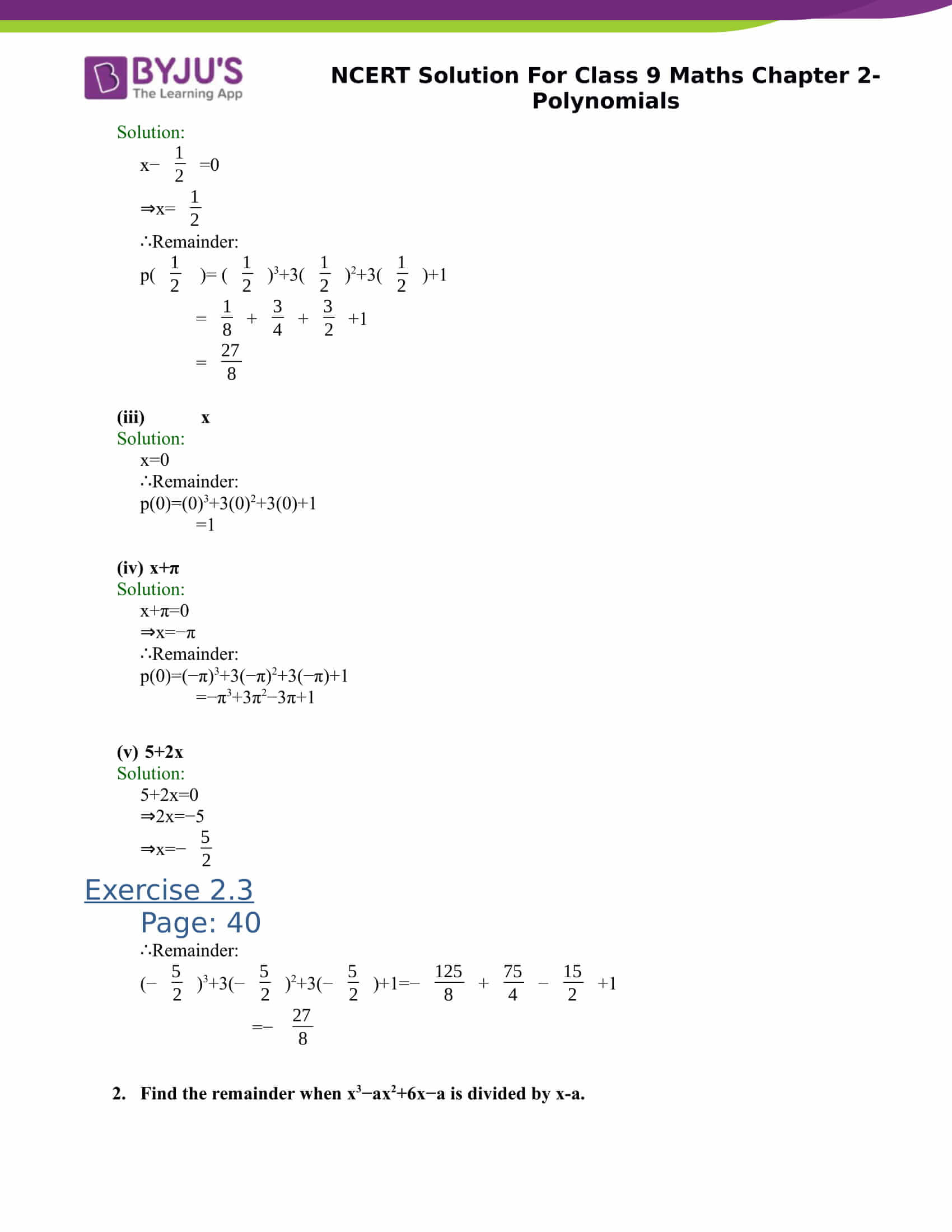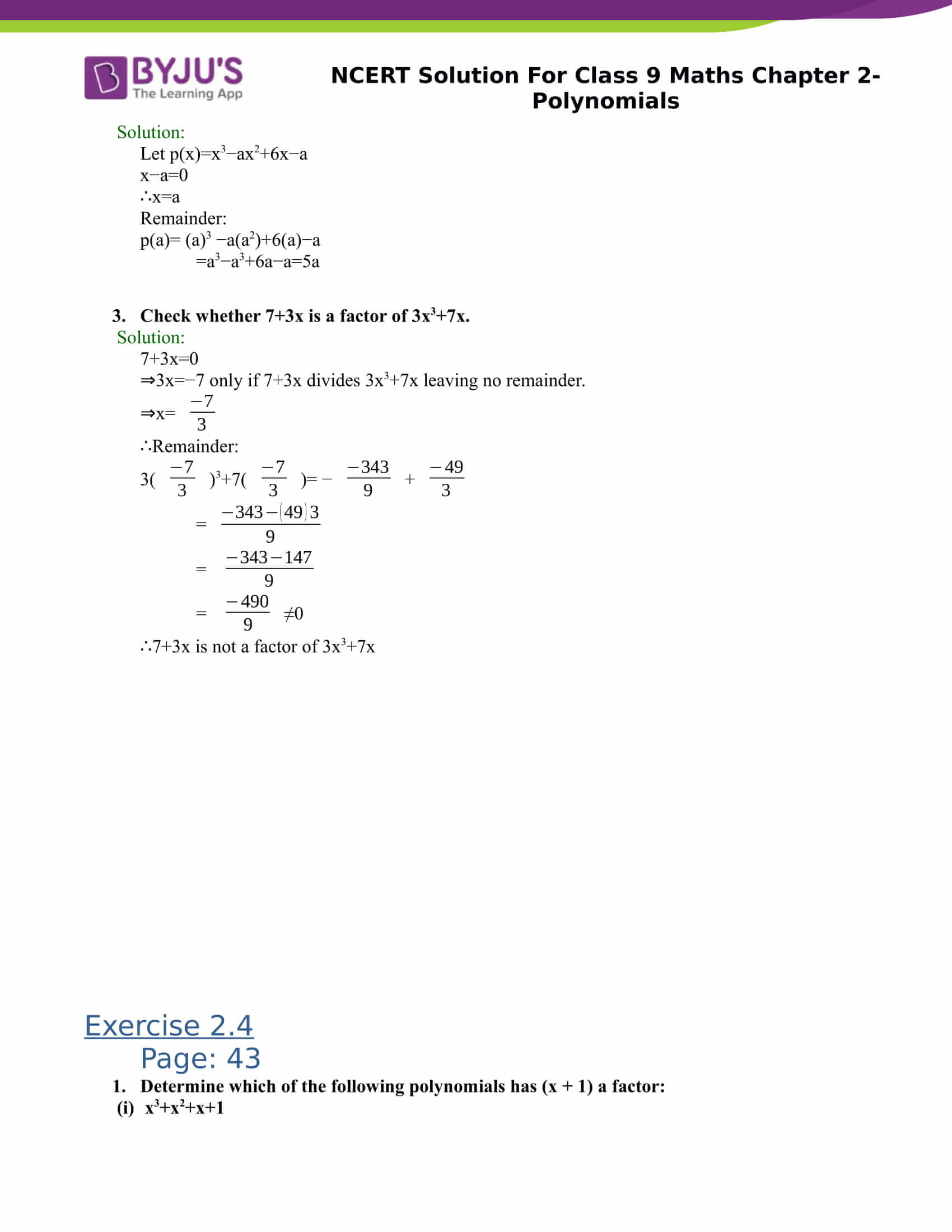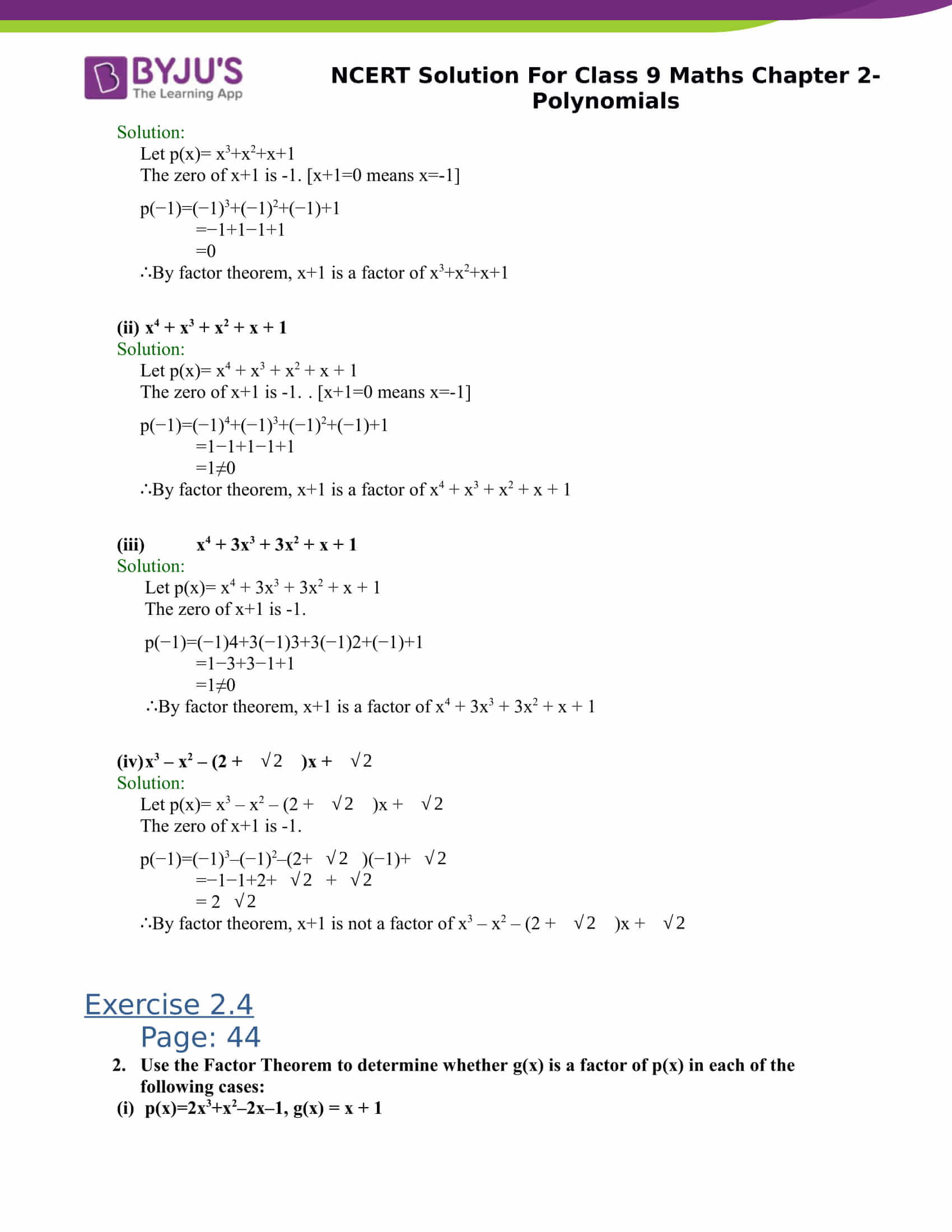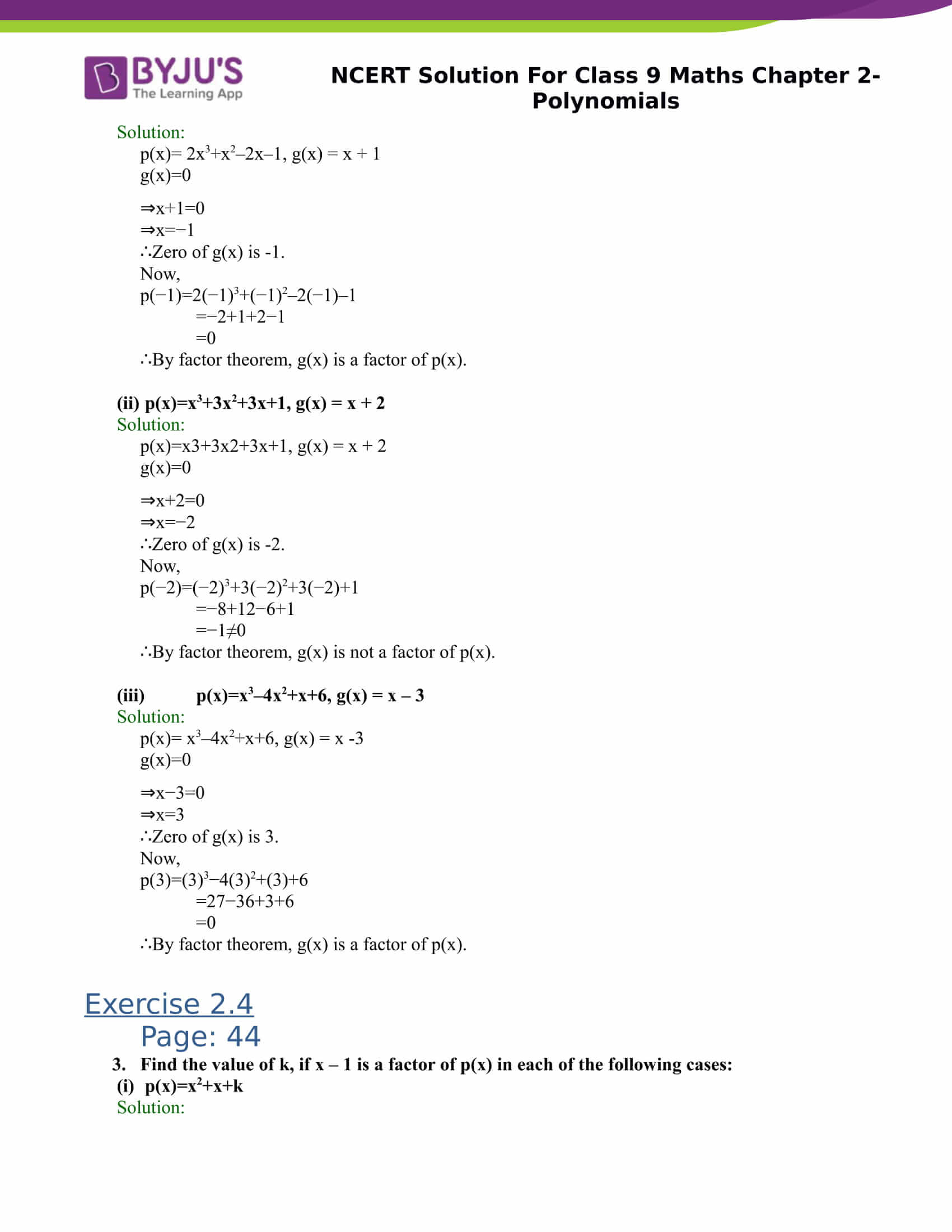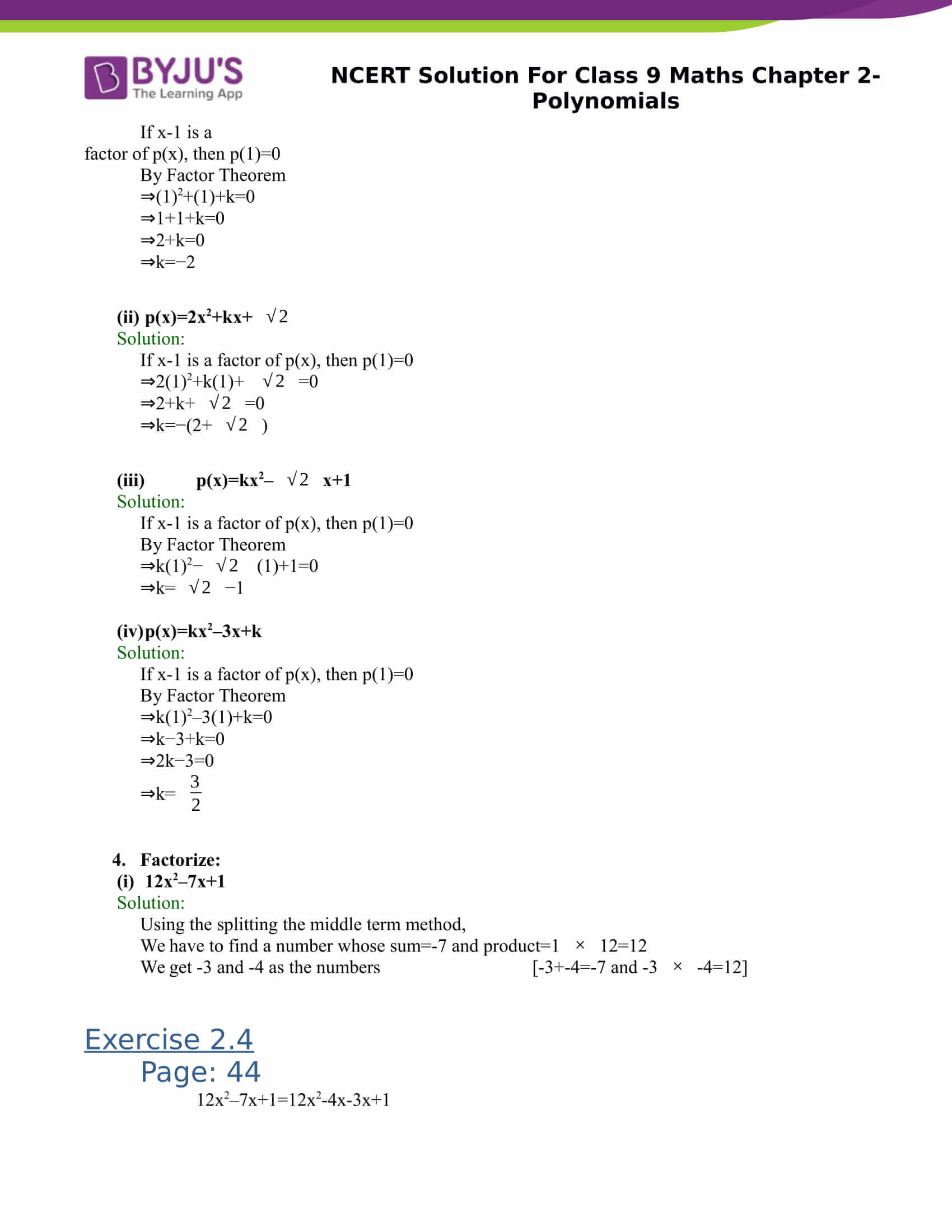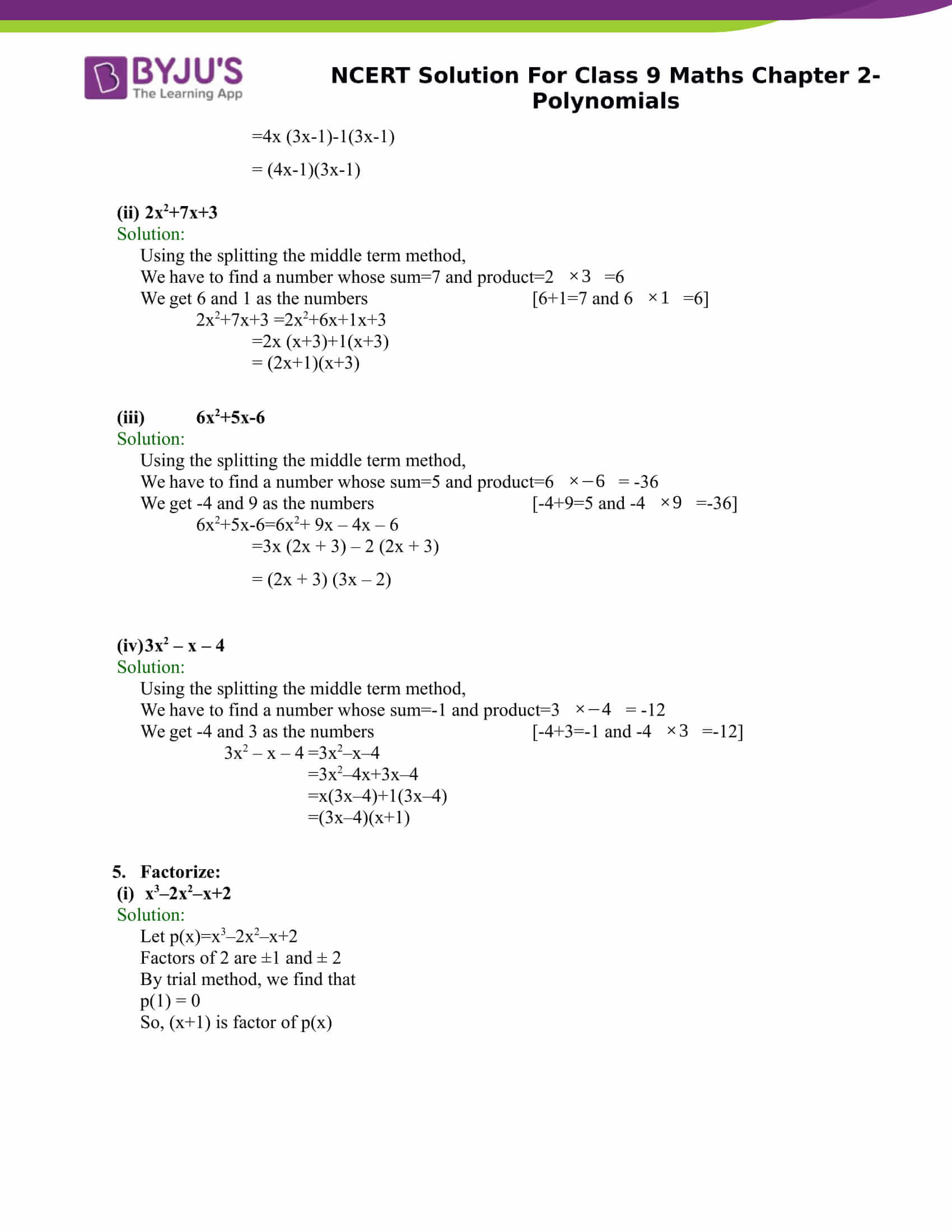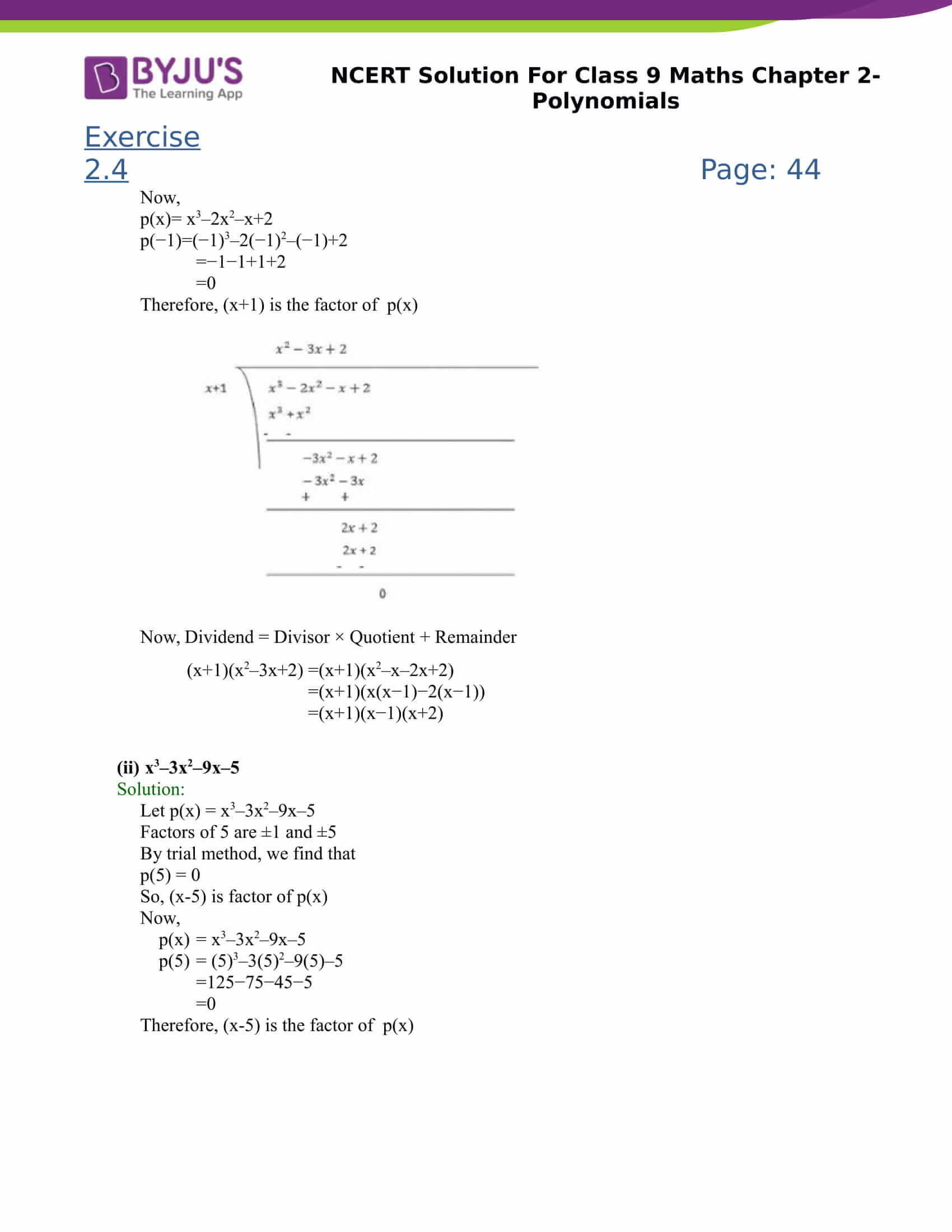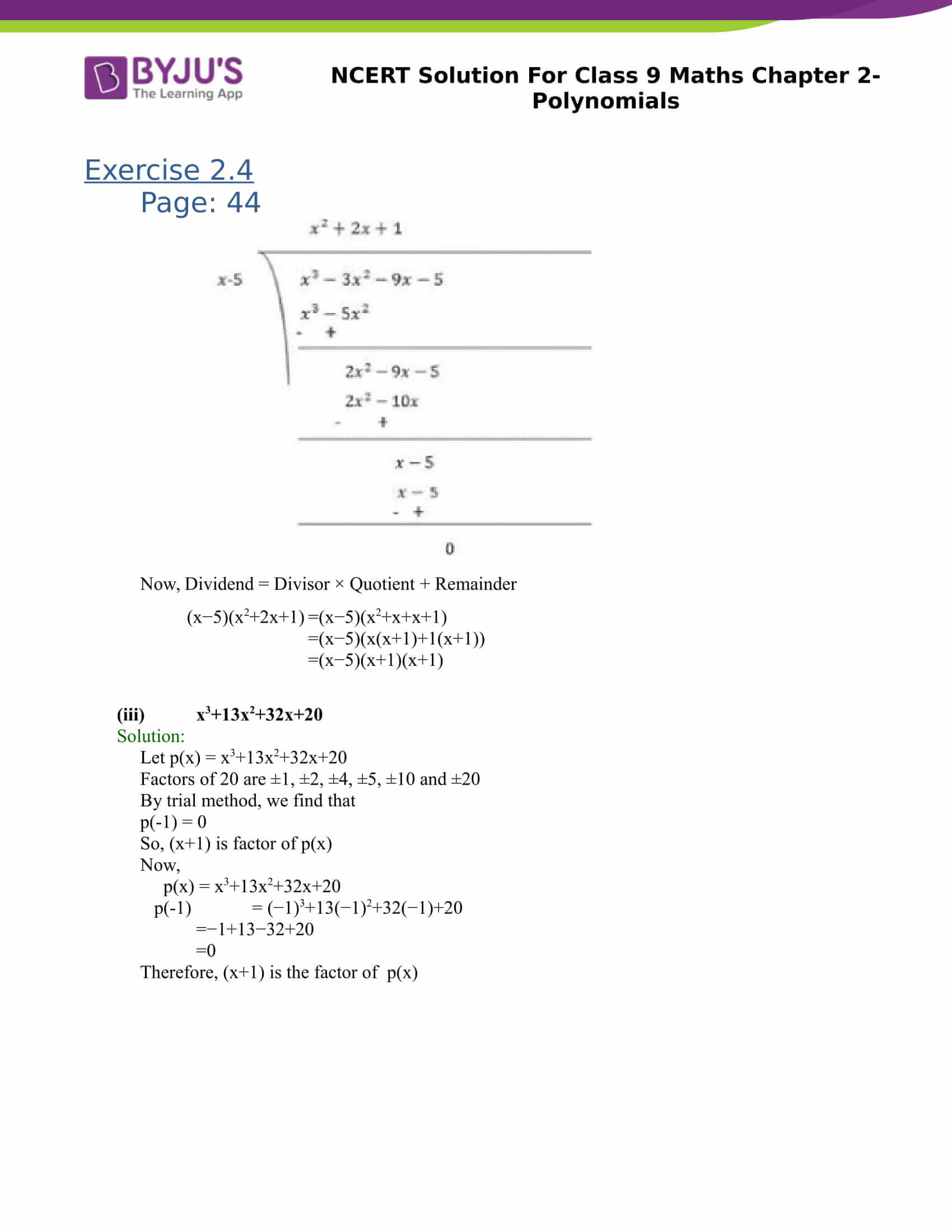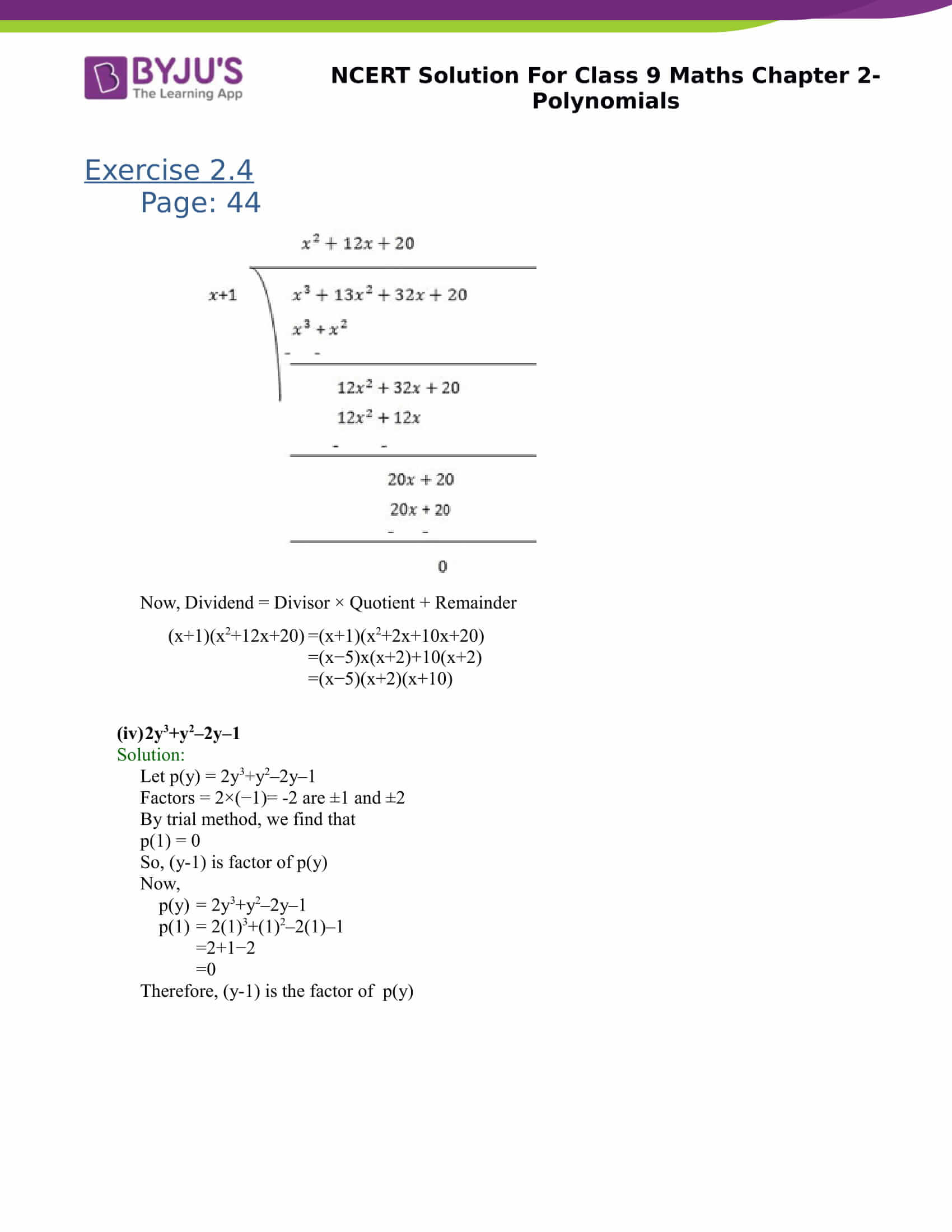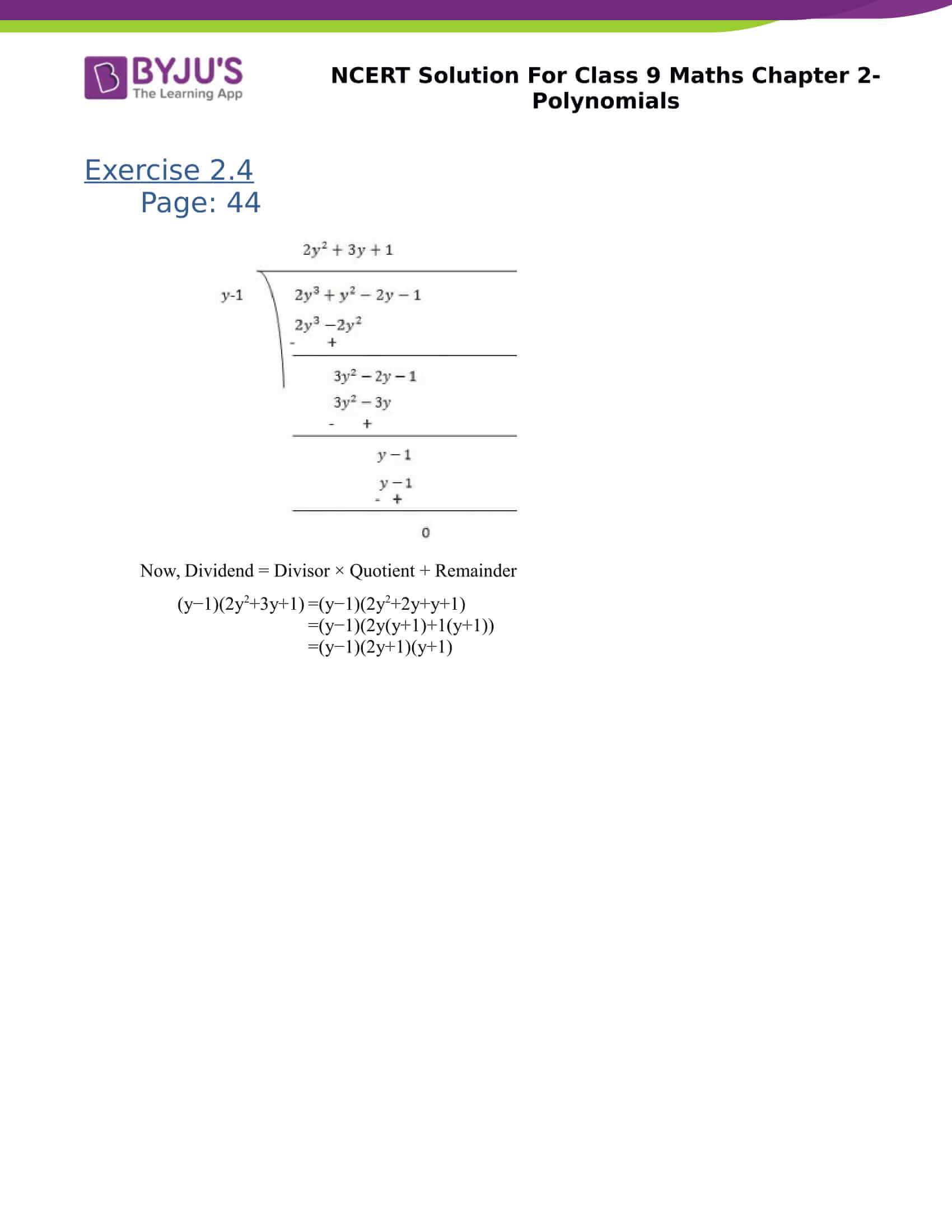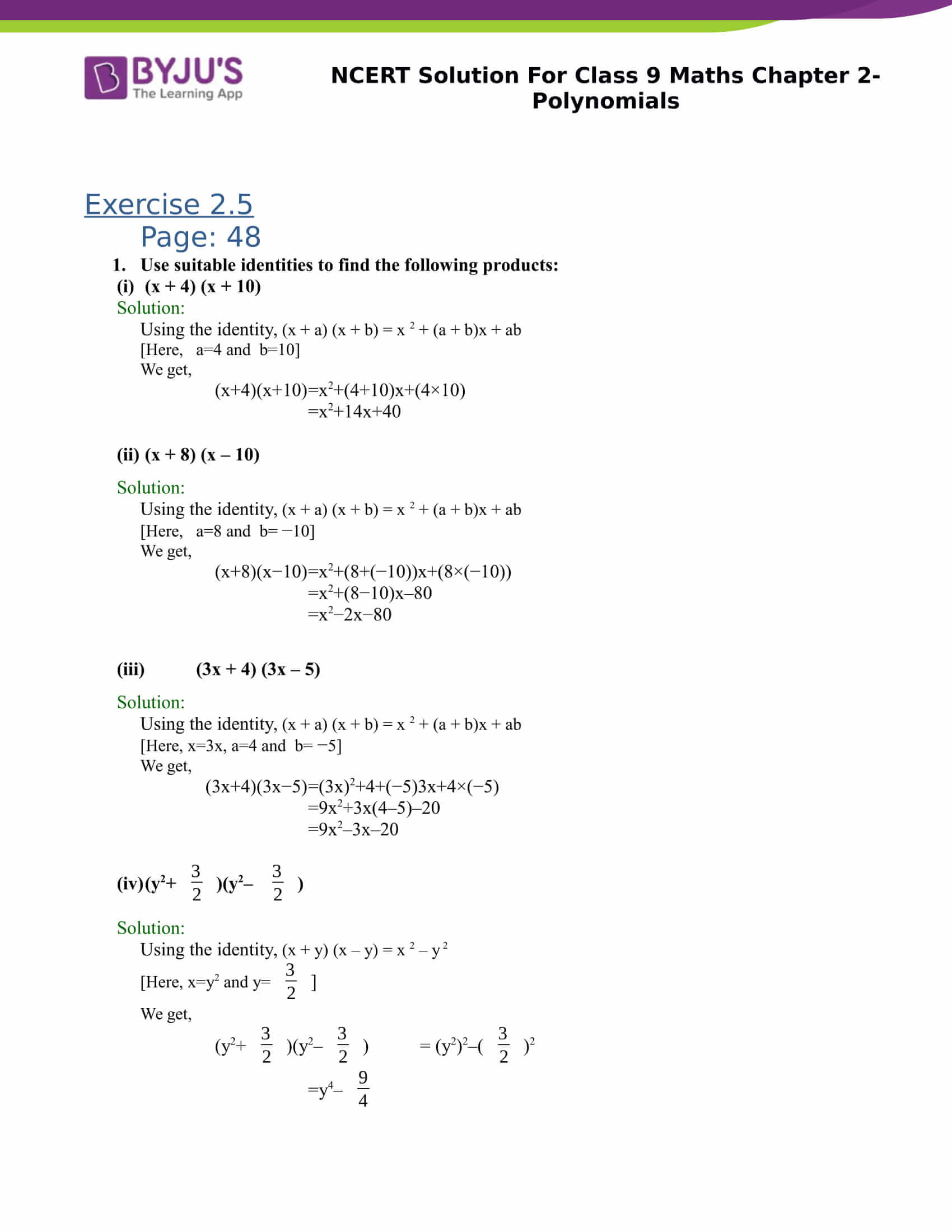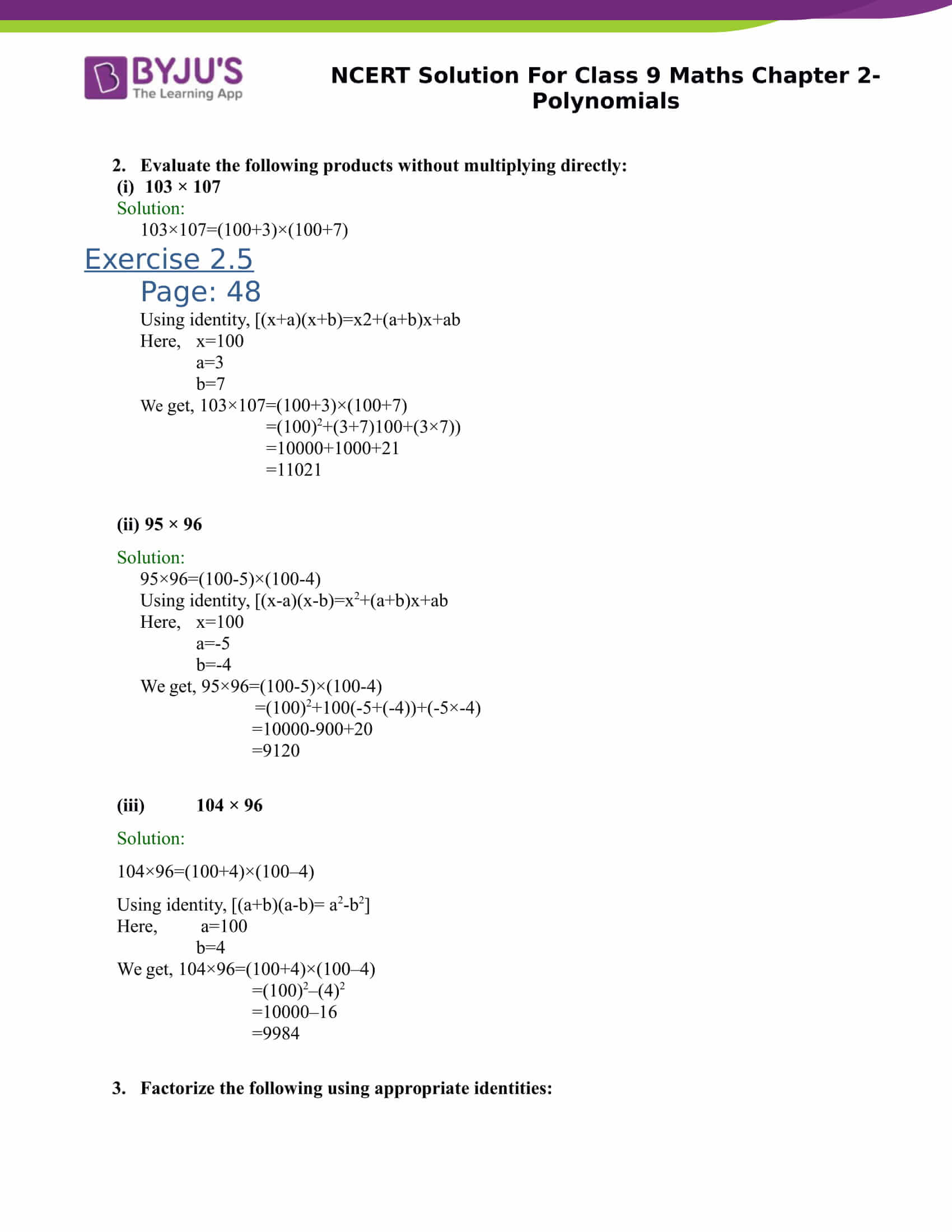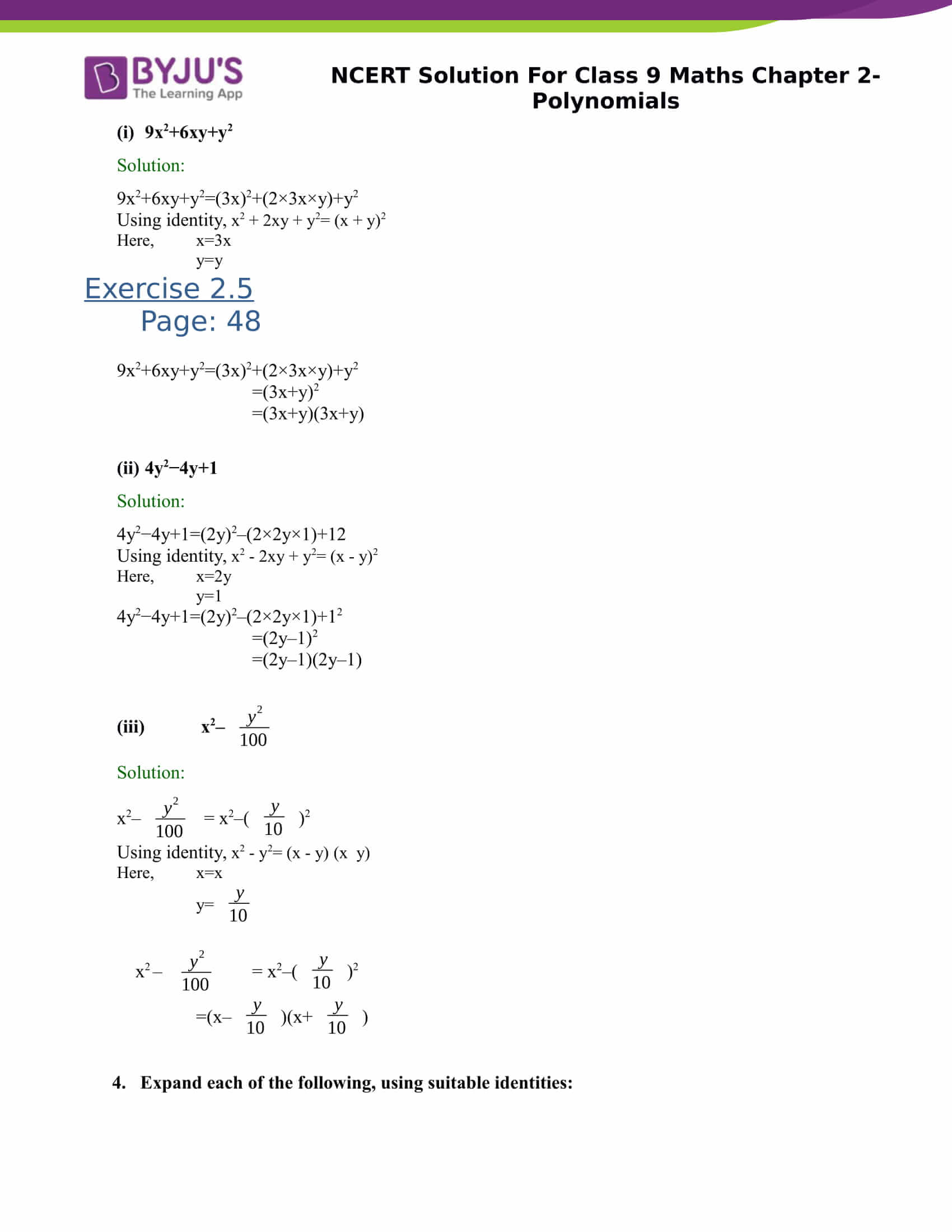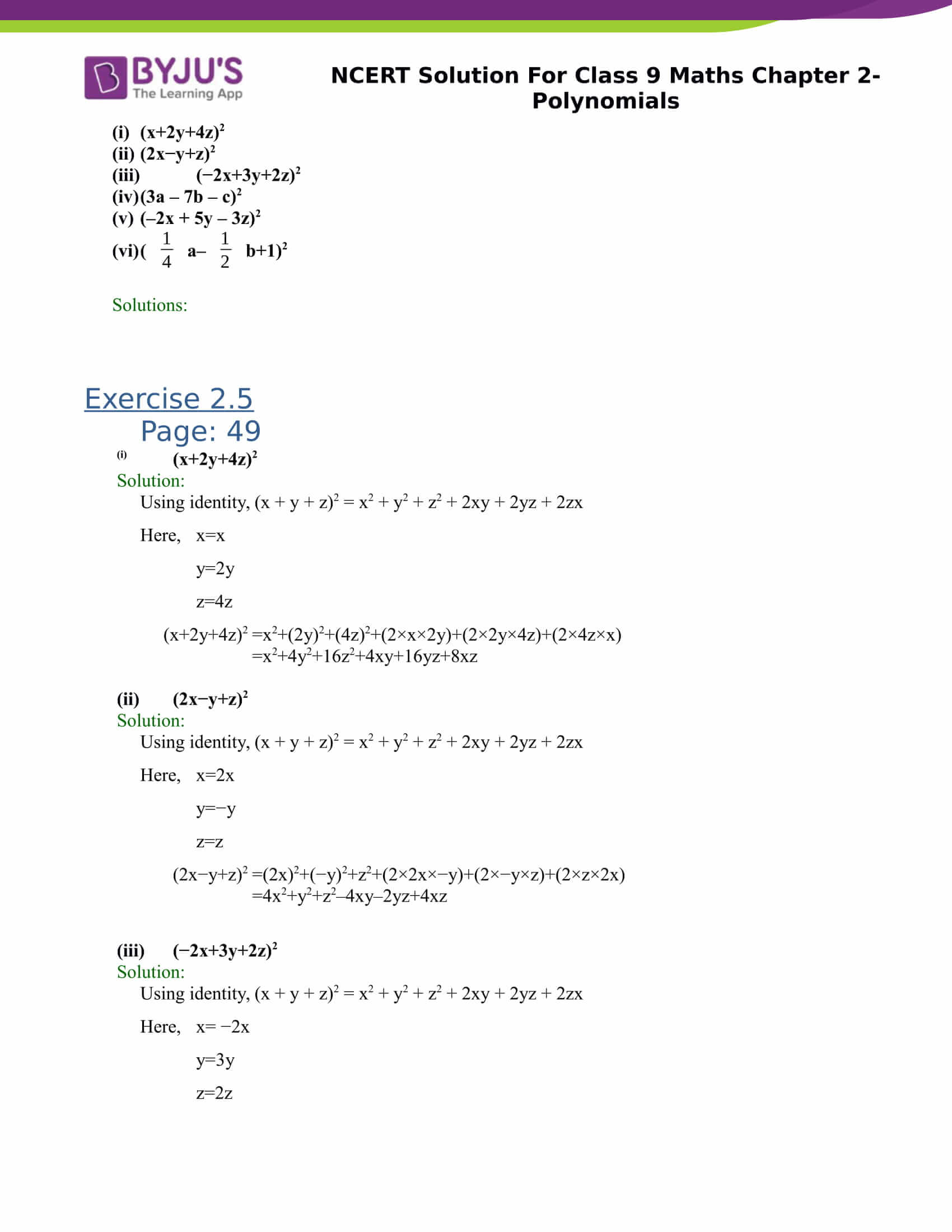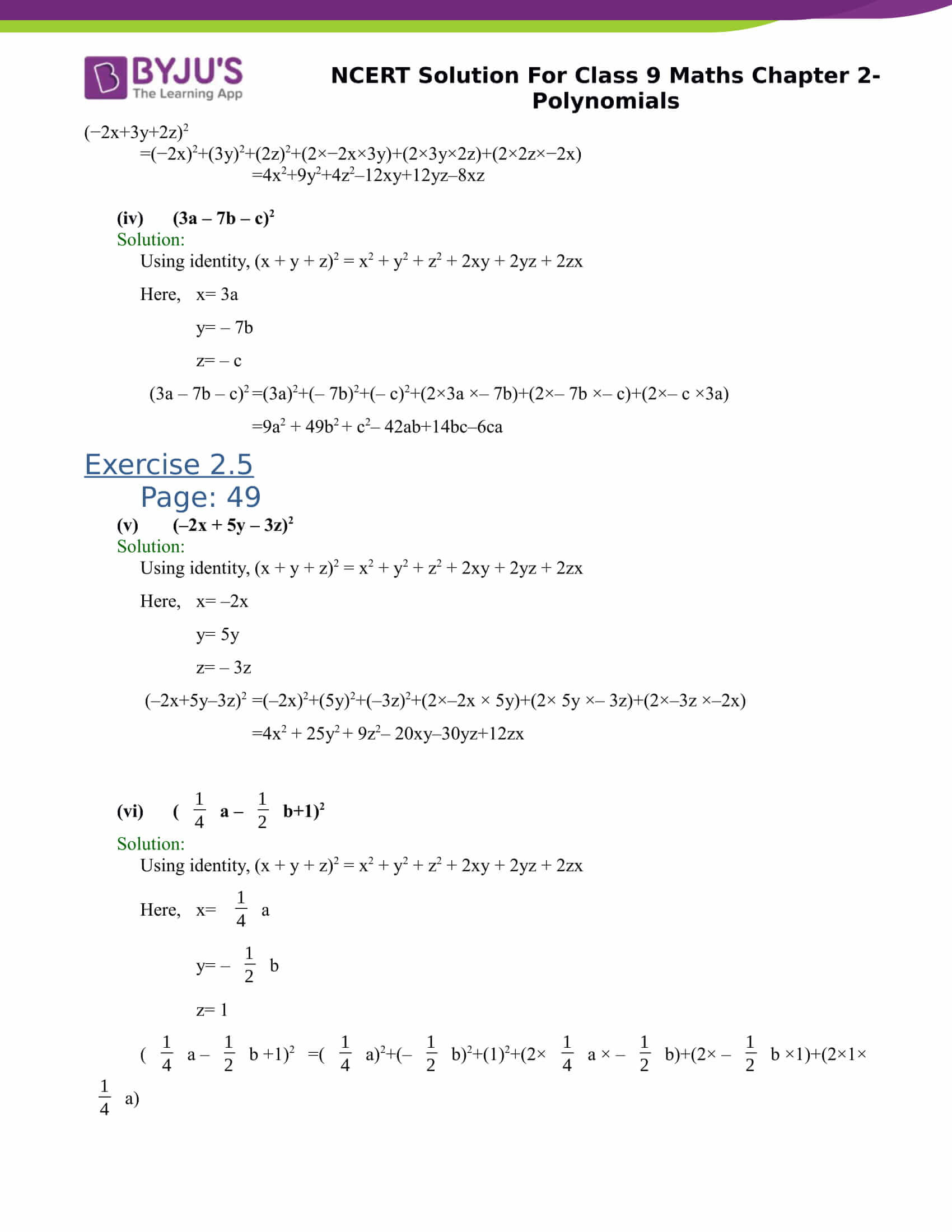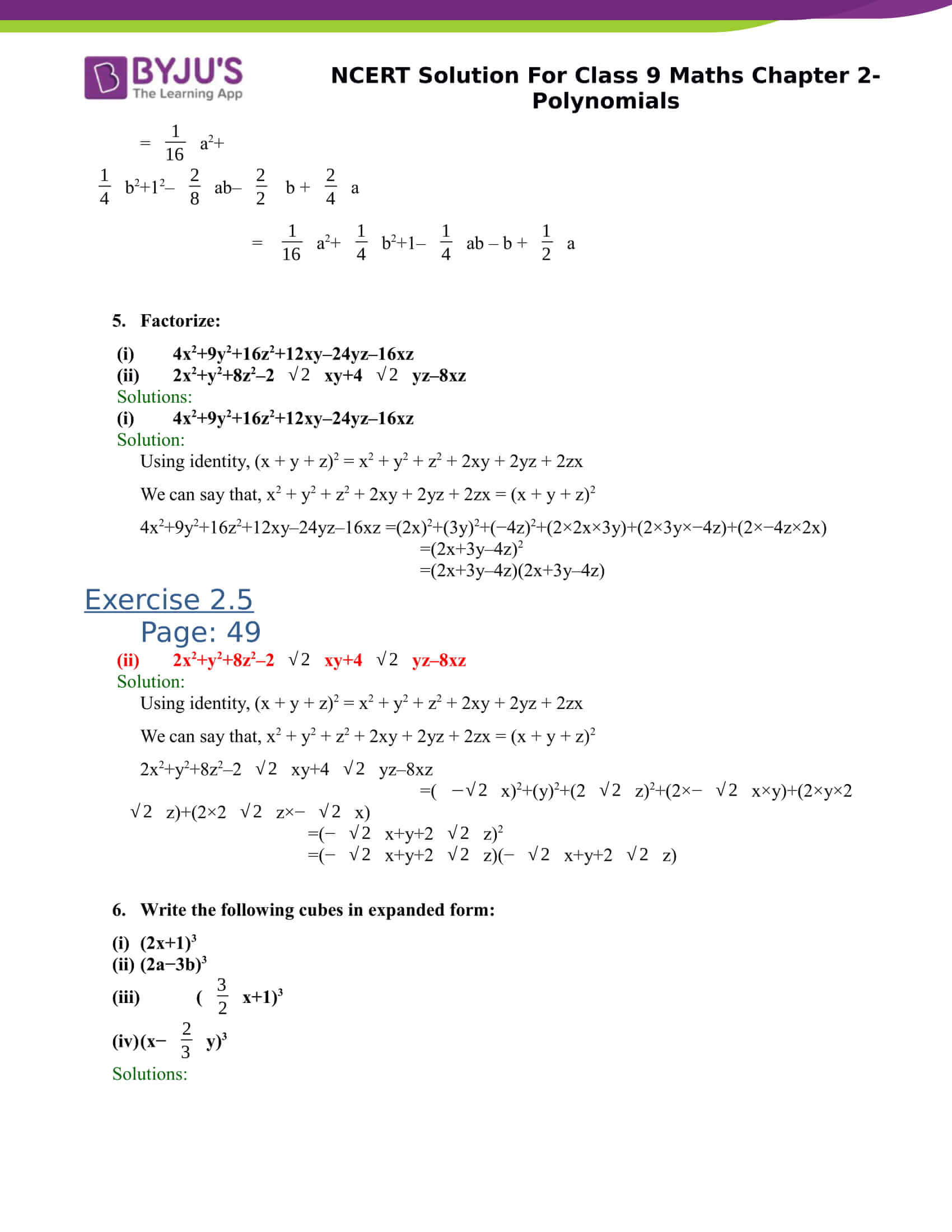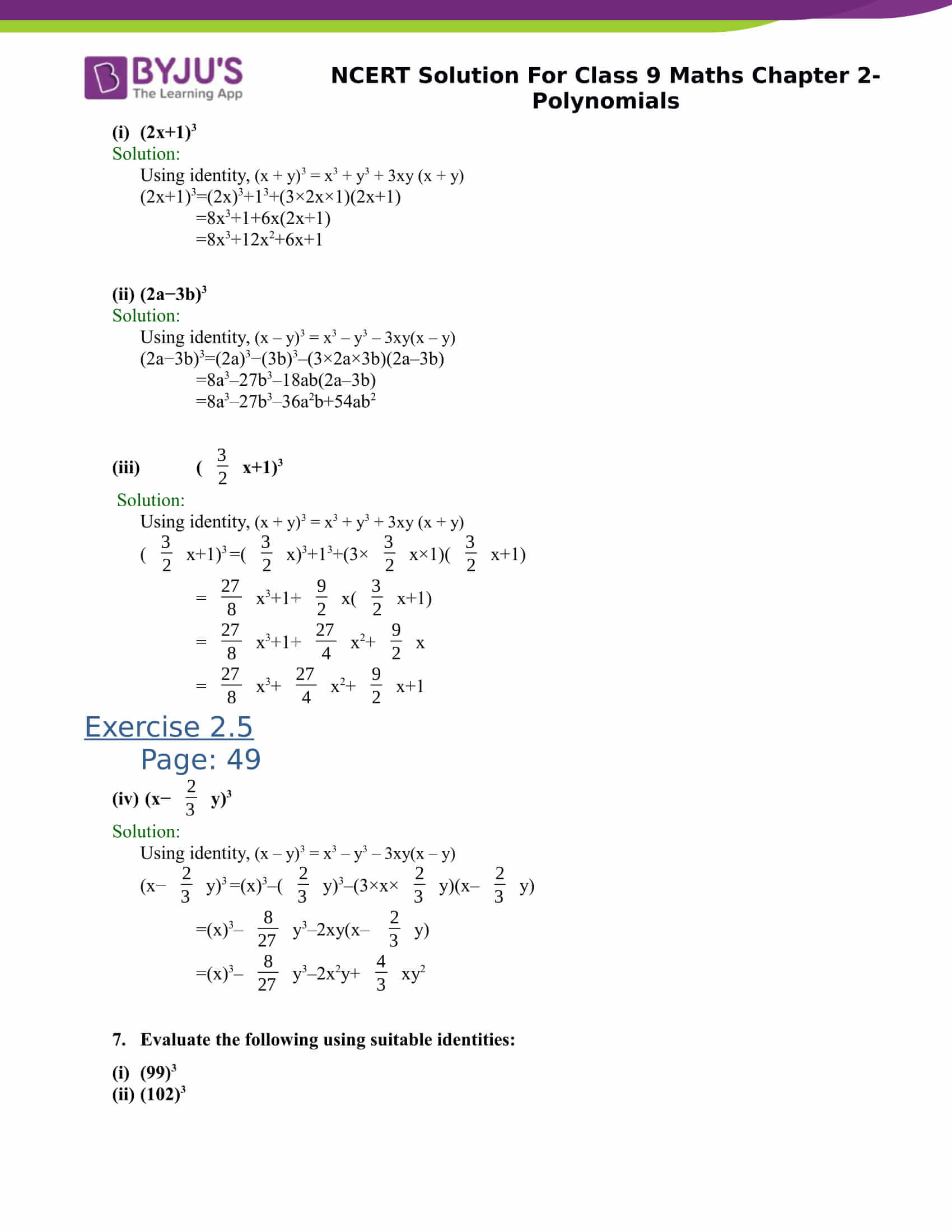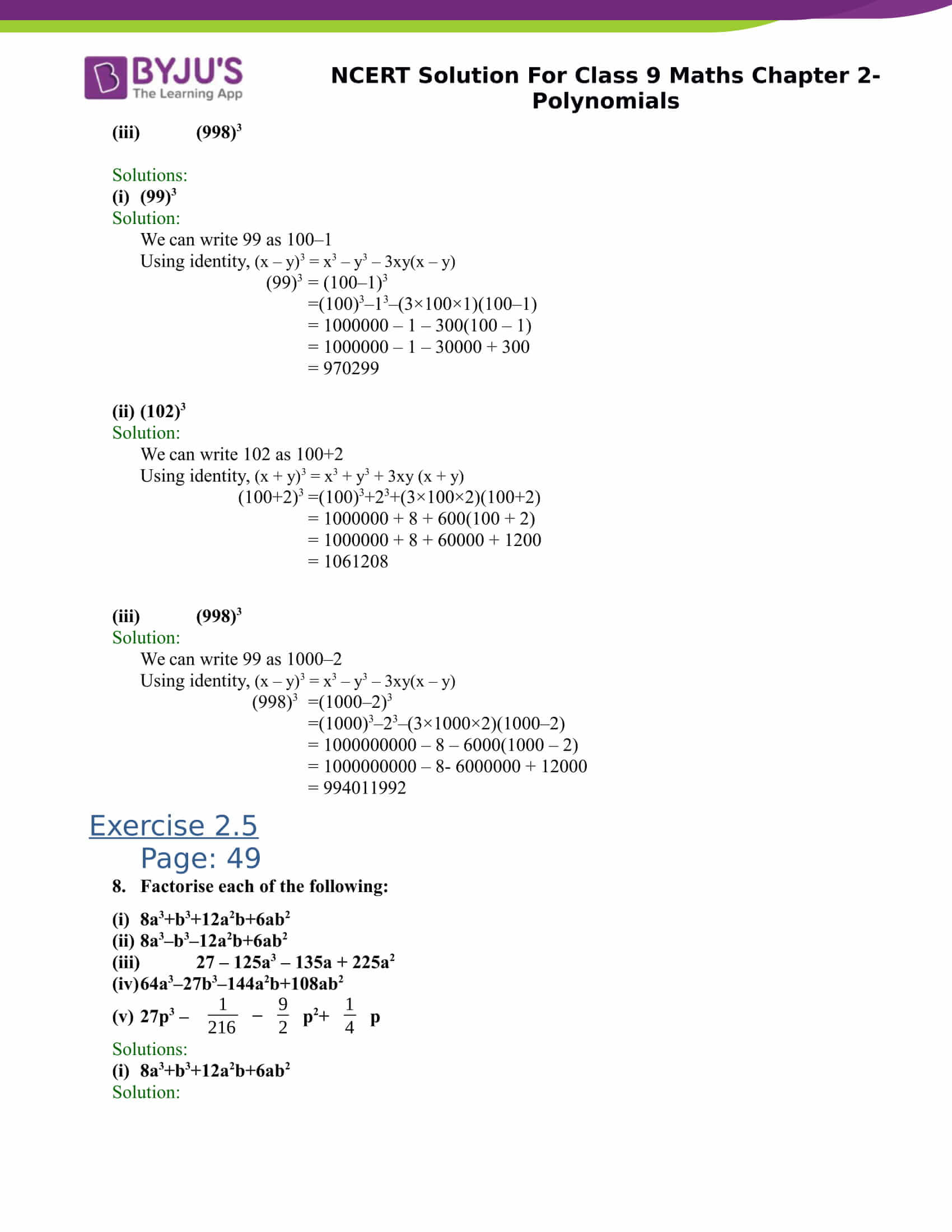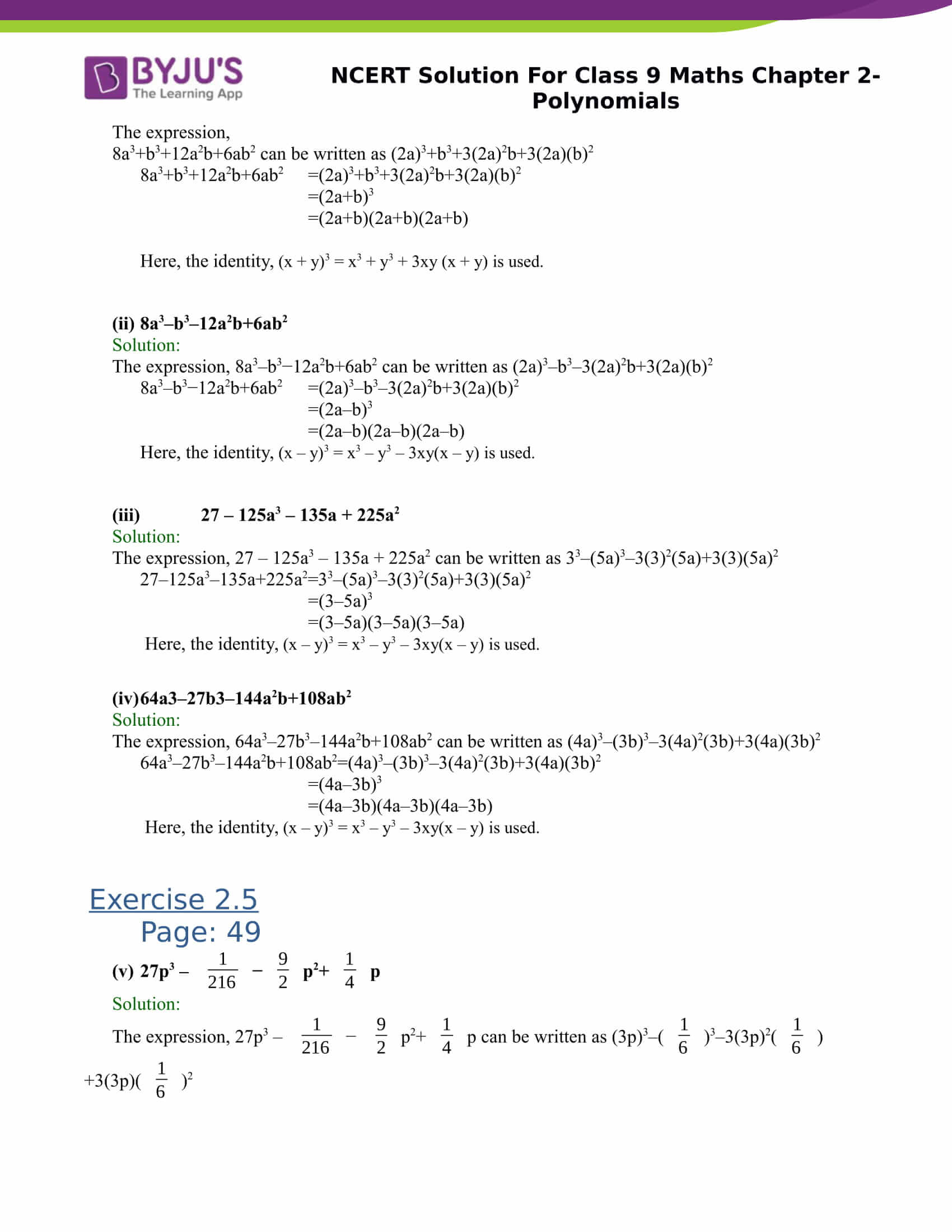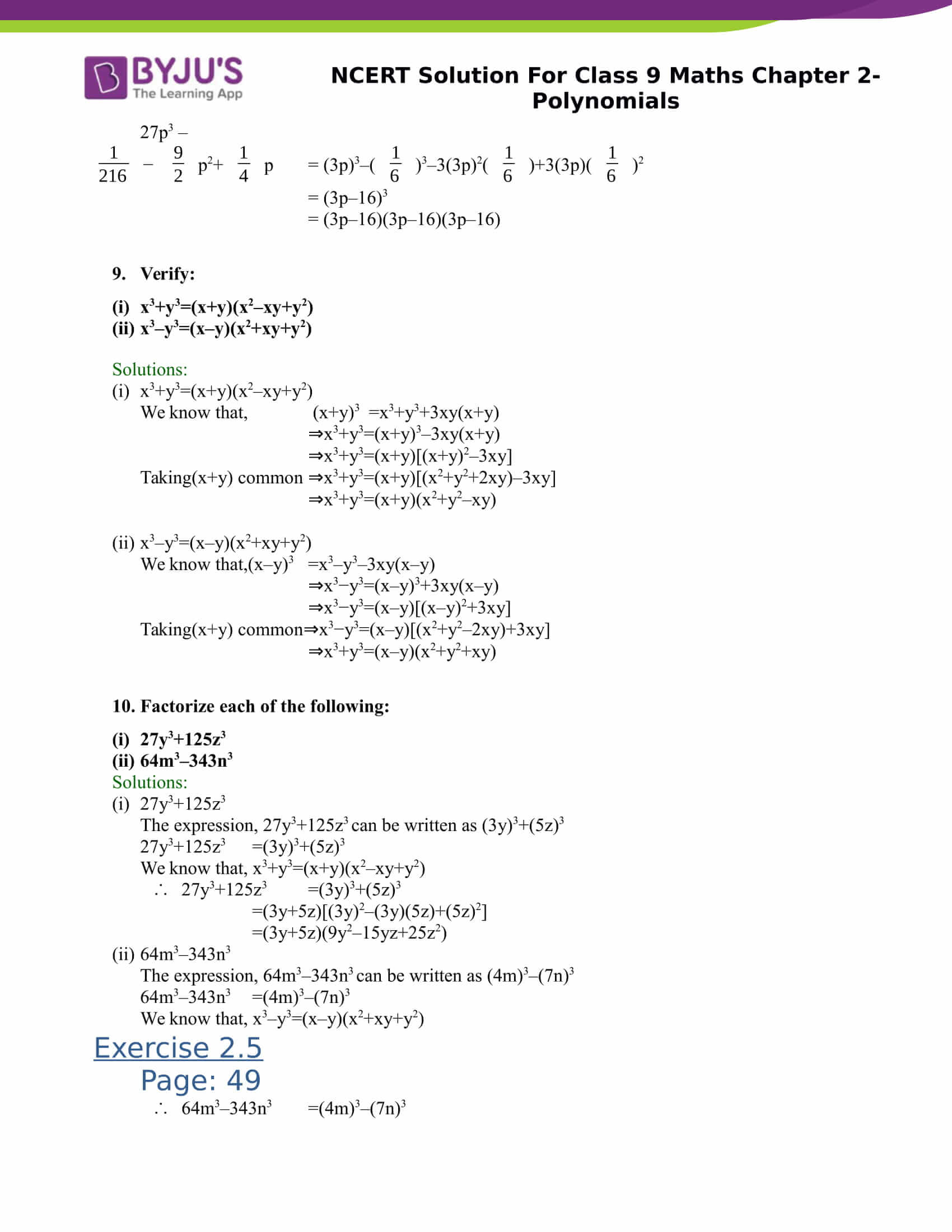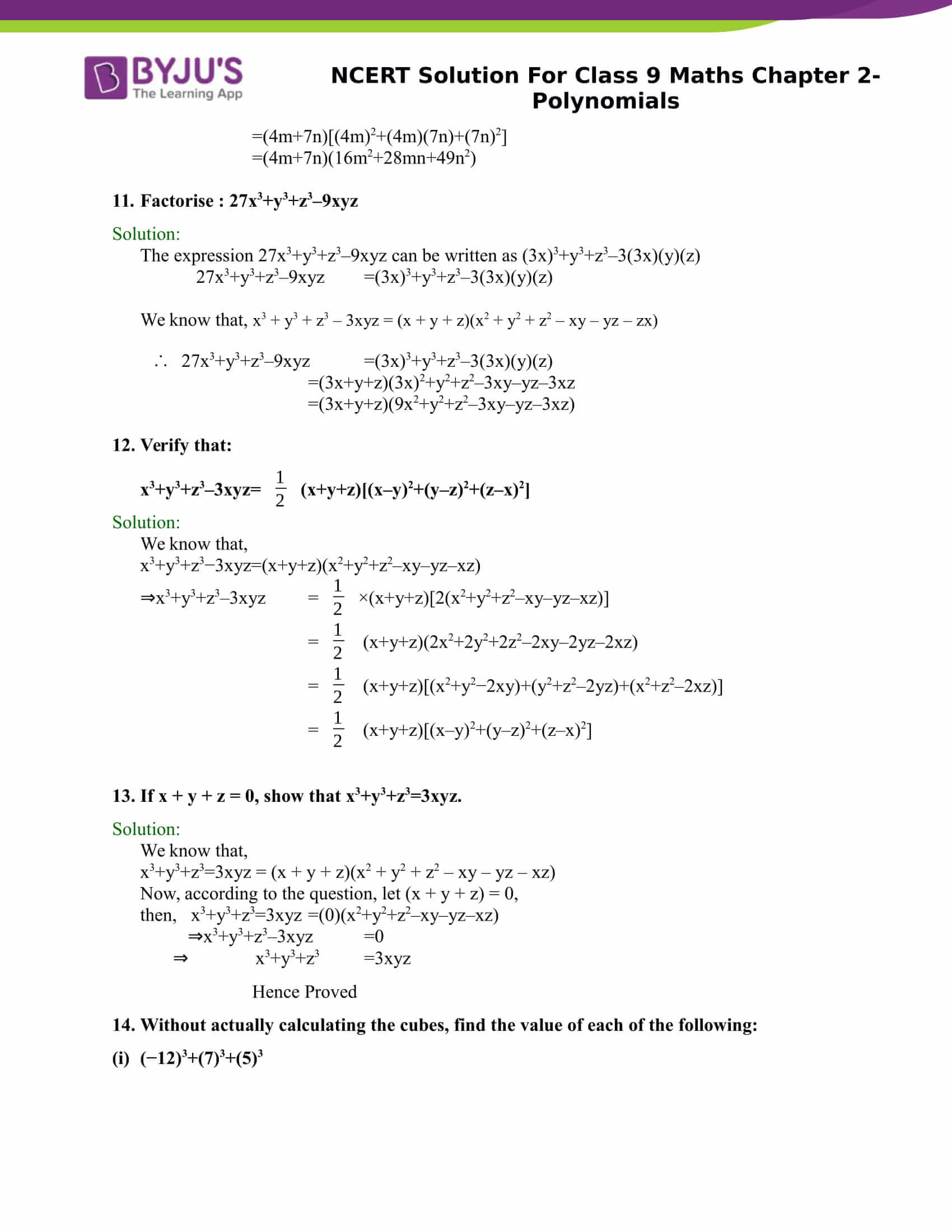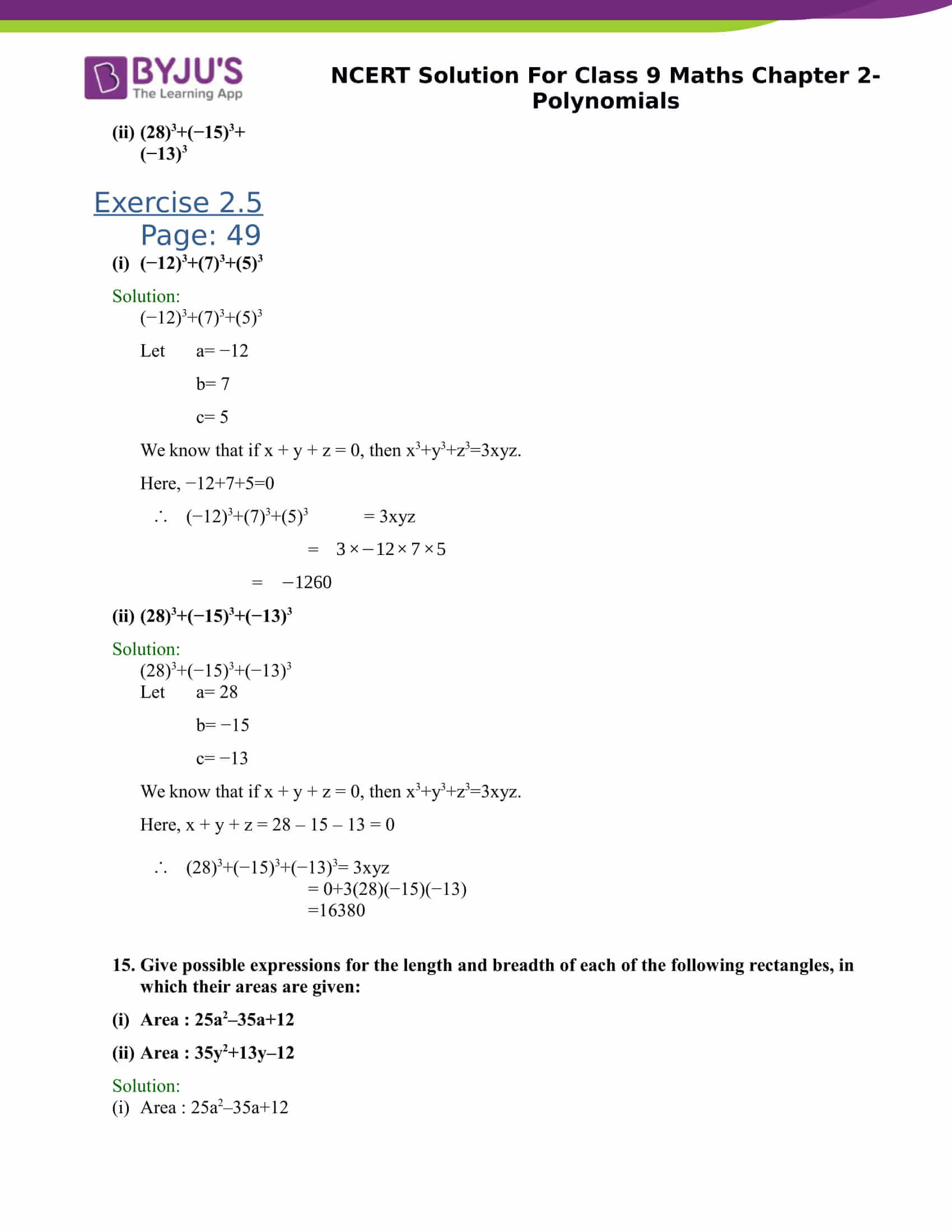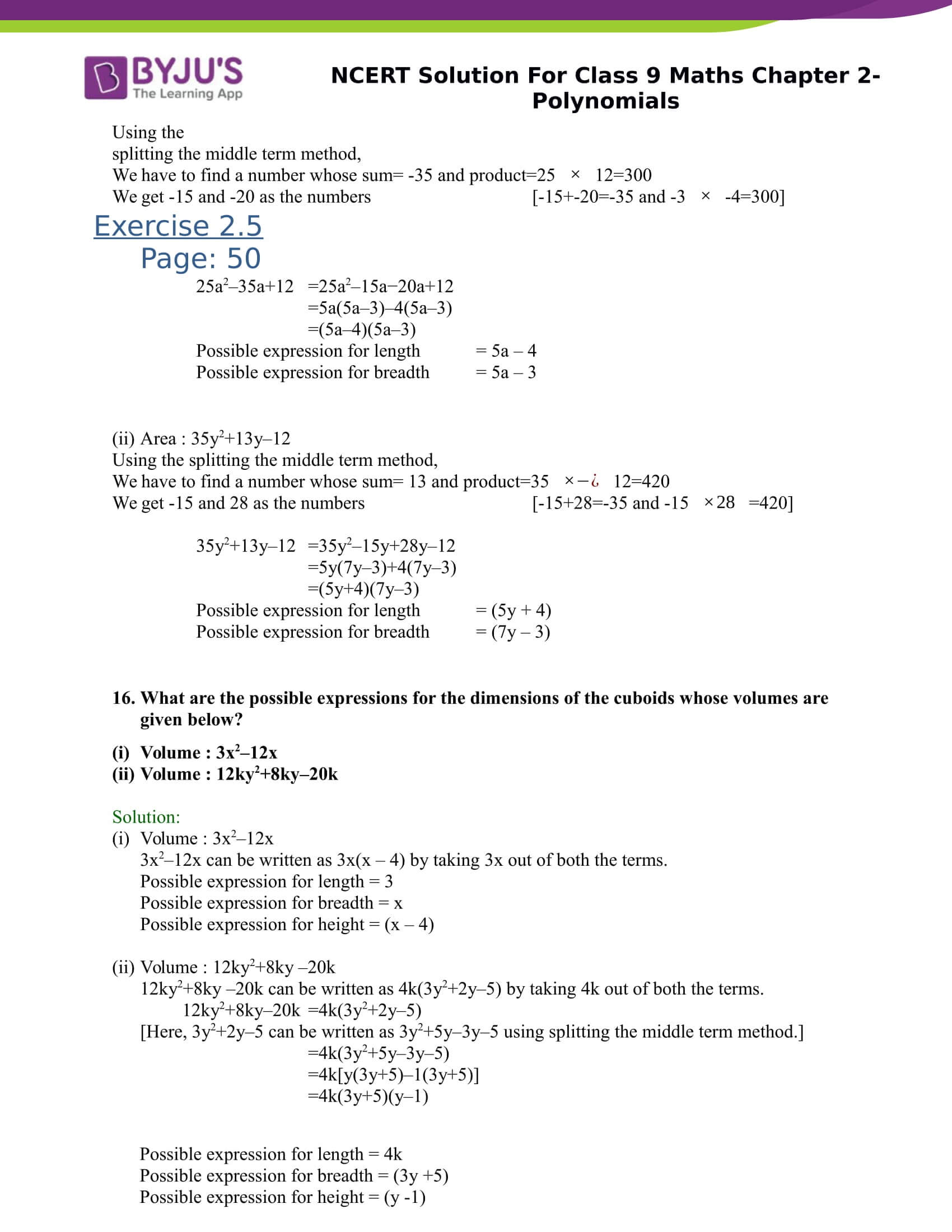 NCERT Solutions for class 9 Maths Chapter 2- Polynomials
As this is one of the important topics in maths, It comes under the unit – Algebra which has a weightage of 20 marks in class 9 maths board exams.
This chapter talks about
Polynomials in One Variable
Zeroes of a Polynomial
Remainder Theorem
Factorization of Polynomials
Algebraic Identities
List of Exercises
Exercise 2.1 Solutions 5 Questions
Exercise 2.2 Solutions 4 Questions
Exercise 2.3 Solutions 3 Questions
Exercise 2.4 Solutions 5 Questions
Exercise 2.5 Solutions 16 Questions
NCERT Solutions for class 9 Maths Chapter 2- Polynomials
NCERT solutions for class 9 maths chapter 2 – Number System is the first chapter of class 9 Maths. Number System is introduced and discussed in detail here. The chapter discusses the Polynomials and their applications. The introduction of the chapter includes whole numbers, integers, and rational numbers.
The chapter starts with the introduction of Polynomials in section 2.1 followed by two very important topics in section 2.2 and 2.3
Polynomials in one Variable – Discussion of Linear, Quadratic and Cubic Polynomial.
Zeroes of a Polynomial – A zero of a polynomial need not be zero and can have more than one zero.
Real Numbers and their Decimal Expansions – Here you study the decimal expansions of real numbers and see whether it can help in distinguishing between rational and irrationals.
Next, it discusses the following topics.
Representing Real Numbers on the Number Line – In this the solutions for 2 problems in Exercise 2.4.
Operations on Real Numbers – Here you explore some of the operations like addition, subtraction, multiplication, and division on the irrational numbers.
Laws of Exponents for Real Numbers – Use these laws of exponents to solve the questions.
Key advantages of NCERT Solutions for class 9 Maths Chapter 2- Polynomials
These NCERT Solutions for class 9 Maths helps you solve and revise the whole syllabus of class 9.
After going through the stepwise solutions given by our subject expert teachers, you will be able to score more marks.
It follows NCERT guidelines which help in preparing the students accordingly.
It contains all the important questions from the examination point of view.
It helps in scoring well in maths in board exams.