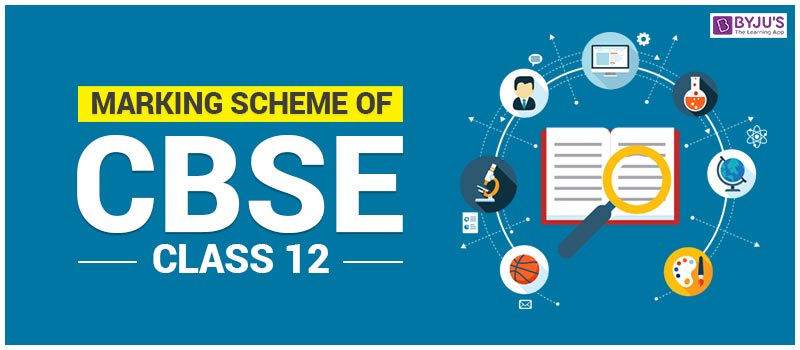 CBSE class 12 marking scheme is the guide that is used for allocating the marks to the candidates. Every year CBSE releases the marking scheme for the class 12 students in the official site. The CBSE class 12 marking scheme is released for all the sets of papers, a few days after the conduction of the exam. Marking scheme for a subject is the answer key that contains the step by step marking of each answer. The CBSE evaluate the answer sheet of the students based on this marking scheme. Here, students will find the complete detail on Marking Scheme of CBSE Class 12.
CBSE Class 12 Marking Scheme
The marking scheme of 2020 is not available on the official CBSE website. We will update once the class 12 marking scheme is made available on the CBSE Board website. However, we have provided the marking scheme for the board paper for the year 2019. Students who have to appear for class 12 exam should go through this CBSE Class 12 Marking Scheme after solving the CBSE Class 12 Question Papers. It will help them in knowing the answer writing skills from the exam perspective so that they do not lose any marks.
Below, we have also provided the marks weightage of each subject of CBSE class 12 science stream students.
CBSE Class 12 Marks Weightage for Science Stream
The detail of the marks weightage is provided in the Class 12 Syllabus by the board. Students who are preparing for the upcoming Class 12 Board exam can have a look at the marks weightage of Physics, Chemistry, Maths and Biology subjects. Going through them will give an idea to students which unit will be asked for how much marks in the board exam. Knowing this, students can plan their studies effectively and prepare for the 12th board exam in a batter way. To access the subject wise marking scheme and marks weightage, visit the links below.
For all the 3 subjects i.e Physics, Chemistry and Biology, 30 Marks is allotted to Practical. So, practical also play a major role in increasing the scores of students. To get an idea of what types of questions are asked in the exam, go through the CBSE Class 12 Sample Papers. It is important for students to concentrate on all the topics and not on the ones which have higher weightage.
We hope students have found this information on "Marking Scheme for CBSE Class 12" useful for their studies. Keep learning and stay tuned for further updates on CBSE and other competitive exams. Download BYJU'S App and subscribe to YouTube channel to access interactive Maths and Science videos.