Latest Update regarding MPSC Rajyaseva Prelims & Mains Exam | MPSC State Service Exam (Prelims & Mains) 2020
On 12th August 2020, the MPSC Exam Date for State Service (Prelims) Examination 2020 has been revised. Read below the revised MPSC Exam Dates.
On 3rd August 2020, MPSC has released the current status and proposed timetable of MPSC competitive examinations 2020 including MPSC Rajya Sewa 2020 (Prelims & Mains.)
The commission earlier had revised the MPSC Rajyaseva Mains Syllabus 2020. To download the PDF of the revised MPSC Syllabus, candidates can check the linked article. 
MPSC exams are conducted by the Maharashtra Public Service Commission. The MPSC conducts various recruitment examinations for Group A, B and C vacancies in the Maharashtra state administration. Check the MPSC 2020 Exam Dates and MPSC 2019 Final Result along with other important details about MPSC State Services Exam in this article.
REVISED MPSC EXAM DATE 2020 as of 13th August 2020:
The commission has mentioned that the revised dates of MPSC Mains 2020 will be released separately later on its official website. MPSC Rajya Sewa Pre 2020 Exam Date has been revised to 20th September 2020 against the earlier date of 13th September. 
The reason for the postponement of the MPSC Rajya Sewa Prelims 2020 is the conduct of NEET-UG exam for medical admissions, on the same date that MPSC Prelims was scheduled on. NEET-UG being a national-level examination is going to be conducted on 13th September. Maharashtra Public Service Commission has stated the due to the difficulty in handling the excess number of candidates and also of the use of examination centres for the NEET-UG exams, it decided to postpone the MPSC Prelims by a week. Over 2.5 lakh aspirants have applied for the MPSC 2020 examination.
 The exam was postponed due to Covid-19 situation. Check the Revised MPSC Exam Date below:
| | | |
| --- | --- | --- |
| MPSC Exam Name | Earlier Date | Revised Date |
| MPSC Prelims 2020 | 26th April 2020 | 20th September 2020 |
| MPSC Subordinate Services (Group B) Prelims 2020  | 3rd May 2020 | 11th October 2020 |
| MPSC Engineering Services Prelims 2020 | 17th May 2020 | 1st November 2020 |
Candidates can check the official MPSC notice regarding revised MPSC exam dates 2020 below: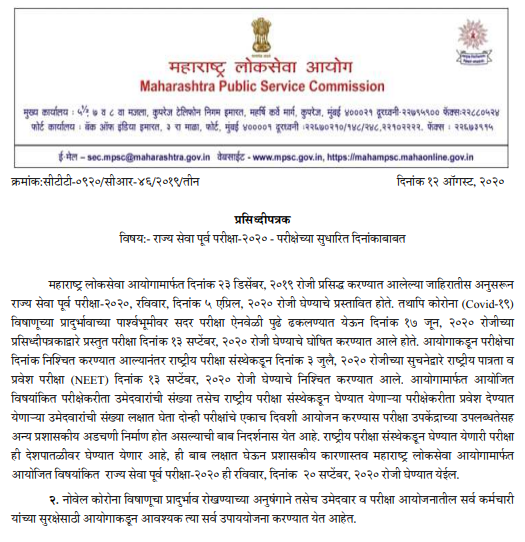 The commission, on April 4, 2020, had notified the postponement of MPSC Prelims 2020 exam due to the Covid-19 crisis. The MPSC Exam Date for Prelims 2020 has been rescheduled twice. Earlier, it was to take place on 5th April 2020, later it was decided that it will take place on 26th April 2020. Now, the revised date is 13th September 2020.
MPSC 2019 UPDATE:
On 19th June 2020, MPSC has declared the State Services 2019 Final Result. 339 Candidates have been declared successful. Prasad Basaveshwar Chaugale has topped the MPSC Rajya Sewa Mukhya Pariksha 2019/ MPSC 2019. Candidates can download the MPSC State Services Final Result and MPSC Cut-Off below:
MPSC 2019 Final Result & MPSC Cut-Off:-Download PDF Here
MPSC had declared State Services Main Examination result 2019 on 14 January 2020. 1326 candidates were declared successful for the interview stage. MPSC Rajya Sewa Mukhya Pariskha 2019 took place in July 2019.
MPSC State Service Exam 2020 Information and Dates:
MPSC 2020 State Service Examination
State Service Examination Application will be out in
December 2019
MPSC State Service Exam Prelims 2020 will take place on
13 September 2020 (Revised Date)
MPSC State Service Exam Mains 2020 will take place on
07, 09, 10 July 2020 [Postponed]

Revised Dates yet to be announced
In the year 2020, MPSC will conduct the following exams:
State Service Exam 2020 
Civil Judge and Judicial Magistrate Exam 2020
Assistant Motor Vehicle Inspector Exam 2020
Assistant Section Officer Exam 2020
Maharashtra Subordinate Services Combined Exam 2020
Police Sub Inspector Exam 2020
Maharashtra Group-C Services Combined Exam 2020
Maharashtra Agriculture Services Examination 2020
Maharashtra Forest Services Exam 2020
Maharashtra Engineering Servies Combined Exam 2020
Assistant Section Officer Exam 2020
State Tax Inspector Exam 2020
Maharashtra Education Services (Group B) Exam 2020
MPSC State Service Exam 2020
The State Service Exam or the MPSC Rajyaseva Exam is conducted by the commission to recruit Group A and Group B officers in the various administrative branches of the Maharashtra state government.
The pattern and syllabus of the state service exam are loosely modelled on the lines of the UPSC IAS exam.
Candidates who are preparing for MPSC State Service Exam will find the below links helpful:
MPSC Eligibility Criteria for State Service Exam
MPSC Preparation – Free study material, books, notes and current affairs
MPSC Question Papers – Download Exam Papers (along with Answer Keys) for State Service Exam (2019, 2018, 2017, 2016).
MPSC Exam 2020
The old MPSC calendar 2020 can be downloaded from the link below.
MPSC Exam Dates (Marathi):- Download PDF Here
MPSC State Service Exam 2019 Information and Dates:
MPSC Vacancies
Date of State Service Preliminary Exam 2019
Date of State Service Mains Exam 2019
Date of State Services Final Result 2019

342 (updated – 339)

February 17, 2019

July 13,14 and 15, 2019

June 19, 2020
MPSC Exams

Table of Contents:
Many aspirants prepare simultaneously for State Civil Service Exams and the Civil Service Exam conducted by the Union Public Service Commission (UPSC).
The UPSC calendar 2020 can be seen here.
MPSC Exam Calendar
The dates for MPSC recruitment exams is given below: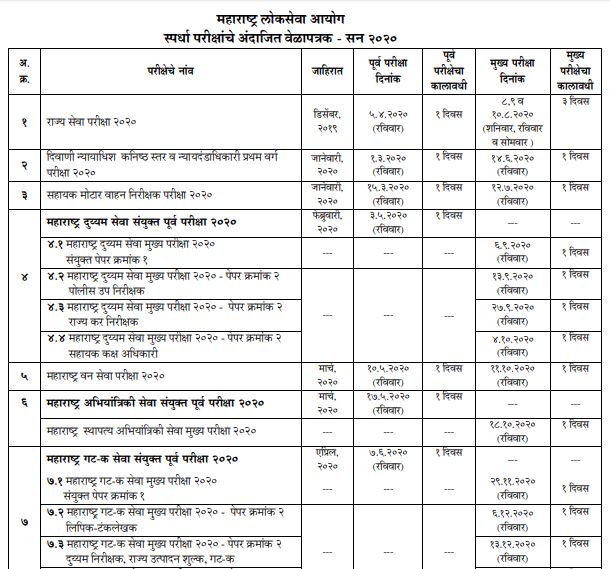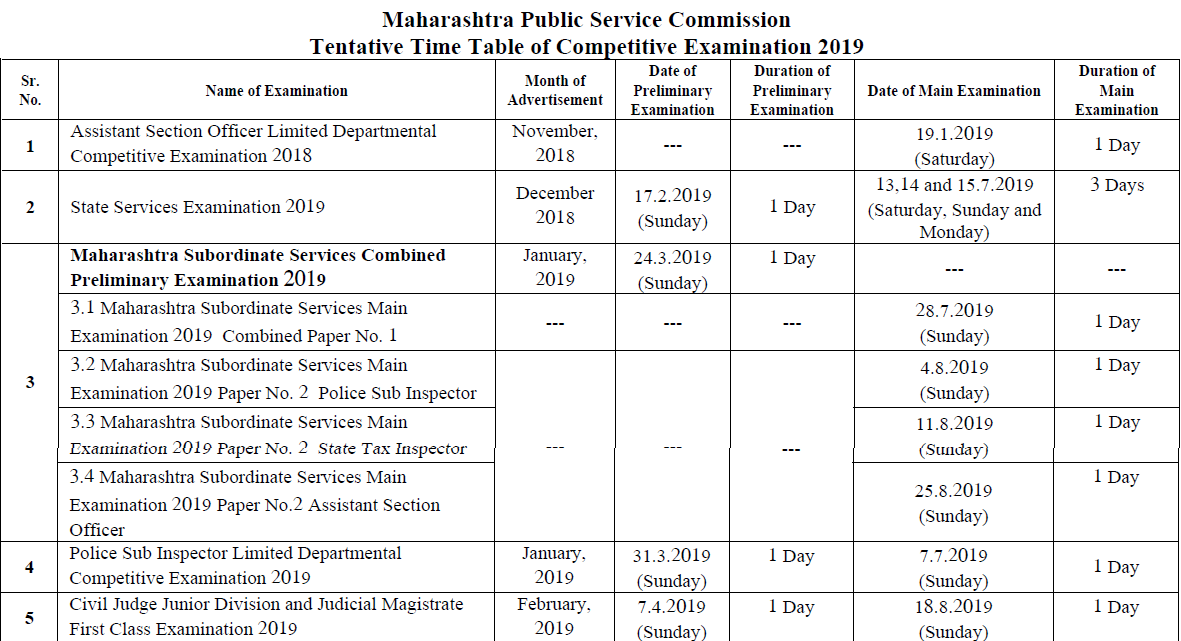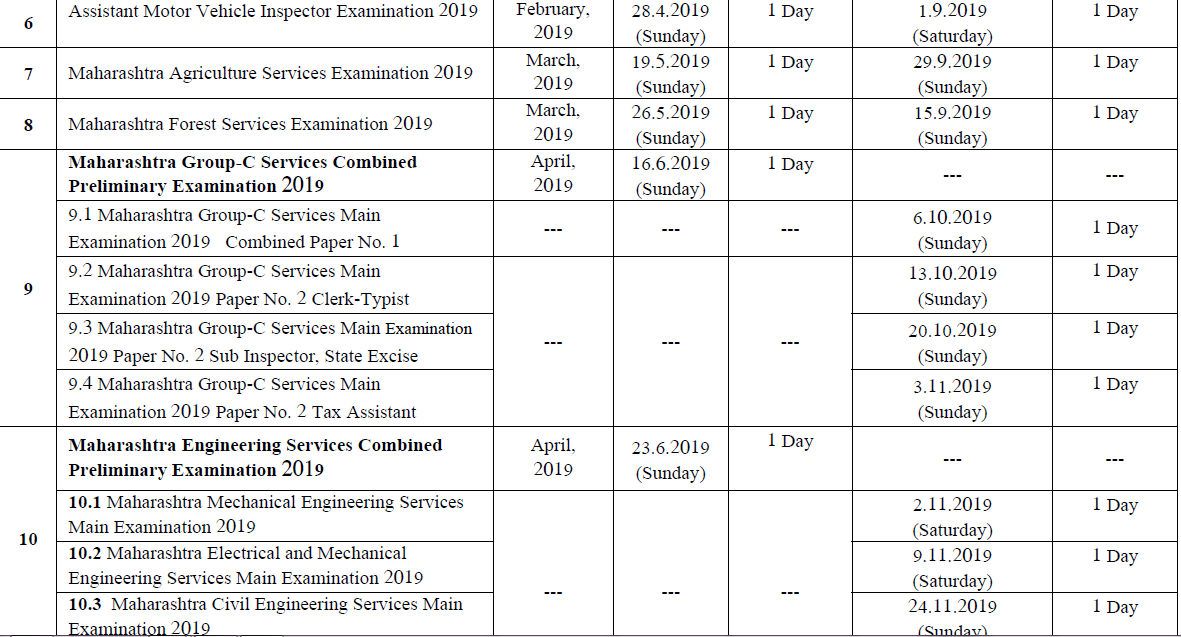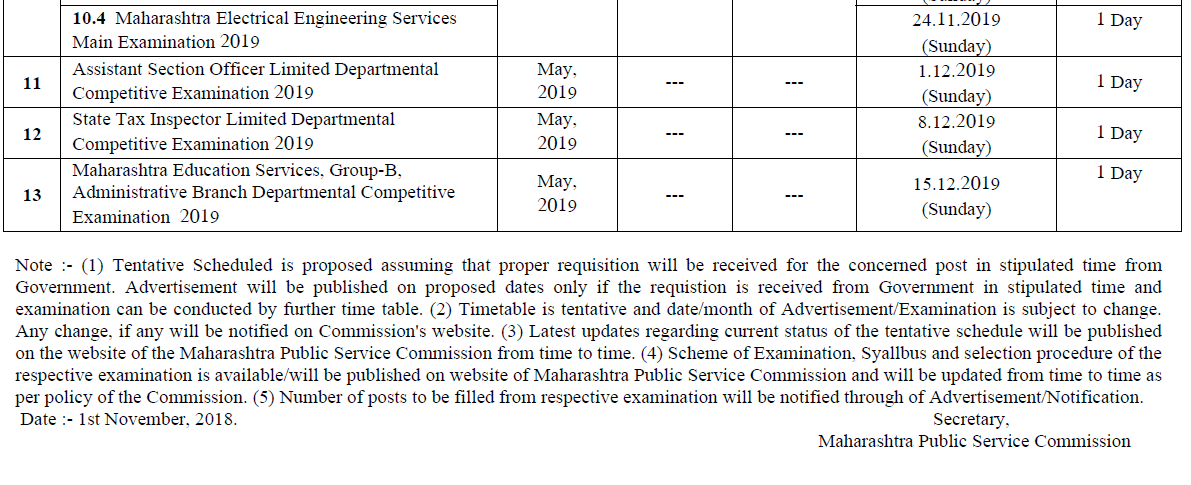 Interested candidates can apply online for the MPSC exams at the official site (mahampsc.mahaonline.gov.in).
The MPSC has made the entire application process online.
Apply Online
The steps to apply online for MPSC exams are given below:
Open the official Maha Online site in the browser
If you don't have an account, you will need to create one in order to apply for MPSC recruitment exams.
Login using Id and Password. The home page will display the steps for application submission along with the latest MPSC recruitment advertisements and notifications.
Create your profile (this is a one-time process). The profile is divided into six compartments:

Personal Information – Full name, Date of Birth, Maharashtra Domicile, Disability, Caste/Category etc.
Address Information
Other Information – Ex-serviceman, Govt employee, Sportsperson, Physical details (Height, Weight etc.)
Qualification Information – SSC, HSC, Graduation, Post Graduation etc.
Experience Information – Professional work experience
Upload Photo/Signature (Download instructions in Marathi here)

From the list of exams for which you are eligible, select the particular exam
Fill and submit the MPSC application form
For paying the fee, candidates can either pay

bank payment
at citizen service centres

For competitive exams, candidates need to select the MPSC exam centre to complete the online application process
Candidates who plan to prepare for the UPSC IAS Exam along with the MPSC Exam can refer the links below:
MPSC Exam Centres
The exam centres for the State Service Exam – Mains are:
Aurangabad
Mumbai
Nagpur
Pune
The MPSC exam centres for State Service Preliminary Exam are given below: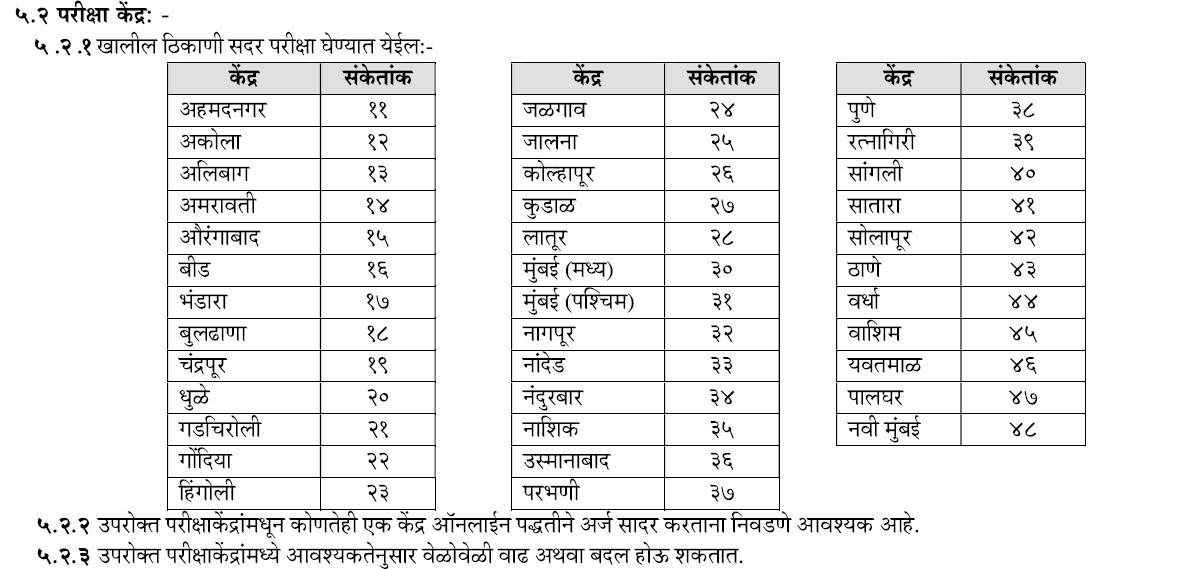 MPSC Posts and Salaries
For information on MPSC exams, jobs and latest advertisements, candidates should refer to the official website.
The MPSC advertisements list the vacancy, eligibility details for various posts.
For e.g., the MPSC State Service Exam (Preliminary) Notification 2020 listed:
Vacancies: 342 (later changed to 339)
Posts:

Dy. Collector (Group A)
Dy. Superintendent of Police/Assistant Commissioner of Police (Group A)
Assistant Director (Maharashtra Finance and Accounts Service – Group A)
Industry Deputy Director – Technical (Group A)
Tehsildar (Group A)
Deputy Education Officer (Maharashtra Education Services – Group A)
Assistant Regional Transport Officer (Group A)
Room Officer (Group A)
Assistant Group Development Officer (Group B)
Industry Officer – Technical (Group A)
Naib Tehsildar (Group B)
In 2018, the MPSC posted on its official website the scheme (exam pattern) of the State Services Exam. The exam scheme gives the posts, salaries, pay scale, eligibility, instructions for candidates, along with the pattern for Prelims and Mains.
MPSC Exam Information In Marathi:- Download PDF Here
The MPSC posts and salaries are given below: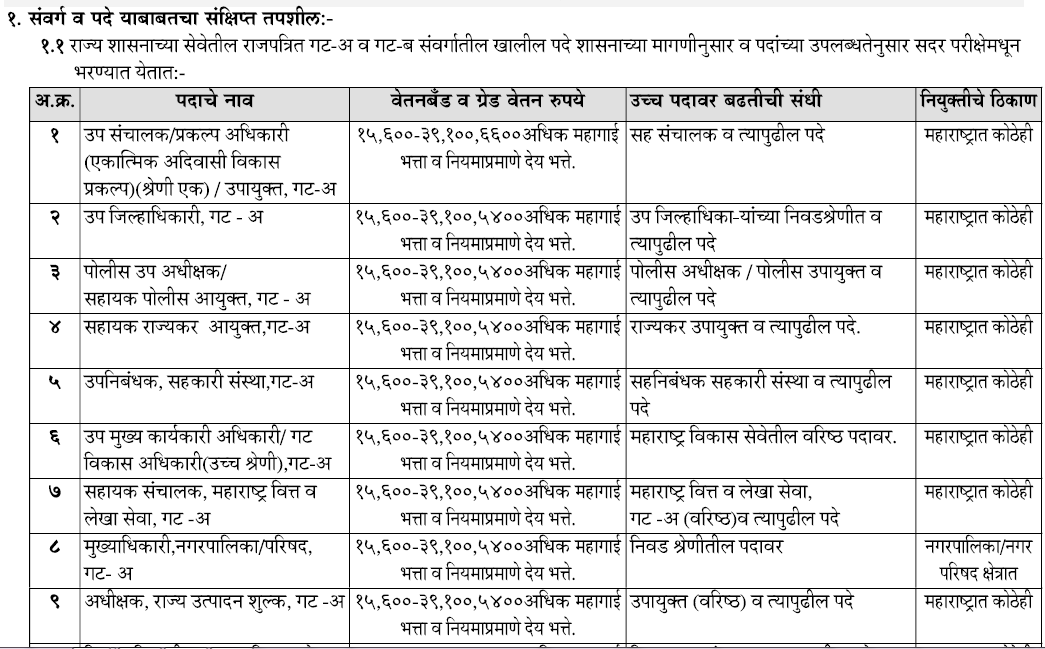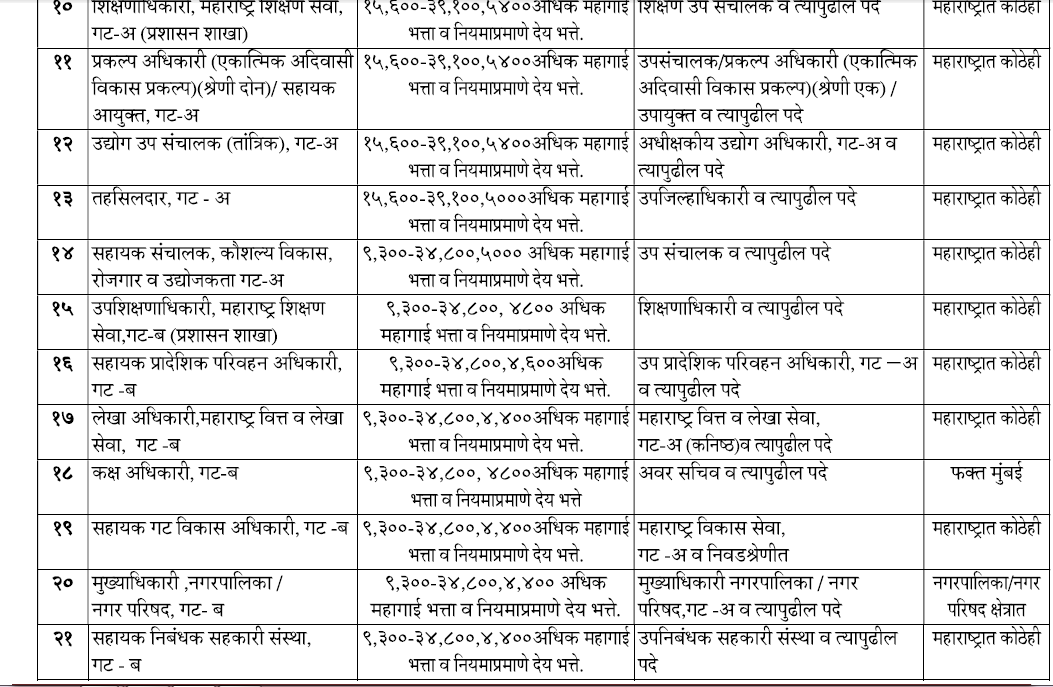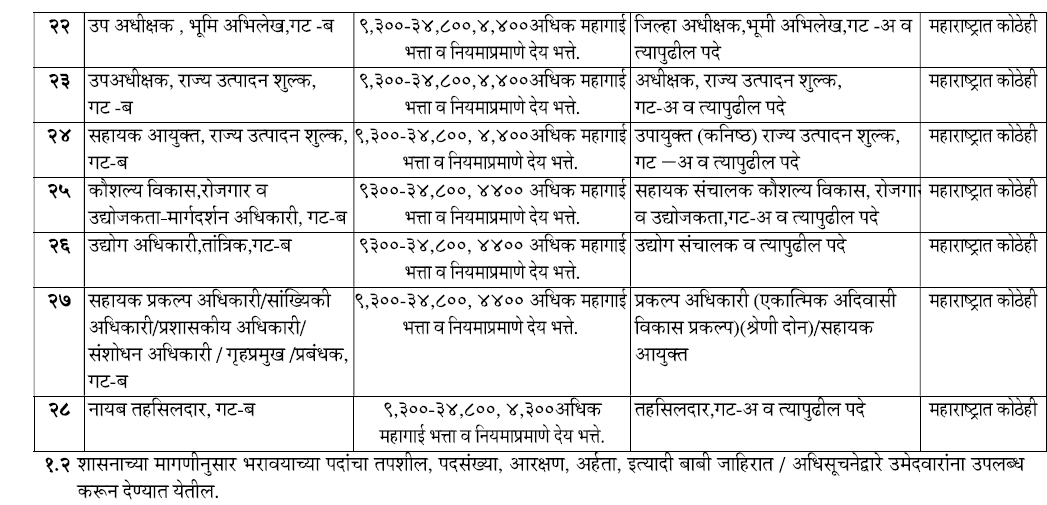 MPSC Application Fee
For the State Service Preliminary Exam, candidates have to pay application fee:
General: Rs 524
Category: Rs 324
For the State Service Mains Exam, candidates have to pay application fee:
General: Rs 524
Category: Rs 324
The MPSC exam form fee details are given below:

About MPSC
The Maharashtra Public Service Commission is a constitutional body which conducts recruitment exams and advises the state government on recruitment rules, transfers, disciplinary action etc.
MPSC Composition:
The MPSC comprises a Chairperson and five other members. However, for some time now, several seats are lying vacant causing delays in the recruitment process.
Currently, the MPSC Chairman is Shri Chandrashekhar Vasant Oak. He was appointed as the Acting Chairman when the Chairperson resigned.
MPSC contact details are given below:
Tel. no. : 022-22795900, 022-22795971, 022-22821646

Fax no. : 022-22880524

Email ID: sec.mpsc@maharashtra.gov.in

Timings: Monday to Saturday – 10.00AM to 5.15 PM (Except 2nd & 4th Saturday).

Postal Address: Main Office –  5th, 7th and 8th flr, Cooprej Telephone Exchange Bldg. Maharshi Karve Marg, Cooprej, Mumbai 400021

Fort Office – 3rd flr, Bank Of India Bldg. M.G.Road, Fort, Mumbai 400001

For Technical assistance (Maha Online) Technical person contact details

Tel. no. : 022 – 61316402

Email ID: support@mahaonline.gov.in

Timings:

Monday to Friday – 9.00AM to 8.00PM

Saturday & Sunday – 9.30AM to 6.30PM

(Contact only for online application help)
MPSC Related Queries
Which is the highest post in MPSC?
A few of the important posts for which candidates are recruited through MPSC exam are:
Deputy Collector (Group A)
Deputy Superintendent of Police (DySP) (Group A)
What is the date of MPSC 2020?
The MPSC 2020 revised dates are yet to be announced by the commission. The MPSC Prelims 2020 was scheduled for 26th April 2020 but now will take place on 20th September 2020.
What are the subjects in the MPSC Exam?
In MPSC 2020 Prelims and Mains, the main subjects are History, Polity, Economics, Geography, Environment in MPSC syllabus.