Parents know best | BYJU'S Tuition Centre Experience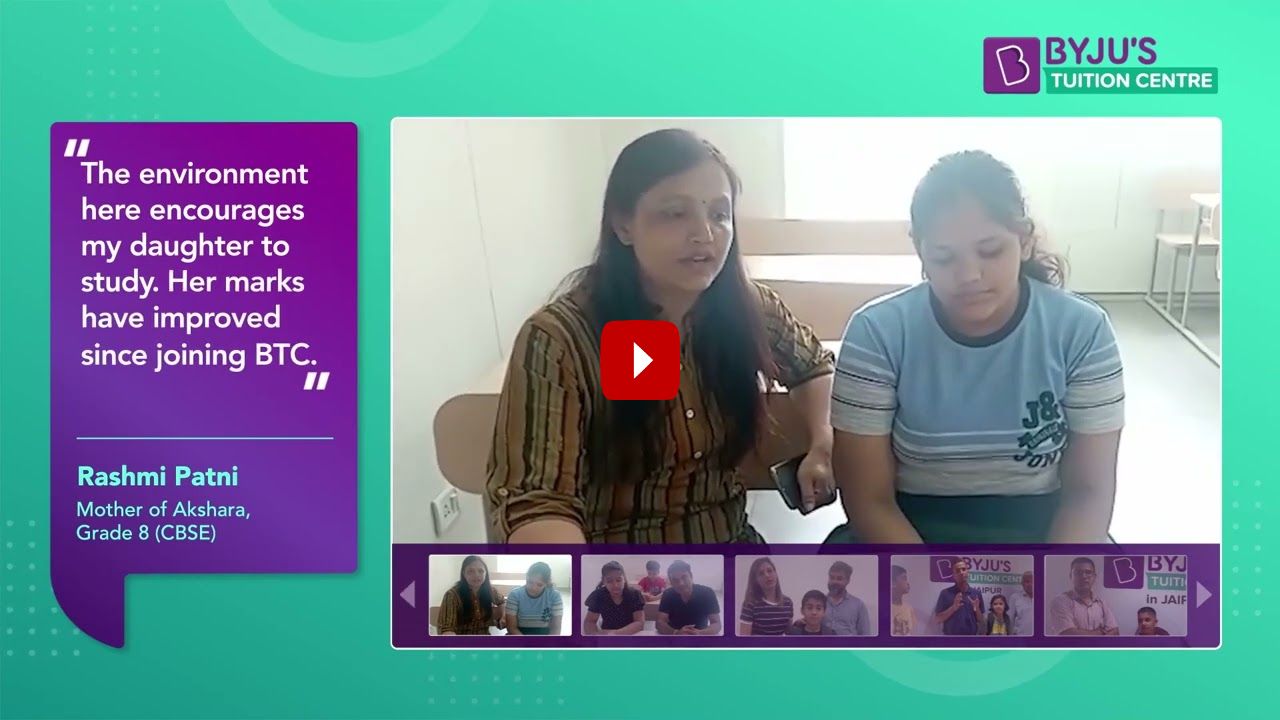 Every student has their own learning style, be it kinesthetic, auditory or visual learning and perform their best when taught that way. But school classes usually miss out on these details. At BYJU'S Tuition Centre, Alwar, Rajasthan, we specifically map students' learning behaviours and make a knowledge graph accordingly. We have a 3600 learning and teaching system which promotes the active involvement of both parents and teachers. If you are also struggling to find the best tuition centre near you then choose BYJU's. It is India's most loved ed-tech brand among kids and is affordable too. We also have an experienced team of teachers who not only have sound knowledge of the subject but also form a strong bond with students. BYJU'S provides personalised tuition with a new-age learning methodology. Students of Classes 4-10 can enrol for Maths and Science tuition for the CBSE syllabus at BYJU'S Tuition Centre, Alwar.
Benefits of Learning with BYJU'S Tuition Centre
With regular performance tracking, students can perform well as they are aware of their strengths and weaknesses. BYJU'S Tuition Centre, Alwar, Rajasthan makes sure that every child is focused, yet interested and eager to learn new things everyday. Alwar has many tuition centres; but the below-mentioned features and benefits make BYJU'S the best tuition centre near you:
Benefit of learning with India's largest ed-tech company
Making practice and revisions a day-to-day task for improved study routine
Result-oriented outcomes with our proven methodology
Monthly physical tests at the centres including subjective questions followed by detailed analysis and discussions
24/7 access to a huge library of innovative animation and worksheets on the app
Real-time doubt solving at the centre in Alwar
Two-teacher model — one for teaching and the other for instant doubt-resolution
Free workshops and tech-enabled classrooms conducive to new-age learning
Comprehensive teaching with regular homework and frequent parent teacher meetings
Hybrid learning at BYJU'S Tuition Centres with online and offline classes
Improved confidence and social skills with group discussions, team activities, etc. at the centre
Get a call back from our counsellors at BYJU'S Tuition Centre, Alwar, to make the right decision for your child.