Parents know best | BYJU'S Tuition Centre Experience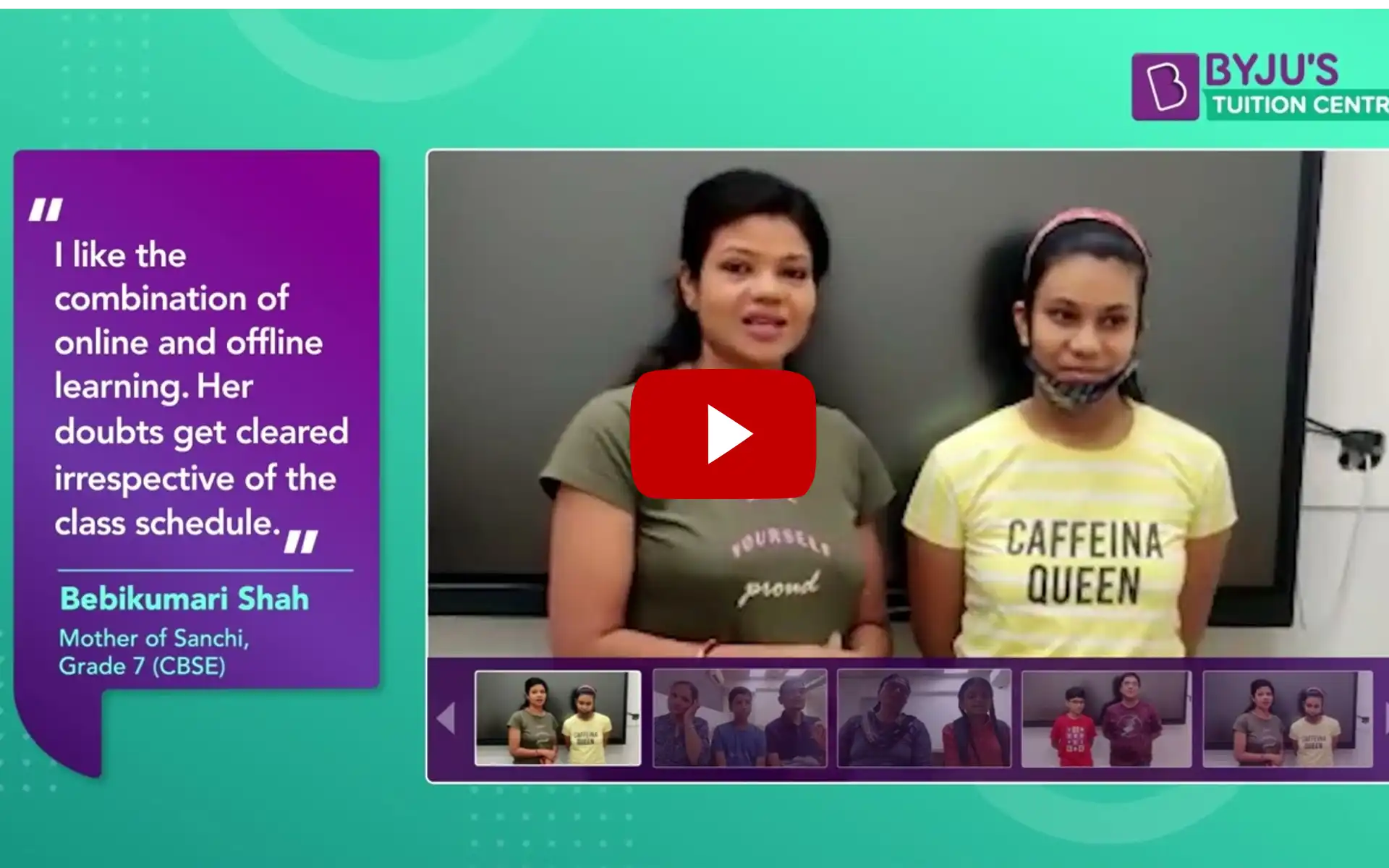 Adaptive learning has become the need of the hour; most teachers apply the same teaching technique which results in lack of concentration of the student. At BYJU'S Tuition Centre, Vapi, Maharashtra, we make sure that the students are glued to the topic. Instead of bombarding the students with whole lessons, we have a selective approach. We provide bite-sized concepts which are not only easy to grasp but we also try to make it a fun learning experience. We are providing affordable tuition for Maths and Science subjects. Students of Classes 4-10 can get personalised tuition at BYJU'S Tuition Centre based on the CBSE and Gujarat state boards. The formative years are crucial to make a bigger and long-lasting impact; hence we encourage students to opt for early learning experience at BYJU'S.
Benefits of Learning at BYJU'S Tuition Centre
At BYJU'S Tuition Centre, Vapi, Maharashtra, students get tech-enabled classrooms and the best study environment. BYJU'S Tuition Centre has some exciting benefits which are mentioned below:
BYJU'S advantage with India's top teachers
Learning with India's largest ed-tech company
Our proven methodology for outstanding performance and results
Personalised learning journey with individual attention from mentors at the centres
Animated video lessons and a huge library of worksheets with 24/7 access to the app
Engaging and interactive classes with peer-to-peer learning
Exclusive two-teacher model for teaching
Real-time doubt solving during the class at the centres in Vapi
Simplified concepts with video lessons and interactive sessions at the centre
Strict study routine with homework and assessments
Free workshop and state-of-the-art facilities at the classrooms in Vapi
Building other skills such as cognitive skills, critical thinking and problem-solving
Hybrid learning with online and offline classes
Regular revisions, unlimited practice and in-depth analysis
Regular monitoring facilitated via revisions and assessment to understand real-time progress
At BYJU'S Tuition Centre, Vapi, we strive to help students become the best version of themselves. Get a call back from our counsellors to make the right decision for your child.