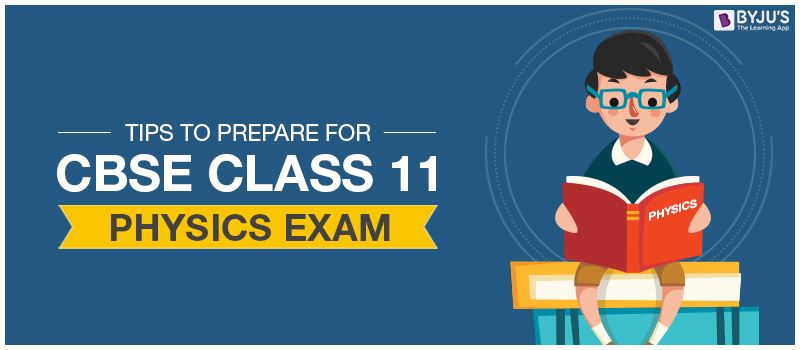 Class 11 is considered one of the most crucial stages in a student's life. Students who want to score good marks in their Class 12 CBSE Board Examination must not take Class 11 lightly. Physics is a vital subject, not only for board examinations but also for various competitive entrance exams. Students who aspire to become a doctor or an engineer in the future must take Class 11 Physics seriously. The syllabus of CBSE Class 11 Physics is included in various popular competitive medical and engineering entrance examinations.
Table of Contents:
Students must learn to understand the concepts of physics and apply them in the provided situation. This will improve their logical thinking as well as their analytical skills. Along with hard work, students must have a proper preparation strategy to prepare for the Class 11 Physics Exam. Some tips to prepare for CBSE class 11 physics are provided in the points mentioned below.

The Exam Pattern and Syllabus of Class 11 Physics Exam
One of the first steps that students must take is to get completely familiar with the CBSE Class 11 Physics Syllabus and exam pattern. The exam pattern in the class 11 exams is exactly similar to the 12th standard board exam in terms of the choices in the paper, the question-wise breakup of marks, and the number of questions. The exam pattern of the CBSE Class 11 Physics exam is provided below to make students familiar with the latest exam pattern of the board.
| | | | | |
| --- | --- | --- | --- | --- |
| Section | Question Type | No. Of Questions | Marks Of Each Question | Total Marks |
| A | Very Short Answer Type Question | 5 | 1 | 5 |
| B | Short Answer Type Question (I) | 5 | 2 | 10 |
| C | Short Answer Type Question (II) | 12 | 3 | 36 |
| D | Value-Based Questions | 1 | 4 | 4 |
| E | Long Answer Type Question | 3 | 5 | 15 |
As we can see that the total marks in 70 and the total number of questions asked in the exam are 26. Students are suggested to thoroughly understand the exam pattern and the syllabus before their examination.

Focus on Important Topics
Students are always suggested to focus on every topic to secure good marks in the exam. But they must also give extra attention to all the important topics of the physics exam. Some important topics of physics class 11 are provided below.
Work, Energy, and Power
Thermal Properties of Matter
Rotational Motion
Thermodynamics
Kinetic Theory
Gravitation
Laws of Motion
Waves
Students are suggested to give extra time to these topics as they can help them get some crucial marks in their examination.

Follow a Timetable
While preparing for physics, following a well-planned timetable is very important. After completely analyzing the 11th standard exam pattern and the syllabus students must prepare a study strategy or a timetable to carry on with their preparation. They should allocate equal time for all the topics in the exam along with proper study breaks. Students should allocate extra time for the important topics as well as for solving problems, practising question papers, and for revision.

Practice question papers
One of the best ways to prepare for the CBSE exam is by practising CBSE sample papers and previous year's question papers. Students are suggested to solve CBSE Class 11 Physics sample papers and previous year's question papers regularly to prepare for the exam more effectively. By going through these question papers students will get a clear idea about the question pattern, the marking scheme, and the question weightage of the exam paper. It will also help them shortlist the important and difficult topics of the exam. Students should solve the CBSE Physics question papers on a regular basis which will boost their preparation tremendously.

Revise properly
The last few days before the examination is one of the most tensed periods in a student's life. Students should not worry about the exam which will only bring unnecessary panic to them. They should use this time in revising all the topics of the physics class 11 syllabus. They should revise all the important formulas and theories on a regular basis so that they can retain them during the time of their exam. Revising will also give them confidence which will help them to write their exam more efficiently.
These were some tips to prepare for the CBSE Class 11 Physics Exam. Students preparing for the Class 11 physics exam can follow these strategies to prepare for their exams more effectively. Stay tuned with BYJU'S to learn about interesting Physics topics like the electric current, Ohm's law, gravitation, etc with the help of interactive video lessons.