Solving the CBSE Class 11 Biology Sample Paper is the best resource to prepare for the exam. Once students are finished with the syllabus then they should start solving the sample paper. It helps them in analysing their preparation level for the exam. Also, they get to know their weak and strong points. Working on them will improve their performance. The difficult thing that students face while attempting the actual CBSE Sample Paper is the timing problem. As the Biology paper is lengthy most of them are not able to complete it in the allocated time duration. Practising through CBSE Sample Papers of Class 11 Biology helps them in managing their time properly during the exam.
Students must practise the sample papers to give a final touch to their preparation. These papers give an idea of the actual question paper pattern, type of questions asked and their difficulty level. All the important topics of CBSE Class 11 Syllabus of Biology are covered in these sample papers; thus, it helps in revision as well.
CBSE Class 11 Biology Sample Papers
The CBSE Biology Sample Papers for Class 11 are prepared by subject experts and contain both objectives and subjective types of questions. These papers are based on the latest Syllabus and follow the guidelines issued by the CBSE. Students can get the sample papers for all the subjects compiled at one place by visiting CBSE Class 11 Sample Paper page. They must download Biology sample papers from the table below and solve them to get acquainted with the latest exam pattern and marking scheme.
These Biology Class 11 sample papers will provide good practice to students' and help them in revision. They will get an idea of the type of questions expected to be asked in the exam and prepare themselves accordingly.
We hope students have found this information on "CBSE Sample Paper for Class 11 Biology" useful for their exam preparation. Keep learning and stay tuned for further updates on CBSE and other competitive exams. Download BYJU'S App and subscribe to YouTube channel to access interactive study videos.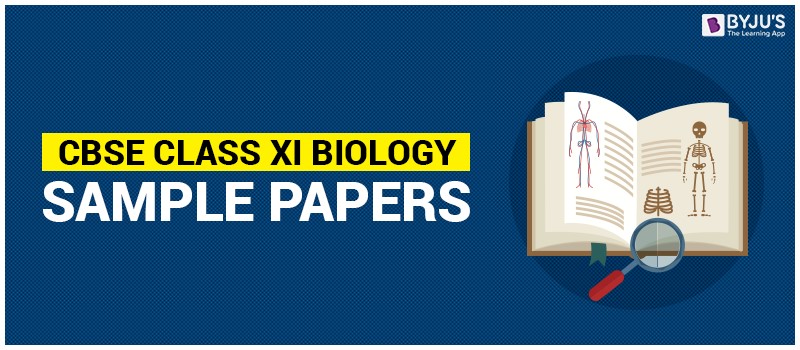 Frequently asked Questions on CBSE Class 11 Biology Sample papers
What are the deleted topics in CBSE Class 11 Biology?
The updated and revised syllabus for Class 11 Biology Syllabus which contains all relevant information regarding CBSE Class 11 Syllabus.
Is CBSE Class 11 Biology easier than the other electives?
Biology can be an interesting subject if studied with apt explainations and diagrams. However adequate revision is necessary to score high marks
How many chapters are there in Class 11 Biology?
The CBSE Class 11 Biology Syllabus contains revised syllabus can be referred to obtain complete information on this.