CBSE Previous Year Question Papers Class 10 Science are provided here for students' board exam preparation. By solving the past year papers, students will get an idea of the Science paper pattern and type of questions asked in the exam. So, to help students prepare better for the exam, we have compiled the CBSE Previous Year Question Papers Class 10 Science with solutions for the year 2010 to 2020. Students can download these Previous Years Science Question Papers PDF from the link provided further on this page. They must solve these papers to score high marks in the Class 10 Science exam.
Science is a very interesting subject, full of facts and discoveries. It has a great demand in different fields like Chemistry, Physics and Biology. So, those students who want to build their career in the field of Science must score good marks in Class 10 Science exam. For this, they need to practise the CBSE Class 10 Science Previous Year Question Papers and Sample Papers.
CBSE Previous Year Question Papers Class 10 Science 2010 to 2020 with Solutions
These previous years question papers of CBSE Class 10 are made available by the CBSE on the official website to make students thorough with the exam pattern. Students must seriously solve these question papers and leave no stone unturned for their board exam preparation. To download the Previous Year Question Papers of CBSE Class 10 Science click on the links below. Student can also find a separate solution pdf for each paper. These CBSE Class 10 Science Solution pdf will help them to evaluate their preparation level and they can work to improve their performance accordingly.
To Get the Detailed Answers of Science 2019 Paper, Watch The Video Below: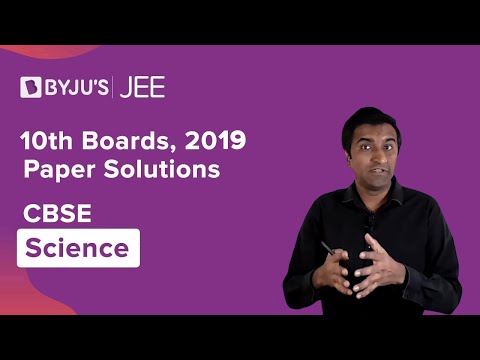 Why To Solve CBSE Previous Year Question Papers Class 10 Science?
Solving Previous Year Class 10 Science Question Papers will be a revision for students as these question papers cover the entire CBSE Class 10 Syllabus and important topics. They will also get to know the past years' exam trend and questions asked in the Science paper. Students who want to increase their overall score in the class 10 board exam should solve the CBSE Previous Year Question Papers of Class 10 of all the subjects. It will help them to understand the difficulty level of the paper and the type of questions that can be expected in the exam. It also helps in reducing their exam anxiety and gives them the confidence to write the exam. The solution pdf will help them learn the way of representing the answers in the answer sheet.
Stay tuned for further updates on CBSE Exam. Download the BYJU'S App and subscribe to YouTube Channel to access interactive study Videos.