For most of the students in any engineering entrance examination, chemistry is the rank decider because it mostly talks about the basics and in comparison to Mathematics and Physics questions asked in JEE, Chemistry questions are more theoretical than calculative which makes it relatively easier for students to score well from this section. The best strategy to prepare well for the JEE Chemistry section is to analyze the past few years' question papers and strengthen all the concepts accordingly.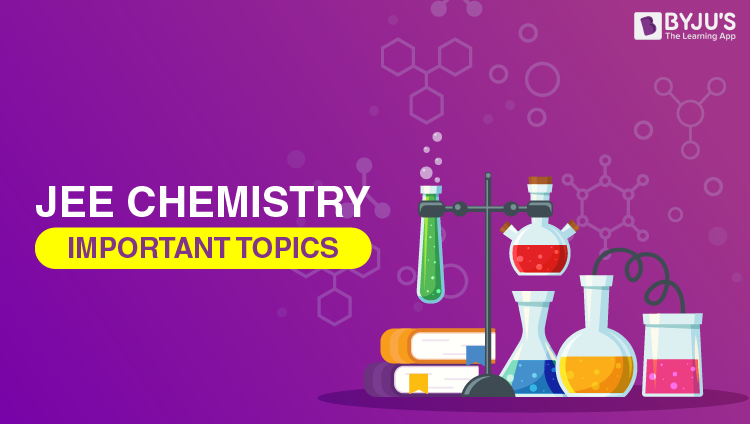 All the chemical compositions, reactions, mechanisms, chain reactions and the quality of questions are almost the same. Several times in JEE exams the same type of questions have been asked with the only difference in the level of difficulty. In JEE Main 2020 most of the questions asked were of moderate level in terms of difficulty. However, there were few tricky questions, but they could be answered easily with strong basics and fundamentals. There are around 25 chapters included in JEE Chemistry Syllabus.
Overview Of Important Chemistry Chapters For JEE Main And Advanced
A brief overview of certain important chapters for JEE Main and Advanced included in JEE Chemistry Syllabus 2023 is described below:
In order to prepare well, it's very important to read and revise as much as possible as the majority of topics are theoretical and there are always certain possibilities of forgetting things.
1. Important chapters for JEE Main and Advanced in Physical Chemistry:
a. Mole Concept: It is one of the most basic and very important concepts in physical chemistry and to develop a strong understanding of the entire unit you need to prepare well. Several questions in JEE Exams are asked from this unit but they could be solved easily if you have a firm command of the concepts.
b. Atomic Structure: Every year in JEE Exams, around 2 to 3 questions are generally asked from this unit and this unit does not have any direct correlation with the Mole Concept. The remaining topics like Electrochemistry, Thermodynamics, Equilibrium, Kinetics, etc. are essentially derived from the mole concepts and have nearly equal weightage.
2. Important chapters for JEE Main and Advanced in Inorganic Chemistry:
All the topics included in Inorganic Chemistry are equally important. Therefore, don't skip any topic from this unit as it is one of the high scoring subjects. Since there are various compounds and you need to study their methods of preparation, uses, chemical reactions, etc. So, it is better to have a proper analysis of all the topics included in JEE Syllabus from Inorganic Chemistry so that while preparing you won't get diverted from the syllabus.
Several conceptual questions are asked from s, p, d and f-block elements thus, instead of memorizing it's important to understand it through visualization so that certain complex properties and compositions could be understood easily. You could understand the reactions very easily if you have a good knowledge of periodic table along with the trends in the properties of atoms like atomic radius, electron affinity, electronegativity, ionization and the electrode potential.
3. Organic Chemistry:
The entire portion of organic chemistry could be easily understood if you are well versed with the general topics in organic chemistry that includes nucleophiles, electrophiles, type of reactions, basicity, acidity, etc and the remaining portion of organic chemistry is just its application part. These topics are covered in the general organic chemistry part of the JEE syllabus.
a. Named Reactions: There are several standard named reactions in organic chemistry and you should know all these named reactions along with their mechanisms so that, you could easily solve any similar type of problem asked in the question paper.
b. Organic Synthesis: It is one of the important and conceptual aspect of organic chemistry and every year in JEE Exams, around 2 to 3 questions are asked from this section that includes writing certain steps to synthesize any particular compound by the provided set of reagents with as little efforts as possible. Sometimes, you have to write the missing chemicals in any particular step of the synthesis. Therefore, it is very important to know some of the common chemical reactions.
IIT JEE Chemistry Important Topics
JEE Main 2023 Chemistry Important Topics and Revision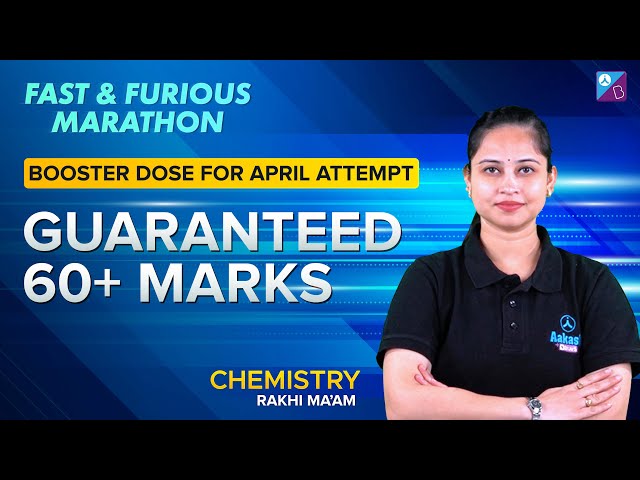 JEE Chemistry Chapterwise Most Important Topics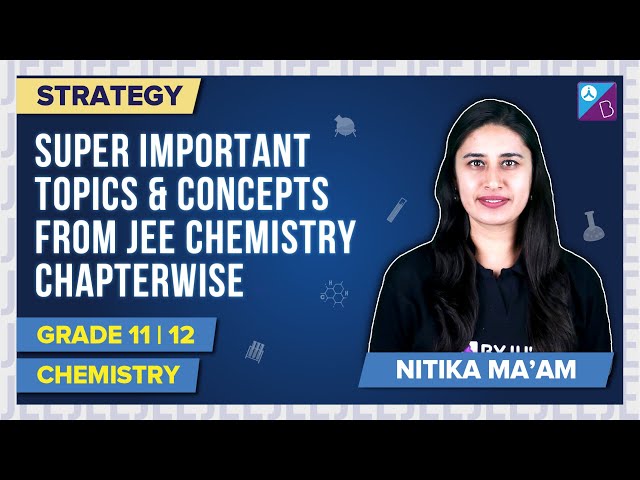 60 Most Important Chemistry JEE Main Questions – Part 1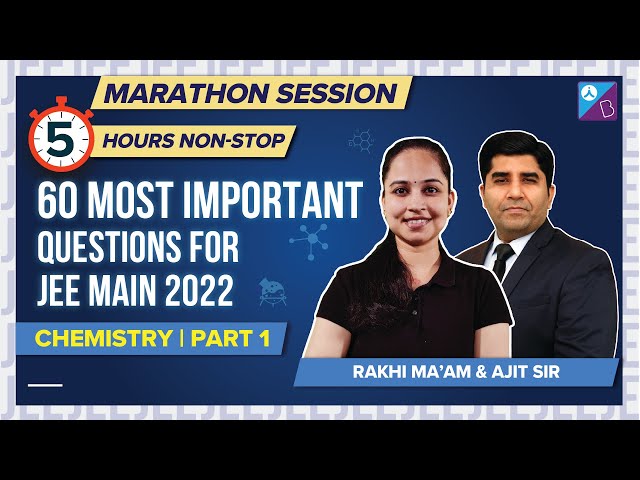 JEE Main 2019 Chemistry Section
In 2019, the first session of JEE Main paper consisted mainly of direct and easy questions in the chemistry section. Out of the three sections consisting of physics and maths chemistry was the high scoring section. In terms of high weightage chapters for jee mains, all three main units of chemistry – organic, inorganic, and physical chemistry were given equal importance. However, the chemistry section consisted of more question from class 12 syllabus where 17 questions were set from different chapters. Alternatively, 13 questions were framed from class 11 syllabus.
As for the distribution of questions, 12 questions came from physical chemistry, 10 were set from organic chemistry and inorganic chemistry saw 8 questions. In terms of difficulty, 3 questions required a bit mental work while 16 on a moderate level and 11 questions were quite easy. Let us look at the topic-wise weightage of marks and the number of questions.
Chemistry

Topics

No of Questions

Weightage of Marks

The periodic table and Representative Elements

3

12

Transition Elements and Coordination Chemistry

3

12

Atomic Structure

2

8

Nuclear Chemistry And Environment

2

8

Chemical Kinetics

1

4

Solid State And Surface Chemistry

2

8

Thermodynamics And Gaseous State

2

8

Chemical Bonding

2

8

Chemical And Ionic Equilibrium

2

8

Solution and Colligative Properties

1

4

Hydrocarbon

1

4

Aromatic Compounds

1

4

Redox Reaction

1

4

Mole Concept

1

4

Alkyl Halides

1

4

Carboxylic Acid and their Derivatives

1

4

Electrochemistry

1

4

General Organic Chemistry

1

4

Stereochemistry

1

4

Carbohydrates, amino acid and Polymers

1

4

Total

30

120
Some of the important chapters for 2019 include;
Chemical Thermodynamics

Solutions and Colligative Properties

Nuclear and Surface Chemistry

Practical and Environmental Chemistry

General Principles and Processes of Isolation of Metals (Metallurgy)
JEE Main 2018 Chemistry Section
The 2018 JEE Main paper saw chemistry questions that were a mix of theory and a bit of calculation. This section was comparatively easy but lengthy where 16 questions were set from the 11th standard syllabus and 14 questions were asked from the 12th standard syllabus. The chemistry section consisted of 10 easy questions, 17 questions of a moderate level and 3 difficult questions.
Chemistry 2017 Topics And Marks Distribution

Topics

No. of Questions

Marks Weightage

Chemical Bonding

16

4

Ionic Equilibrium

16

4

P Block Elements

8

2

Coordination Compounds

8

2

General Organic Chemistry

8

2

Aromatic Compounds

8

2

Alcohol, Alkyl Halide, and Ether

8

2

Biomolecules

4

1

Practical Organic Chemistry

4

1

Oxidation, Reduction, and Hydrolysis

4

1

Chemical Equilibrium

4

1

Thermochemistry and Thermodynamics

4

1

Electrochemistry

4

1

Gaseous State

4

1

Chemical Kinetics

4

1

Solid State

4

1

Metallurgy

4

1

Environmental Chemistry

4

1

Solution and Colligative Properties

4

1

Total

120

30
JEE 2017 Chemistry Section
We will also look at JEE 2017 Chemistry section that includes important chapters for JEE Main (Paper 1) and Advanced (Paper 1 and 2).
High weightage chapters for JEE mains 2017 Chemistry Section (Paper 1):
JEE Advanced 2017 Chemistry Section (Paper 1 & Paper 2):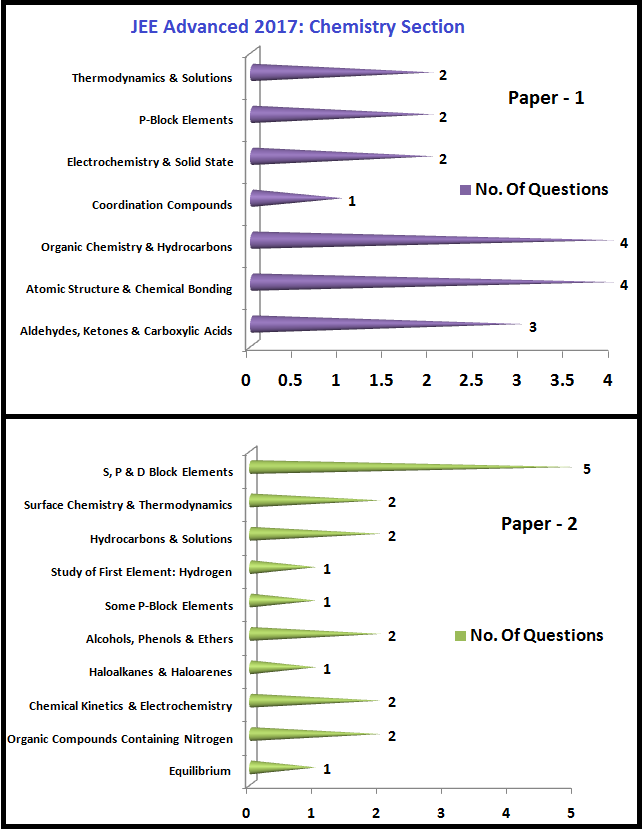 Chapterwise Weightage of JEE Main Chemistry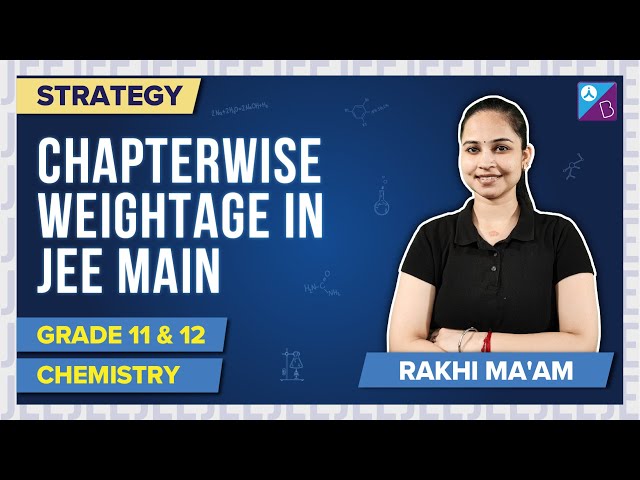 Tips to Score good marks in Chemistry – JEE Mains