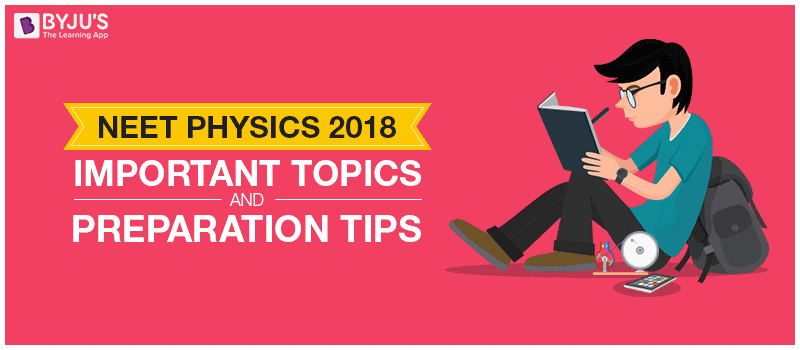 NEET Physics, in general, comprises of six major units from class 11th and class 12th physics syllabus, namely, Mechanics, Electrodynamics, Modern Physics, Optics, Thermodynamics, and SHM-Waves. There are total 45 questions (180 Marks) in NEET Physics section. Most of the medical aspirants find Physics as the toughest among the other two subjects mainly because it consists of a wide variety of numerical problems, theoretical and application-based concepts. NEET Physics demands consistent practice and a clear understanding of all the concepts and related formulas. Hence, to score well in this section the first step is to understand and memorize all the important concepts and formulas included in the syllabus. That would help the students to answer complex numerical problems quite smoothly. Solving numerical in physics is a nightmare for many aspirants, as a result, they generally avoid its practice and accordingly they prioritize their focus on other sections, as a result, they are unable to score well in NEET Physics section that ultimately results in the lowering of their final NEET score.
Most of the NEET aspirants have a common habit of memorizing everything. This approach might be helpful in subjects like Chemistry and Biology, however, It will never help in the preparation of NEET physics. The students are advised to take topic-wise online test series to have a complete analysis of their understandings of each and every concept. Also, while preparing any concept, try to relate it to its practical applications.
NEET Physics 2017:
The paper was moderate in terms of difficulty and length. Several questions were formula based. However, for better scores, the students were required to have a strong conceptual base along with the practical application of concepts. In comparison to the last year, NEET Physics 2017 was quite tougher. There were total 19 questions (76 marks) and 26 questions (104 marks) from class 11 and class 12 NEET physics syllabus respectively.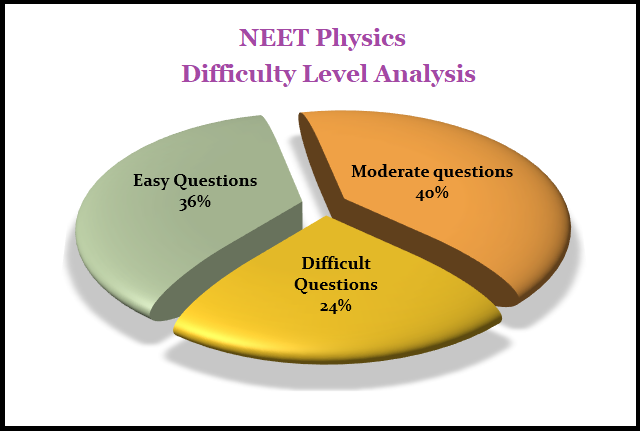 NEET Physics 2017 was toughest among the other two subjects. Also,there was more weightage given to the Class 12th syllabus. Overall, there were total 11 difficult, 18 moderate and 16 easy questions.
NEET Physics 2017

Units

Total Questions

Total Marks

Weightage (%)

Current Electricity

2

8

4.44%

Capacitance

1

4

2.22%

Electromagnetic Induction

2

8

4.44%

Electromagnetic Field

3

12

6.67%

Heat Transfer

2

8

4.44%

Electrostatics

2

8

4.44%

Circular Motion

1

4

2.22%

KTG & Thermodynamics

3

12

6.67%

Fluid Mechanics

1

4

2.22%

Elasticity & Viscosity

1

4

2.22%

Newton's Laws of Motion

1

4

2.22%

Gravitation

2

8

4.44%

Relative Motion

1

4

2.22%

Rectilinear Motion and Vectors

1

4

2.22%

Units and Dimensions

1

4

2.22%

Rigid Body Dynamics

3

12

6.67%

EM waves and communication

1

4

2.22%

Work, Power and Energy

1

4

2.22%

Nuclear Physics

1

4

2.22%

Modern Physics

3

12

6.67%

Geometrical and Physical Optics

2

8

4.44%

Semiconductors

3

12

6.67%

SHM

2

8

4.44%

Sound Waves

2

8

4.44%

Wave optics

3

12

6.67%

Physics

45

180

100.00%
NEET Physics Preparation Tips:
Kinematics:
Kinematics is one of the most interesting and crucial units of NEET Physics. The problems based on the evaluation of the maximum height, range, velocity and time of flight (2 D motion) are important for the examination point of view. Maintain proper notes of all the theorems, formulas,and derivations to assist your last-minute preparations. Strengthen your concepts on acceleration, displacement, average, and relative velocity to score well from this unit.
Modern Physics:
It is one of the most scoring units. The students should focus on understanding concepts like the radioactive decay of substances, X-rays, Bohr's model, and the dual nature of matter through visualization. Also, practice several numerical problems on mass defect, Mass-energy relation, binding energy per nucleon, variation in the mass number, energy levels, Bohr model, Photoelectric effect, and hydrogen spectrum.
Thermodynamics:
Clear your concepts on different types of systems, extensive and intensive properties, work done in different processes (Isothermal, Adiabatic, Isochoric, and Isobaric), laws of thermodynamics, entropy, Carnot cycle, enthalpy, and Joule's law. Practice several problems on Carnot engine and its efficiency, and COP (Coefficient of performance). The Problems asked from the Kinetic theory of gases are simple and formula based that could be easily solved.
The motion of System of Particles and Rigid Body:
This is one of the toughest and most important section of NEET Physics. The students must focus more on understanding the fundamentals of torque and Moment of Inertia. Practice numerical based on the conservation of angular momentum, Centre of mass (C.M) of a 2 particle system, C.M of a rigid body, Motion of C.M, Equilibrium of rigid bodies, the equations of rotational motion, rigid body rotation, the comparison between linear & rotational motion, M.O.I (moment of inertia), and the radius of gyration.
The students can follow NCERT books for NEET to strengthen their theoretical concepts. For numerical problems, the students can refer solved problems in Physics by Schaum. Concepts of Physics by H C Verma (Vol 1 & Vol 2) is helpful for both theoretical and numerical physics.
Stay Tuned with BYJU'S to know more about NEET 2018 eligibility, exam pattern, application form, previous years question papers, sample papers, NEET Physics study materials and more.