The plant-specific chemical messengers, Cytokinins are found in all plant tissues. It is a plant hormone influencing the stimulation and growth of cell division. These are synthesized in the roots and typically are derived from adenine. They are critical in the processes of cell differentiation and normal growth, which takes place in the fruits and leaves. They pass to these regions by moving up in the woody tissues – xylem.
1. This causes delay in senescence
(a) ascorbic acid
(b) gibberellins
(c) auxins
(d) cytokinins
Answer: (d)
2. ___________ is a coconut milk factor
(a) cytokinin
(b) morphactin
(c) auxin
(d) none of these
Answer: (a)
3. Which of these can prevent the falling of leaves
(a) abscisic acid
(b) cytokinins
(c) auxin
(d) florigen
Answer: (b)
4. The first one to synthesize cytokinin was
(a) Thimman and Went
(b) Calvin and Bensan
(c) Letham
(d) Skoog and Miller
Answer: (d)
5. This hormone prevents the crop from falling
(a) ethylene
(b) auxin
(c) gibberellin
(d) cytokinin
Answer: (b)
6. The cambial tissue of Pinus radiata has
(a) cytokinin
(b) gibberellins
(c) auxins
(d) none of these
Answer: (a)
7. This is capable of delaying yellowing of leaves
(a) auxins
(b) ABA
(c) cytokinins
(d) gibberellins
Answer: (c)
8. In a culture medium, the use of an old sample of DNA is associated with the discovery of which of these?
(a) ABA
(b) Cytokinins
(c) Pantothanic acid
(d) Vitamin K
Answer: (b)
9. The hormone Cytokinin has the main function of
(a) causing dormancy
(b) cell movement
(c) participating in cell division
(d) induction of cell division and delay in senescence
Answer: (d)
10. This plant hormone is responsible for the ripening of fruits
(a) Cytokinins
(b) Auxin
(c) Ethylene
(d) None of the above
Answer: (c)
Explore related articles at BYJU'S on NEET.
Recommended Video:
Discovery of Cytokinin| BIOLOGY Class 11/12 | NEET 2022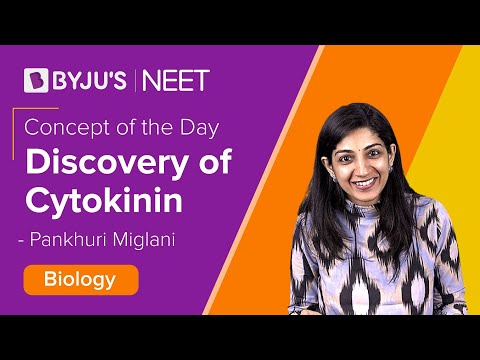 Further reading: