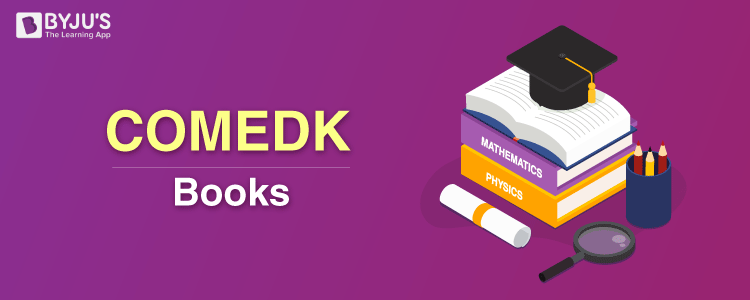 COMEDK books are an important study tool for candidates who are gearing up to appear for COMEDK UGET exam. Books, in general, are of great value and a principal source of information for students preparing for any type of exam be it the board exam or competitive ones. Therefore, it is essential for students to refer the right books which will help them learn productively and effectively.
When it comes to COMEDK exams, the first step in preparation is all about choosing the right set of books especially if candidates are studying by themselves. Moreover, it is crucial to select the books that will provide a complete understanding of concepts rather than just a superficial understanding of all the topics. In this article, we have covered the name of books for Maths, Physics, and Chemistry that are considered to offer accurate knowledge and further guide candidates in the right way to crack the entrance exam. The books for individual subjects are mentioned below.
Highlights of COMEDK Books
The COMEDK books that are listed here are mostly recommended by candidates who have already given the exam and the experts. These books are among the best to read and contains a detailed explanation of topics as well as the language used is simple and easy to understand. These books also contain a lot of questions as exercises which will help candidates to practice efficiently. Further, the books will be helpful for candidates in memorizing the concepts, improving their problem-solving skills and enhancing the speed of solving the questions.
COMEDK Books for Chemistry
Chemistry for Karnataka CET and COMEDK by BASE
Chemistry for Karnataka CET and COMEDK by Dr. Somar Maruti H.
IIT Chemistry by O.P Aggarwal
NCERT Book for Class 11th and 12th
COMEDK Books for Physics
Physics for CET and COMEDK by S. Dashrathi
Aptitude Problems in Physics by S.S Krotov
Physics for Karnataka CET and COMEDK by BASE (2nd edition)
NCERT Textbooks for Class 11th and 12th
COMEDK Books for Maths
Algebra Made Easy by K. P Basu
Mathematics for Karnataka CET and COMEDK by BASE
Maths XI & XII by R.D. Sharma
NCERT Textbooks Class 11thand 12th
Once students go through the concepts and practice questions from these books, they will have a better grip on the topics and have a greater chance to score better in the exams.
COMEDK Syllabus and Exam Pattern
Apart from just reading the books, candidates should also get a complete overview of the COMEDK syllabus and the exam pattern.
The syllabus for COMEDK UGET is normally based on 10+2 standard or 1st and 2nd PUC syllabus. Candidates must get a complete overview of the syllabus and follow it properly before reading a reference book. Get detailed information on the syllabus from the link given below.
As for the exam pattern, candidates should gain a clear understanding of the COMEDK exam pattern. By knowing the exam pattern candidates can develop a better preparation strategy as they will further get to details like the type and nature of questions, marking scheme, exam duration and more. The exam pattern is given as;
The examination is conducted in English medium.

For each correct answer, one mark is awarded.

There is no negative marking.

The paper is out of 180 marks in total.

Exam duration is 3 hours.

Question types include Multiple Choice Questions (MCQs).

There are three sections which include Physics, Maths and Chemistry and 60 marks are allotted for each section.
COMEDK Question Papers
After reading the books candidates are also suggested to test their preparation level by solving COMEDK question papers. By practicing in such a manner, candidates will be able to study well and be ready to tackle any question that can be asked in the exam.
About COMEDK 
COMEDK UGET is a state-level entrance examination that is conducted by Consortium of Medical, Engineering and Dental College of Karnataka. The exam is designed to provide admissions in undergraduate engineering and medical courses. COMEDK UGET is usually held in the month of May. 
To get the latest updates and information about COMEDK and other competitive exams like KCET, keep visiting BYJU'S.

Frequently Asked Questions On COMEDK Books
Q1
What type of books is available for COMEDK?
There are books for Engineering, Medical and Architecture courses. Candidates can easily buy them through offline book stores or get them online.
Q2
How helpful are NCERT books for COMEDK? Are these books relevant?
NCERT books will help candidates to get a good understanding of the theoretical concepts as well as build a strong base. These books are based on the latest syllabus and pattern that consists of solved/unsolved miscellaneous exercises for student practice.
Q3
Is COMEDK easier than KCET or is it more difficult?
COMEDK is more or less equivalent to KCET. The questions that are asked are almost on the same level. The level of competition is higher though in COMEDK.
Q4
Is COMEDK government or private?
COMEDK is mainly held for private institutions and colleges.