The candidates who cleared the UPSC IAS Prelims Exam 2019 were shortlisted based on their score in General Studies Paper I which is of 200 marks.
For admission to the Civil Services Mains Examination, 2019 which is to be held in September, 2019, all candidates who would have qualified should fill up the DAF (CSM) online and submit the same Online for admission to the UPSC Mains Examination.
What is DAF in UPSC exam?
DAF is the Detailed Application Form that candidates must fill and upload online on the UPSC official website in order to apply for the mains exam.
Before knowing how to fill the DAF let's take at some of the important steps to follow while filling DAF.
Don't send the DAF print preview pdf to UPSC by mistake. The DAF that should be sent to UPSC must be the original one.
The DAF should be printed on single/one sided page.
Candidates should sign the DAF at all pages in the space mentioned by the UPSC.
Candidates should affix a passport size photograph of theirs, similar to the photograph displayed in DAF.
Affix a central recruitment stamp worth Rs.200/- in the space mentioned. Get it cancelled using the post-office seal which should clearly mark the date and post office name.
Attach all necessary certificates mentioned by UPSC along with the DAF. For general candidates the certificates needed include Class 10th mark-list to prove DOB and Degree-Certificate to prove your eligibility. The certificates attached should be attested – either by a gazetted officer or self-attested with date.
*Superscribe on the top of envelope -"Application for Civil Service (Main) Exam".
Now let's take a look at the important fields to be filled on the Detailed Application Form (DAF).
DAF which stands for Detailed Application Form is a very crucial document and it defines everything from the career of a candidate to their posting. Hence, it is advised to all the candidates to give an extra care while filling the DAF.
DAF consists of 8 parts and each part has to be filled completely.
To make it easy to fill the DAF and give a clear picture to candidates for filling the DAF below given is the images of the DAF and the highlighted are the important fields where the candidates have to be careful while filling it as once filled and submitted candidates might not get a chance to change  the same later.
Detailed Application Form UPSC sample/UPSC CSE DAF sample PDF/UPSC mains application form sample
Page 1 of 9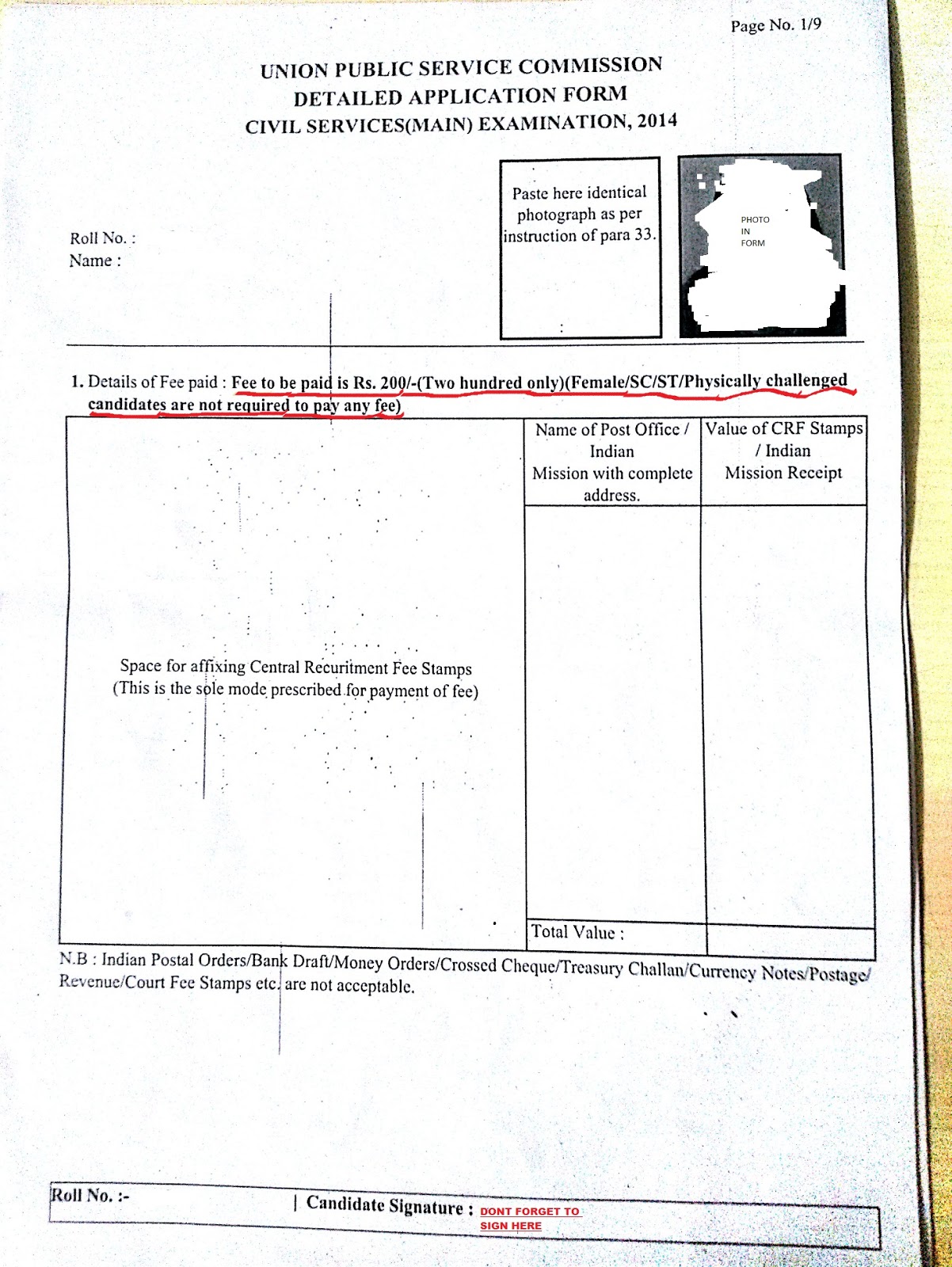 *Don't forget to sign at the end of the form of page 1
Page 2 of 9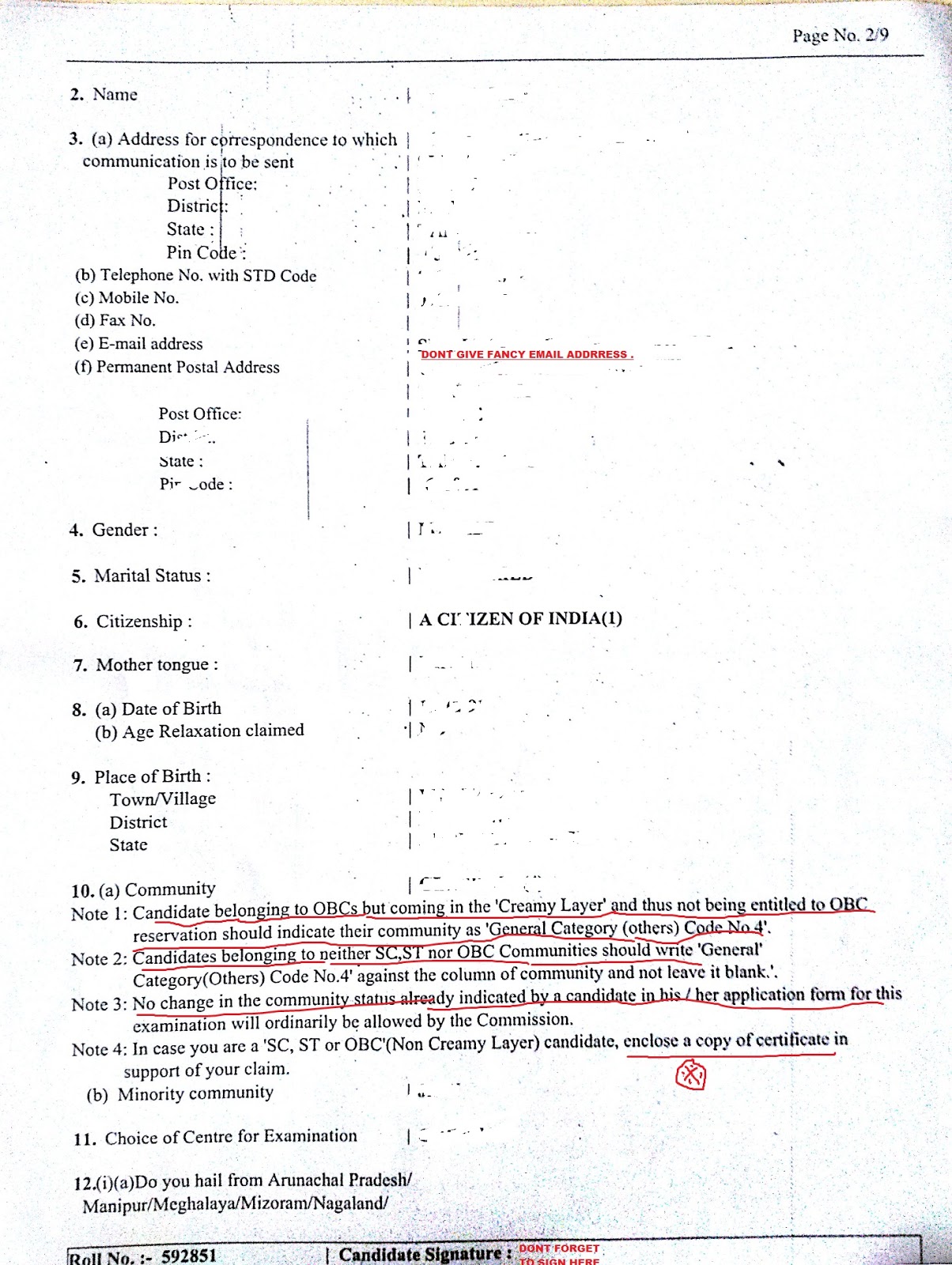 *Provide a proper and active email address as the commission may use this as mode of communication with the candidate.
*Candidates who belong to SC, ST or OBC (Non Creamy Layer) should enclose a copy of certificate to support their claim.
Page 3 of 9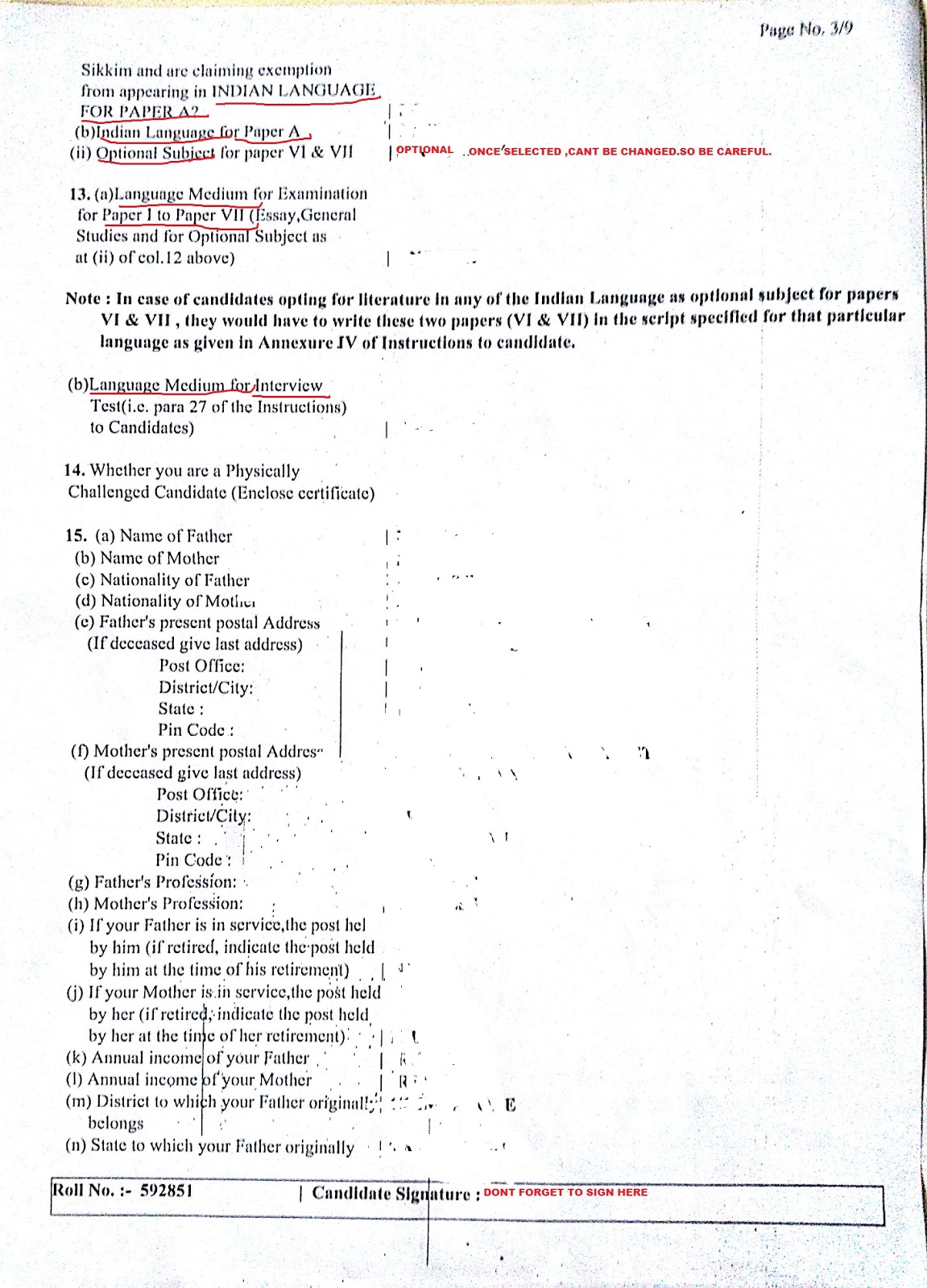 *Provide the right optional subject that you have chosen and prepared for as once entered wrong cannot be changed later.
Page 4 of 9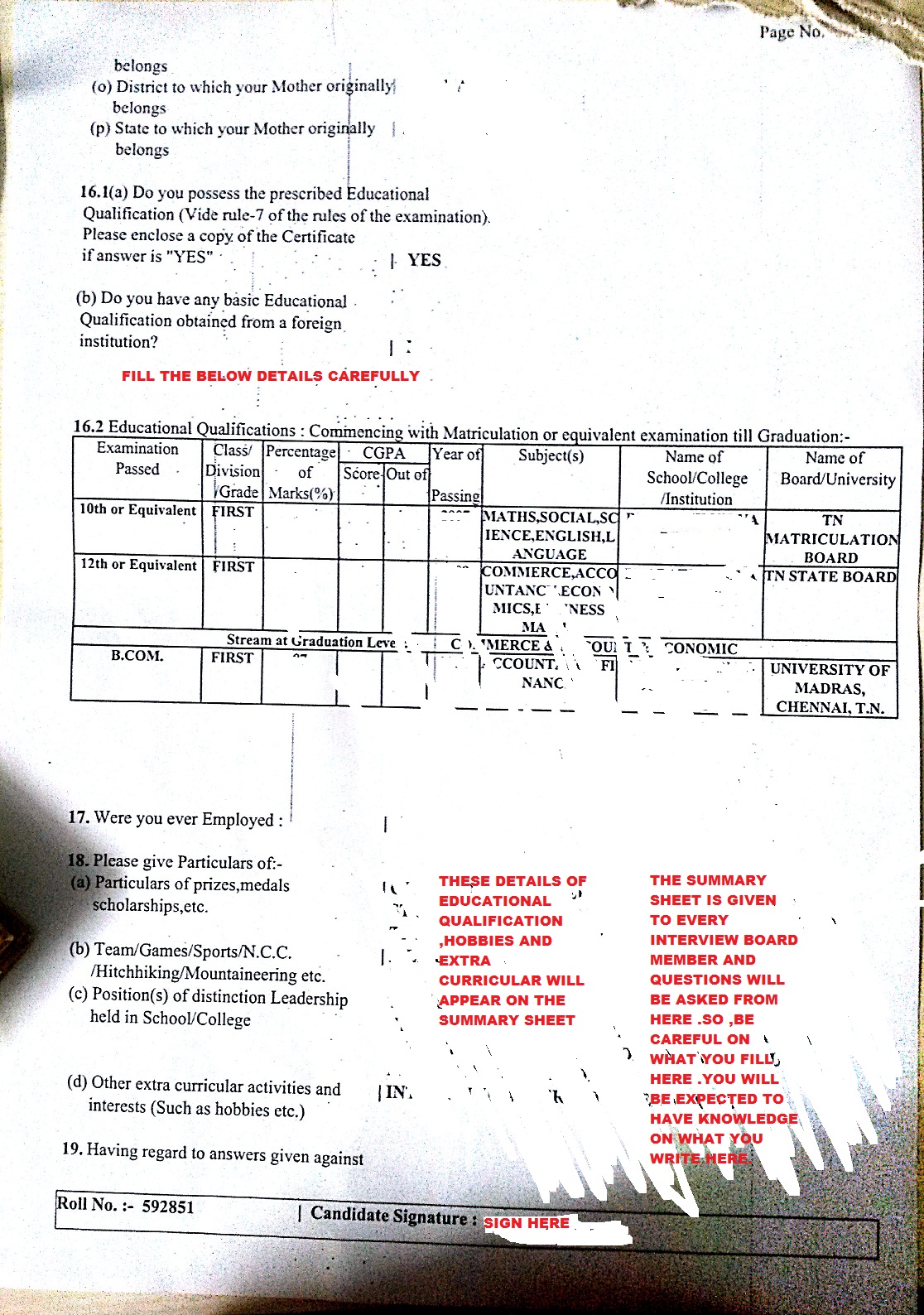 *Fill your educational and employment details very carefully and it is advised to read once after filling the form.
Page 8 of 9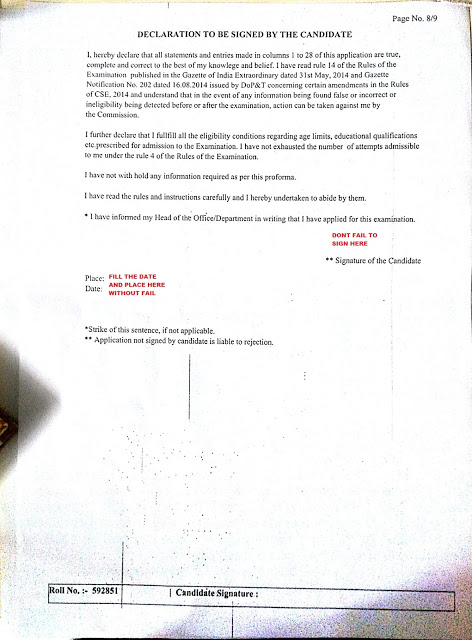 *In the last page candidate should sign in two places one after the declaration Para and the other at the end of the page.
The Service and cadre preferences are among the very important fields to be filled in the DAF. Candidates are advised to think carefully before filling the service preferences and the cadre preferences as once filled and submitted they cannot change it.
Below given is the service and cadre preference list:
SERVICE PREFERENCE
IFS
IPS
(Above 3 are interchangeable)
IRS (IT)
IRS (Customs)
IAAS
Indian Railway Traffic Service (King of Railways)
Indian Railways Accounts Service
Indian Defence Estate
Indian Defence Accounts
Indian P & T Accounts & Finance
Post of Asst Security Commissioner, RPF (Lot of manpower)
Indian Railway Personnel Service
Indian Ordnance Factories Service
Indian Civil Accounts Service
Indian Postal Service
Indian Information Service
Indian Trade Service
Indian Corporate Law Service
DANICS
DANIPS
Armed Force HQ
Pondicherry civil service
(22 & 23 are interchangeable)
The other confusion among the candidates is on how to fill the cadre preference, while filling you may not understand the preference to one state or the other but while in service you will understand the importance of the cadre performance, hence choose what you want and that satisfies you.
Here is the list below.
CADRE PREFERENCE
North Indian Candidates
Rajasthan
Bihar
Uttar Pradesh
AGMUT
Madhya Pradesh
Punjab
Gujarat
Jharkhand
Himachal Pradesh
Uttarakhand
Haryana
Maharashtra
Chhattisgarh
Karnataka
Andhra Pradesh
Tamil Nadu
Telangana
Odisha
Kerala
West Bengal
Assam, Meghalaya
Jammu & Kashmir
Sikkim
Tripura
Nagaland
Manipur
South Indian Candidates
Karnataka
Andhra Pradesh
Tamil Nadu
Telangana
Odisha
Maharashtra
Kerala (A good State but developed State)
Rajasthan
Bihar
Uttar Pradesh
AGMUT
Madhya Pradesh
Punjab
Gujarat
West Bengal
Jharkhand
Chhattisgarh
Himachal Pradesh
Uttarakhand
Haryana
Assam, Meghalaya
Jammu & Kashmir
Sikkim
Tripura
Nagaland
Manipur
North East Candidates
Assam, Meghalaya
Sikkim
Tripura
Nagaland
Manipur
West Bengal
Himachal Pradesh
Uttarakhand
Jammu & Kashmir
Rajasthan
Odisha
Andhra Pradesh
Tamil Nadu
Karnataka
Telangana
Kerala
Maharashtra
Bihar
Uttar Pradesh
Jharkhand
Madhya Pradesh
Gujarat
Punjab
Madhya Pradesh
Haryana
Chhattisgarh
For more clarification, candidates who have qualified for the UPSC Civil Services Mains Exam 2016 are advised to refer the Gazette of India (Extraordinary) of Department of Personnel and Training Notification dated 07.08.2016 to know about the Rules of the Civil Services Examination 2016, which is also available on the official website of the UPSC.
We now hope that all your doubts and queries regarding how to fill DAF for IAS exam is cleared. Go on, fill the DAF to write the best exam of your life!
For UPSC DAF form sample PDF instructions, click here.