Nisha Grewal is from Bhiwani's Bamla village in Haryana. She cleared UPSC-CSE 2020 and secured AIR 51 in her 1st attempt. Nisha Grewal's family and educational background, her journey of clearing the exam and her strategy is given in this article. 
The aspirants can read more about other IAS Toppers of 2020 from the below-mentioned links:
About Nisha Grewal
Family Background
Nisha Grewal's father, Surender Grewal, is employed with the Electricity Department, her mother Promila is a housewife

and her grandfather is a retired Maths teacher.

Nisha gave credit to her grandfather Ramphal Singh Grewal for motivating and helping her prepare for this prestigious exam.
Educational Background
Nisha did her schooling at Bhiwani Public School in Bhiwani and then took admission in Miranda House in Delhi for graduation.

She has completed her bachelor's degree in political science from Delhi University's Miranda House in 2019.
Also read:
UPSC Journey of Nisha Grewal
Nisha Grewal, a 23-year-old daughter of Bamla village, has cracked the prestigious UPSC-CSE in her first attempt.

During her final year of graduation, she took coaching in Delhi for 10 months. Because of the pandemic, she started preparation at her native home in Bamla village. 

She has been taking constant advice from DC Jaibir Singh during her preparation and got the benefit of it in the exam.

Nisha's grandfather Ramphal was her 24-hour teacher.

Nisha Grewal said that she studied at home with her grandfather for two years during the Corona period.
UPSC Strategy of Nisha Grewal
Nisha said after becoming an IAS officer, she wants to focus on women empowerment, education for needy students and upliftment of farmers and agriculture. 
For the UPSC Interview preparation, Nisha Grewal had taken BYJU'S interview coaching. Below, you can watch her mock interview with our eminent panellists: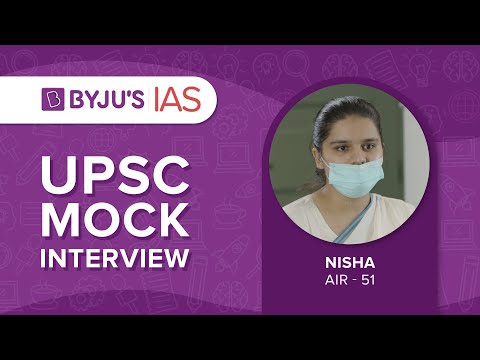 Other related links: