In the 2015 UPSC exam, the first rank went to Delhi-girl Tina Dabi. This was Tina's first attempt, and she was only 22 when she cracked the IAS exam.
In this article, you can read more about IAS topper Tina Dabi's success strategy for UPSC, optional subject and also get her IAS preparation time table.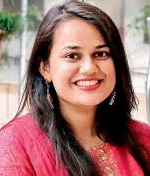 IAS Topper Tina Dabi – Background
Dabi grew up in Bhopal and Delhi, although her father is from Madhya Pradesh and mother, from Maharashtra.
Her father is an officer in the Indian Telecom Service and her mother had taken voluntary retirement from the Indian Engineering Services (IES).
She completed her schooling from Carmel Convent School in Bhopal and finished her university education from Lady Shri Ram College in New Delhi. She had pursued a degree in Political Science.
Dabi takes an avid interest in Madhubani paintings and reading fiction.
This was Dabi's first attempt at the civil services exam.
For similar UPSC Success stories, check at the linked article.
Tina Dabi UPSC Optional Subject
Tina Dabi had opted for Political Science and International Affairs as her optional for the UPSC mains exam
For more information on the political science optional, click on the linked article.
Check out the following table for political science optional tips by UPSC toppers:
Tina Dabi Civil Services Exam Preparation Timetable
| | |
| --- | --- |
| Time | What to do |
| 7:00 AM | Wake up and freshen up |
| 7:30 AM | Newspaper time |
| 8:30 AM | Slot 1 of studies |
| 9:00 AM – 12:00 PM | Current Affairs time |
| 1:00 PM – 2:00 PM | Lunch time |
| 2:00 PM – 3:00 PM | Break/leisure |
| 3:00 PM – 5:00 PM | Slot 2 of studies |
| 5:00 PM – 8:00 PM | Revision time |
| 8:00 PM – 9:00 PM | Dinner time |
| 9:00 PM – 11:00 PM | Slot 3 of studies |
| 11:00 PM – 12:00 AM | Break/leisure |
| 12:00 AM | Sleep |
Dabi suggests the following usages of the slots mentioned in the table above.
Slot 1: Big topics (early morning, more energy and focus)
Slot 2: Medium length topics as this is only for 2 hours
Slot 3: Revision of topics studied previously. Dabi recommends revision of topics at least three times.
Tina Dabi Facts
Rank: 1
CSE: 2015
Native State: Delhi
Attempt: First
Optional Subject: Political Science
Age when cleared the exam: 22
For more such UPSC success stories for inspiration and motivation, you can check out our segment which posts articles on IAS toppers, Get Inspired.
Related Links: