Originally from the Palakkad district of Kerala, Karishma Nair cracked the UPSC Civil Service Exam 2020 in her second attempt and bagged the 14th rank. The IAS Topper had reached the interview stage in the first attempt but fulfilled her dream of entering the Indian bureaucracy with more persistence and hard work, this time around. 
To read the IAS Success Stories of top 5 Civil Services Examination 2020 Toppers, refer to the links given below:
UPSC Topper 2020 – Karishma Nair: A Brief Background
Educational Qualification
Karishma is originally from Kerala but has been residing in Mumbai for over 20 years, where she completed her schooling. She has done B.Sc. Forensic Science and stayed in Delhi for a year to pursue her UPSC preparation. She had opted for Public Administration as an optional subject in both her attempts of 2019 and 2020. 
Her success story emphasizes on the spirit of not giving up as she believes that persistence, support of family and self-belief can surely help in cracking the IAS Exam. 
Karishma's Hobbies include – Playing badminton, Watching TED Talks, reading fiction books and has a keen interest in debates
Professional Experience as a Research Intern – She has also done an internship program with the Parliamentarians in 2019 on Policy matters
For the UPSC Interview preparation, Karishma Nair had taken BYJU'S interview coaching. Below, you can watch her mock interview with our eminent panellists.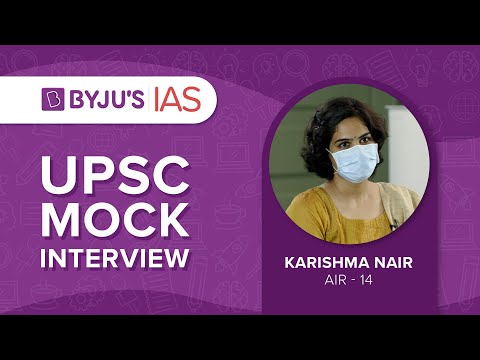 Karishma Nair UPSC Preparation Strategy
While preparing for the civil services examination, one of the key resources that she relied upon was reading newspapers. The Hindu and The Economic Times are the two papers that she thoroughly read on a daily basis. 
She recommends that the last two months before the examination must be spent on giving the maximum number of mock tests to evaluate one's own performance. Too many tests must not be attempted until well-prepared as scoring low marks can result in losing confidence. 
A separate notebook was maintained by her where she wrote down the important topics from the question papers that were essential from the examination perspective and focussed on them. 
During the last phase of preparation, the emphasis was on topics that she was less confident about and strategized how to approach the paper. Daily notes on Current Affairs too helped her in improvising her scores for the prelims examination.