IIT Bombay alumnus Shubham Kumar bagged the coveted AIR 1 in the UPSC civil services 2020 examination. Kumar became an IAS topper in his third attempt. Read on for more on Shubham Kumar's biography, UPSC preparation strategy, optional subject, etc.
Shubham Kumar IAS Topper Background
A native of Katihar in Bihar, Shubham Kumar, who topped the prestigious civil services exam 2020 says his dream is to serve the underprivileged. This was Kumar's third attempt to crack the IAS exam. In his previous attempt in 2019, he had cleared the exam with a rank of 290 which earned him a selection in the Indian Defence Accounts Service (IDAS). His first attempt in 2018 was unsuccessful.
Educational Background
Shubham Kumar is a BTech (civil engineering) graduate from IIT Bombay. During his third attempt at the UPSC exam, he was undergoing training at the National Academy of Defence Financial Management (NADFM), Pune. Kumar had opted for Anthropology optional for his CSE.
Shubham Kumar had worked in the US previously as a researcher. It was during his stint in the US as a researcher that he understood there were a lot of gaps in India and he realised he wanted to work for the development of his country.
Support from Family
Shubham Kumar says his bank manager father constantly motivated him during the course of his preparation. His mother who is a homemaker and his elder sister, who is a scientist at Bhabha Atomic Research Centre (BARC) also supported him throughout.
Shubham Kumar UPSC Preparation Strategy
Shubham Kumar says his focus on his optional subject helped him score better in his third attempt. He also said that during revision time, aspirants should not take up new books or study materials. For environment and science subjects, he focused on current affairs from newspapers.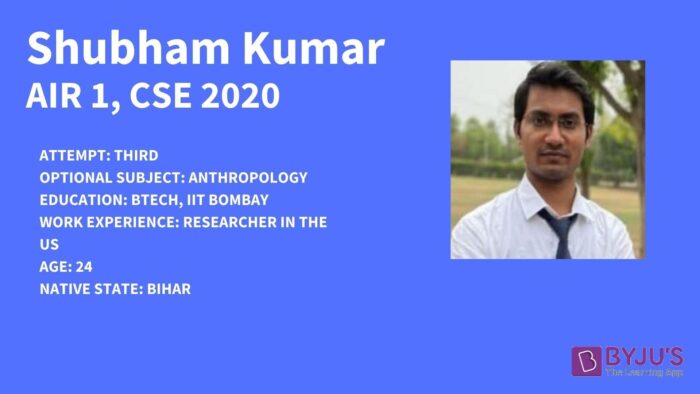 Shubham Kumar says he wants to focus on poverty alleviation and the development of villages and their people in his role as an IAS officer. His dream was the IAS since it would give him a wider platform to work for the underprivileged, especially in rural areas. He prefers the Bihar cadre although he is open to other cadres as well.