The final UPSC Exam results for 2020 was declared on 24th September 2021. Mamta Yadav of Basai village, Gurugram, became an IAS Topper when she acquired All India Rank 5. It was her second attempt, securing rank 556 in her previous attempt.
Read on to know more about Mamta Yadav's background, optional subject and other important details.
Read about 2015-2020 IAS Toppers (AIR 1) from the links below:
Mamta Yadav IAS Topper Background
Mamta Yadav, born in 1996  to Ashok Yadav and Saroj Yadav is a graduate of the Hindu College, Delhi University. A total of 761 candidates made it to the final list.
Mamata Yadav was a graduate in Physics from Hindu College, so it was only logical that she took physics as an optional for the UPSC Mains.
She is the first IAS in her family. Mamta's father Ashok Yadav works in a private company while her mother is a home-maker. She has an elder brother who works as an excise inspector and is currently posted in Kolhapur.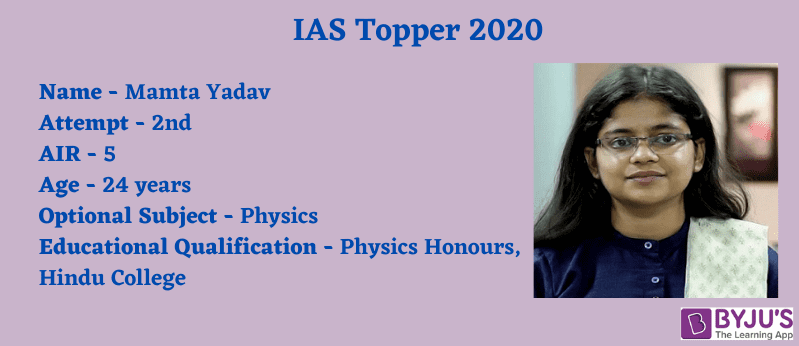 Mamta Yadav's UPSC Journey
Mamta first began her UPSC journey in 2019 when she cleared and passed the exam at rank 556. She was selected for the Indian Railways Personnel Services. However, this was not enough for her, and she began a second attempt at the IAS Examination with support from her family and well-wishers.
She studied by herself up to 10-12 hours a day from advancing her daily study time from 8-10 hours. Her efforts paid off when she secured the 5th rank in UPSC 2020 exams. Mamta Ydav credits her success to the unwavering support her family had shown. Her family meanwhile are proud of her for being the first girl in the village to have come far in the field of education.
Mamta Yadav IAS Strategy
Apart from the usual UPSC Booklist, Mamta Yadav focused more on improving upon the subjects with which she had scored less in her previous attempt.
To that end, she put extensive efforts in solving previous years UPSC Question Papers.
Learning from her previous error in not giving a mock test, she rectified it by attempting about 7-8 IAS Mock Tests, with special focus on essays.
She did not join any coaching centres, instead she did her UPSC preparation by relying on Test Series.
She focused on Current Affairs and UPSC GS-1 syllabus, which she could not cover in her previous attempt.
Mamta recommends that when preparing for UPSC prelims, candidates must have a strong grasp on static knowledge.
According to Mamta Yadav, for current affairs, 1 newspaper and 1 magazine (for ex Kurukshetra, Yojana) is enough, but candidates must be thorough and diligent when using them for UPSC preparation.
Previous years question papers from 2013 will help immensely in IAS preparation according to UPSC 2020 AIR 5 Mamta Yadav.
Candidates must also have a good grasp on current affairs not only with regard to India but also of the world in general.
Mamta Yadav emphasizes on constant revisions done in the past months. This should continue even in the last 15 days of the exam. Abrupt changing of preparation of strategy will only lead to diminished focus.
Now that Mamta Yadav has been selected into the prestigious ranks of the IAS she hopes to focus on issues concerning women, children and education.
To read more such IAS Success Stories, check the linked article.
Aspiring candidates who wish to secure top ranks in the Civil Services Examination are advised to go through the following links