Divya Mishra, a girl from Kanpur, cleared UPSC Civil Services Examination 2020 and secured AIR 28 in her third attempt. From childhood, she excelled in her academics and has been a constant achiever in all stages. 
This article talks about the IAS Topper Divya Mishra, her family and educational background, her journey of clearing the exam and her strategy. 
The aspirants can read more about other toppers of UPSC 2020 from the below-mentioned links:
Background of Divya Mishra
Family Background
Divya Mishra's father is a principal in Jawahar Navodaya Vidyalaya, Kota, Uttar Pradesh. 

Her mother has also been a teacher. 

Her brother has joined the Indian Army as a Lieutenant and is undergoing training in Madhya Pradesh. 

Divya Mishra was born in Kanpur. 
Educational Background
Divya Mishra was always a topper right from her school days and has an excellent academic record. She did her schooling at Jawahar Navodaya Vidyalaya Unnao, Uttar Pradesh. 

She did her B Tech in textile engineering. 

She secured All India Rank 3 in GATE Exams in 2016. 

Further, she did her PhD in Strategic Management at IIM Lucknow.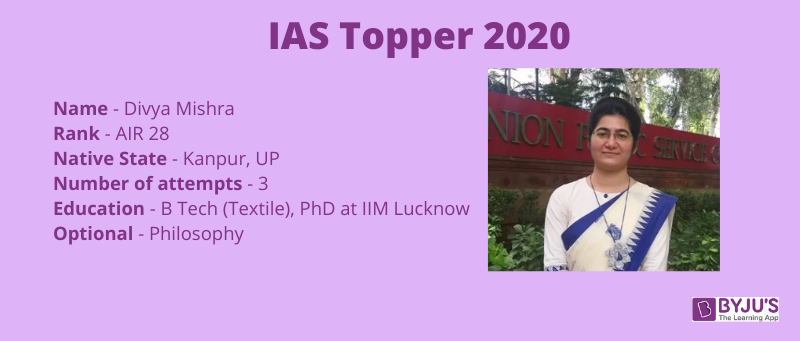 Also read:
UPSC Journey of Divya Mishra
Divya Mishra, in her first attempt at UPSC CSE Exam, missed the place on the list by four marks. 

She prepared on her own and relied on online resources for her very first attempt. 

With better preparation and guidance, in her second attempt, she secured Rank 312 and was selected to

Indian Railway Traffic Service (IRTS). 

In the third attempt, she secured AIR 28 in the UPSC CSE 2020. 

While going through the third attempt, she was in an academic setup and preparing for her PhD. 

In total, she has given three attempts for UPSC CSE Exams and in the three attempts, she has reached the interview stage. 
UPSC Strategy of Divya Mishra
Before giving her first attempt, Divya Mishra didn't join any coaching classes and relied more on online resources. 

After a miss in the first attempt, she prepared for the exam by building her knowledge with better statistics and better analysis of the topic. 

Solving as many question papers and mock tests has helped her a lot in cracking the IAS Exam. 

She admits that accurate knowledge of the topic and clear facts is needed to clear the prelims level. 

She was more organised during her preparation and after building the knowledge, she practised many times, and that would have taken her to success.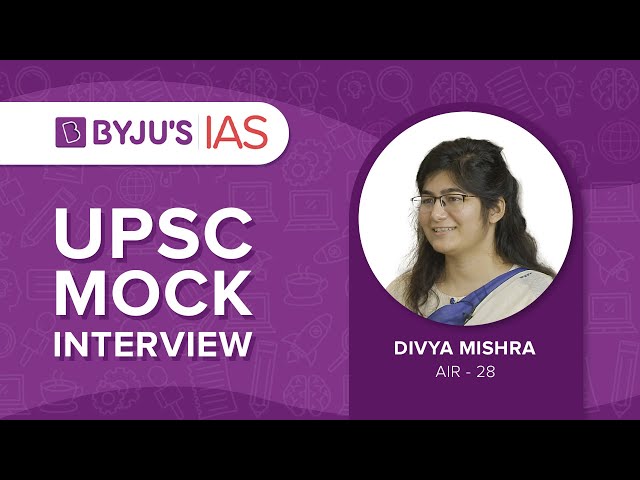 Other related links: