9 November 2005
Former President K R Narayanan passed away.
---
What happened?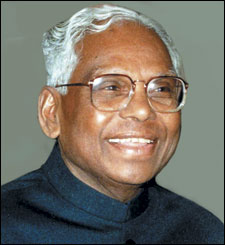 On 9 November 2005, India's first Dalit president K R Narayanan passed away from pneumonia and renal failure in a hospital in New Delhi. He was 85.
K R Narayanan Biography
K R Narayanan was born in the village of Uzhavoor, Kottayam District, Kerala (erstwhile Travancore Kingdom) on 4 February 1920. His family belonged to the paravan caste, traditionally considered 'untouchable'.
His father Kocheril Raman Vaidyar was a practitioner of herbal medicine. He had 6 other children. The family was poor.
Narayanan attended a missionary school 15 km away from his home – a distance he had to trek on foot every day to go to school. He was, however, an extremely bright student and soon won a scholarship by the royal family of Travancore to attend college. He completed his intermediate at C M S College at Kottayam.
He completed his BA and MA in English Literature from the University of Travancore (present University of Kerala) achieving the first position in the university.
After that, he worked as a journalist with 'The Hindu' and 'The Times of India' in Delhi. During this time in 1945, he interviewed Mahatma Gandhi also.
After that, Narayanan left for England to study political science at the London School of Economics. Harold Laski was his teacher there. In London, he was an active participant in the India League under V K Krishna Menon.
On returning to India in 1948, Narayanan visited Jawaharlal Nehru with a letter of introduction from Laski. Pundit Nehru invited him to join the Indian Foreign Service, which he did in 1949.
Narayanan had a prolific career as a diplomat and was described as Nehru as 'the best diplomat of the country' in 1955. He served as the Indian ambassador to Thailand, Turkey and China. He also worked as a secretary in the external affairs ministry. Apart from that, he taught at the Delhi School of Economics.
Post-retirement in 1978, Narayanan was the Vice-Chancellor of JNU. He also became the ambassador to the US (being called from retirement) from 1980 to 1984.
He entered political life in 1984 winning a Lok Sabha seat from the Ottapalam constituency in Kerala. Standing with a Congress ticket, he won three general elections from there (1984, 1989 and 1991). He was a minister of state in the Rajiv Gandhi government.
Narayanan was elected India's Vice President in 1992 when Shankar Dayal Sharma was the President. In 1997, he became India's tenth president, the first and only Dalit to be president until current president Ram Nath Kovind. He is also the only person from Kerala to hold this post to date.
Narayanan was a hands-on president and had on two occasions questioned the government's decision to sack state governments. As president, he introduced the practice of explaining his actions in office to the nation through the means of Rashtrapati Bhavan communiqués.
Another precedent attributed to Narayanan was asking the prime ministerial candidate to show that he had the confidence of the house through letters from allied parties before being appointed the prime minister. He did not appoint prime ministers from a hung parliament, unlike his two predecessors.
In his many speeches, he spoke of the importance and need for the country to fulfil its social obligations to the poor and the downtrodden including the Dalits. He himself had faced discrimination during his youth and felt that education and democracy were the only way forward. He had remarked, 'My life encapsulates the ability of the democratic system to accommodate and empower marginalised sections of society.'
Narayanan's presidential term came to an end on 25 July 2002. He did not seek a second term.
He passed away from illness in New Delhi in 2005. He was survived by his wife and two children.
Also on This Day 


---


1877: Birth of Muhammad Iqbal in Sialkot, Pakistan, Urdu poet who wrote 'Saare Jahan Se Achha'.
1962: Death of educationalist Dhondo Keshav Karve.
2000: Foundation of Uttarakhand state.
2019: Inauguration of Kartarpur Corridor.
Candidates can find the general pattern of the UPSC Exams by visiting the UPSC Syllabus page. For more articles and exam-related preparation materials, refer to the links given in the table below:
Related Links