Utkarsh Dwivedi secured All India Rank 5th in UPSC CSE 2021. He hails from Indore, Madhya Pradesh. He became an IAS topper in his third attempt. Know all about Utkarsh Diwvedi's family and educational background, optional subjects and preparation strategies for the civil services examination. 
Utkarsh Dwivedi – IAS Topper Background
Utkarsh Dwivedi is originally from Lucknow Uttar Pradesh but from the last 12 years he has been living in the Shalimar township of Indore with his family. 

His hobbies include reading non-fiction books and writing reviews that he publishes on his blogs.

Utkarsh's father Jagdish Prasad is a Senior Area Manager in Indore Plant of Parle Product, the biscuit makers. 

His father told that Utkarsh wanted to become an

IAS Officer

from childhood as his maternal grandmother (Nani) had told him to become such a big officer in the future. 
Check IAS AIR 5 Utkarsh Dwivedi Mock Interview with BYJU'S: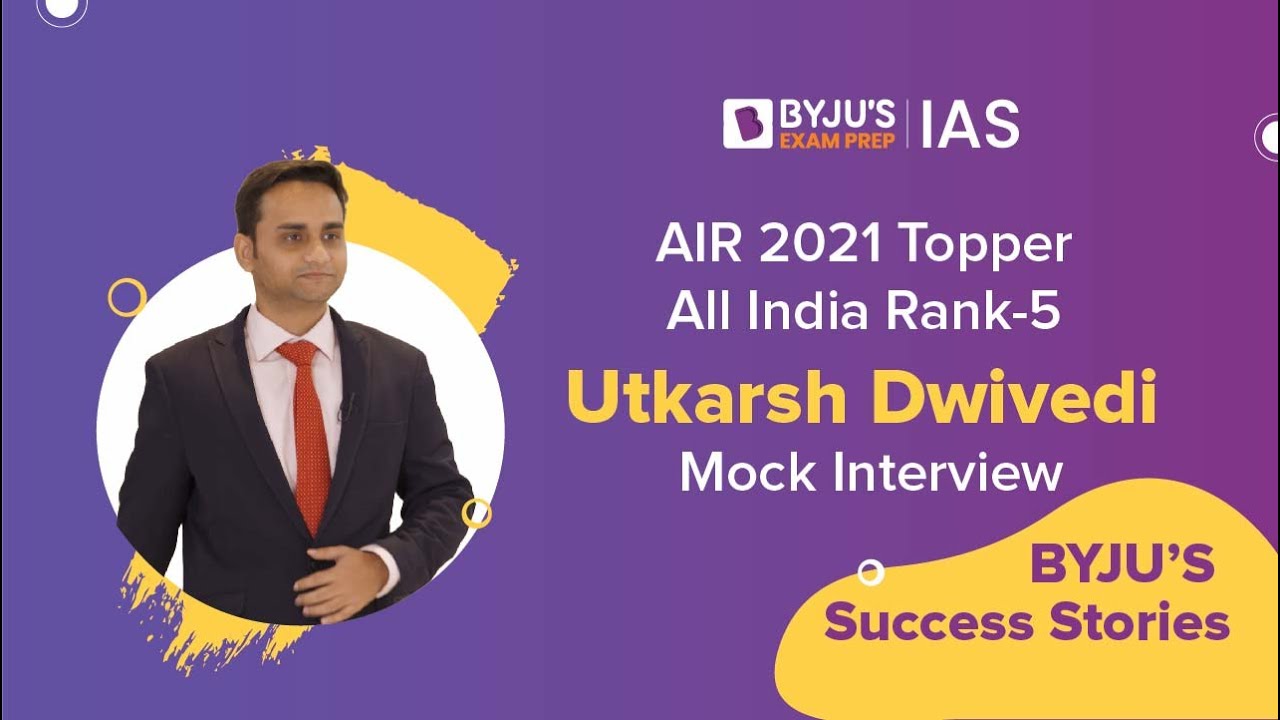 Educational Background of UPSC topper Utkarsh
Utkarsh has completed his schooling from Delhi Public School, Indore. 

He has bagged his Graduation degree in Mechanical Engineering from Vellore Institute of Technology.
Utkarsh Dwivedi's Success
Utkarsh Dwivedi has started the preparation for the

IAS exam

while he was doing his graduation. 

He prepared for UPSC and appeared twice for the IAS Interview. He scored 160 marks in the interview for UPSC 2019 and 157 marks in the 2020 interview. Go through the

UPSC Civil Services Final Results

on the linked page.

He cleared UPSC in his 3rd attempt and secured 5th rank. 
The 1st rank holder of UPSC Toppers list is Shruti Sharma, immediately followed by Ankita Agrawal, Gamini Singla and Aishwarya Verma the 2nd, 3rd and 4th rank holders respectively.
Utkarsh Dwivedi's UPSC Topper Preparation Strategies
Utkarsh opted International Relations as his optional subject for UPSC Mains exam. Check out

important topics in International Relations GS 2

on the linked page. 

He says it is essential to choose subjects that you are genuinely interested in so that you are enthused about learning more about the topics. Check out the success rate of

UPSC optional subjects

on the given link.

To upkeep himself with the ongoing issues of nationwide and international affairs, Utkarsh follows daily newspapers like, The Hindu, Indian Express, The Times of India and Mint. Reading detailed articles of the newspapers on various international affairs helped him a lot.
Click on the links in the table below to read more.
Like every other topper, he emphasizes on maintaining notes. He says that writing reinforces what you have learned and helps you organize your learning content. This makes recollection easier. 
Useful Tips for Success in UPSC CSE  
Before starting your preparation, prepare yourself for the journey, prepare mentally and physically for the examination. Set goals and devote time effectively.

The syllabus is the soul of any exam. Knowing the syllabus is the foremost thing to do before you go through the books. Understand and follow the syllabus for UPSC CSE. It will help you to choose relevant study materials, prioritize the subjects, etc.

There are multiple sources of study material to prepare for the Civil service Examination but your basic reading should ideally start with NCERT textbooks. Read NCERT books from class VI to class XII for all the relevant subjects.

The questions asked in the civil services exam are directly or indirectly connected with current affairs. Hence, it is very important to follow the relevant news items in your daily newspaper. Almost all toppers recommend reading The Hindu and The Indian Express to be included as part of your daily routine.

Choose an optional subject wisely and after a thorough think-through of the pros and cons of the subjects as it accounts for 500 marks in the UPSC final tally. An optional subject should be the one that Interests you, you have a prior knowledge in it or it is your academic background, the one that overlaps with the GS papers, for which the coaching and study materials are easily available.

Previous question papers are the most reliable sources of UPSC pattern, difficulty level and question type. It will also help you understand which areas are the most important in a particular subject. Go through the

UPSC Question Papers

on the linked page.

Preparation for the CSE exam is incomplete without taking mock tests of the prelims and the mains. To get a fair idea of what questions to expect and to time your writing it is imperative that you practice mock tests regularly.
In the words of American civil rights champion Jesse Jackson, 'If you fall behind, run faster. Never give up, never surrender, and rise up against the odds.' Never lose sight of your goal. It is always worth waiting and trying again till you succeed. A lot of successful IAS toppers got through in their third and fourth attempts. Hopefully you will be the one in UPSC 2023.
UPSC Topper 2021 Background

Name

Utkarsh Dwivedi

Civil Service Exam 

2021

All India Rank 

5

Number of Attempts

3

Age 

–

Optional Subject 

International Relations

Native 

Indore, Originally from Lucknow, Uttar Pradesh

Education

Graduation in Mechanical Engineering from VIT, Vellore
Other related links: