The coveted All India Rank 1 of the UPSC Civil Services 2021 examination is bagged by Shruti Sharma, a JNU alumnus. Read on to know more about Shruti Sharma's background, preparation strategy, number of attempts, UPSC optional subjects, etc. 
Ankita Agarwal and Gamini Singla hold the second and third rank respectively in the IAS toppers list. 
Shruti Sharma IAS Topper 2021 Background
Shruti Sharma is a resident of the Bijnor district in Uttar Pradesh. She wants to bring many changes to the society and people around her. She believes in diversity and is eager to learn new things, languages, cultures etc. When we talk about her hobbies, she loves to explore new cultures, read books and watch movies. 
Check IAS AIR 1 Shruti Sharma Mock Interview  with BYJU'S: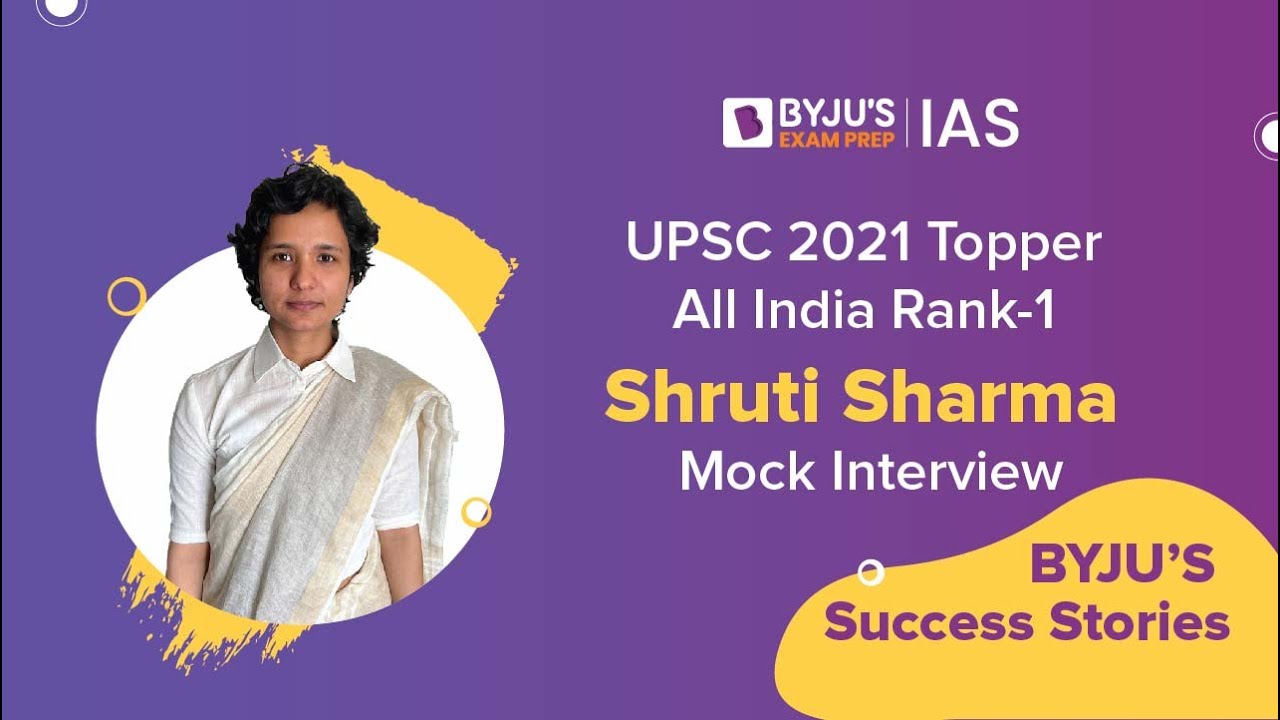 Educational Background
Shruti attended Cambridge Primary School, Delhi from Kindergarten to Class 5th and then shifted to Sardar Patel Vidyalaya, Delhi for further education.  

Shruti is an alumnus of St Stephens College and Jawaharlal Nehru University.

She was a student of History Honors in her graduation days and pursuing a Master's Degree in Modern History.

She prepared for UPSC Civil Services exam at Jamia Millia Islamia Residential Coaching Academy.
Shruti Sharma Support From Family & Friends
Shruti thanked her family members and others, who supported her in her journey to become an IAS officer. She says, "Credit goes to everyone who was involved in my journey, especially my parents. They were extremely supportive and friends who guided me,".
Shruti Sharma's Success
Shruti always wanted to serve the country by joining the Indian Administration Service. However, she couldn't succeed in her first attempt at the Civil services exam. When asked, she said – 
"This is my second attempt. Due to some issues with the medium of instruction, I had to take my Mains examination in Hindi. I missed my interview call by one mark."
Shruti failed just once, realized her mistakes and came back stronger in her second attempt securing AIR 1 in UPSC 2021. She said that she was confident about qualifying the exam but was surprised when she found out that she had topped it. She scored 173 marks and 932 marks in personality test and mains respectively totalling to 1105 marks.
Shruti Sharma UPSC Preparation Strategies
Shruti had been through a really different journey as a UPSC candidate. She did not follow what people suggested she should do. Instead, she followed her own methods and techniques which were suitable to her brain levels.
She began her UPSC preparation 4 years ago and started off by studying NCERTs.

Since current affairs are perhaps the most important part of the

IAS exam

Shruti backed her preparation by regular newspaper readings to give adequate focus to what is happening in the country and internationally.

She took a few online test series to help her get enough practice before the actual exams.

The notes she made while studying helped her alot in revising the vast syllabus. 

She relied a lot on the internet and her center of attention was answer writing practice for the Mains exam. It is very important to know how to choose the optional subject for the UPSC mains, as the two optional papers account for 500 marks, a big chunk of the final tally. She took History as her optional subject in the Mains.
"My strategy was to focus on my own notes with emphasis on answer-writing practice for the Mains exam. I was happy with my performance in the exam and was hopeful of a good result but topping the merit list did come as a surprise."
Being patient throughout the preparation was her success mantra.

She did not focus on the number of hours of study but on quality learning. 

She made a study schedule but kept her study sources limited and said that during revision time, she did not take up new books or study materials.

It is advisable to go through previous years' UPSC prelims question paper book to get an idea about the nature of the questions asked in the UPSC prelims examination.
"It's not about the number of hours spent studying; it's about the quality of the study. Studying is important, but counting hours is not. Strategy is also significant, so one should keep their sources limited while studying. My notes, newspapers, and practice answer writing helped me a lot besides the books."
A few tips for UPSC exam preparation
Action Plan – Set aside at least one year for CSE preparation and chart out an action plan to start off with your preparation. 

Plan meticulously: Always have a realistic and achievable study schedule to follow while preparing for UPSC CSE. Making a planner and keeping track of the goals helps too.

Limit your Study material – Hopping on to different books for exam preparation will only lead you to confusion, hence, pick out a few selected books and materials and try to stick to it as much as you can. 

Use Internet for your good – While the internet is an excellent source of information and study material, she also warns students against its overuse as there are plenty of distractions.

Do not panic: It takes some time to gain a rhythm in CSE preparation which works for you. Do not panic, if a concept seems hard and you get stuck, think it through and you will get clarity on how to study that particular concept.

Understand yourself: Understanding your own strengths and weaknesses will help you in focussing your preparation. This focus and understanding will help immensely in optimizing every stage of preparation according to your needs.

Practice: Before you take the actual exam, you should take mock practice tests both for the prelims and the mains. This will help you gain confidence and experience in framing your answers properly.

Stay focused: Preparing for the UPSC exam can be extremely challenging, so keep yourself motivated and stay positive. Always look at the bright side of things and be confident about your ability to crack UPSC CSE 2022.
UPSC Topper 2021 Background

Name

Shruti Sharma

Civil Service Exam 

2021

All India Rank 

1

Number of Attempts

2

Age 

26

Optional Subject 

History

Native 

Delhi, Originally – Bijnor, UP

Education

Graduation in History
All it takes is determination, unwavering focus and of course, a smart and guided approach to the IAS exam. Aspirants of UPSC 2023 can go through the following links for assistance in their preparation.