Aparna Ramesh, a daughter of a civil servant, and an architect & urban planner by profession, topped the UPSC CSE Exam 2020 in her second attempt. She presently resides in Gurugram, Haryana, but have lived and studied in 10 cities and seven states across the country. 
This article talks about Aparna Ramesh, who secured All India Rank 35 and her journey from architect to IAS Officer. 
The aspirants can read more about other 2020 IAS Toppers and their strategies from the links provided below:
Family & Educational Background
Aparna Ramesh's father is a civil servant. 

Since her father is a civil servant, she got the opportunity to live and study in ten cities.

She learnt new languages and got a chance to know about different cultures across the country. She admits that this has made her more adaptable and resilient to face new challenges.

She did her under graduation at Visvesvaraya National Institute of Technology. 

Aparna completed her master's degree from CEPT University. 

She did her internship in Urban Planning at Deutsche Gesellschaft für Internationale Zusammenarbeit (GIZ) GmbH. 

She completed her fellowship with India Smart Cities Mission, Ministry of Housing and Urban Affairs, Government of India. 
Aparna Ramesh's Journey to UPSC
Aparna Ramesh started preparing for UPSC when she was doing her post-graduation in Urban Planning in the year 2019. She gave her first attempt in the same year. 

She cleared the UPSC CSE Exam in her second attempt in the year 2020. 

Aparna cleared the exam with

anthropology

as her optional subject. 
Also read:
Aparna Ramesh's Strategy to clear UPSC
Aparna Ramesh feels that the prelims stage is the trickiest stage of all three stages. The aspirants can clear prelims if they focus on

UPSC previous year question papers

, especially the last five-year question papers. 

For the mains, she focussed on basic books, practised answer writing and concentrated more on strengthening her stronger areas. 

She had a list of anecdotes, quotes and some interesting facts so that she can use in the essay paper. She followed a template while answering the essay paper, and that was the strategy of Aparna Ramesh for the Essay paper. 

While preparing for the interview, she tried to attend many mock interviews and worked on the feedback received after the mock interview.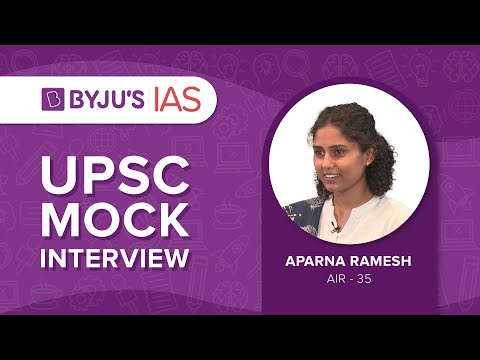 Other related links: