16 March 1901
Birth of Potti Sreeramulu
---
What happened?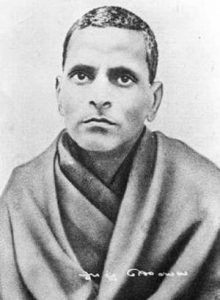 Potti Sreeramulu, the man who fasted unto death for the sake of statehood for Andhra was born on 16 March 1901.
Potti Sreeramulu
In this article, you will read about the life of Potti Sreeramulu, who died in a hunger strike for the formation of Andhra Pradesh on linguistic lines. His death led to the formation of the state. His death ignited the government to form the state on linguistic basis; many more states were carved out linguistically. This information is relevant for social issues and Indian society for the UPSC exam.
Potti Sreeramulu was born to Guravayya and Mahalakshmamma in Nellore district in the erstwhile Madras State, today part of Andhra Pradesh.
He had his school education from Chennai and later studied engineering in Mumbai.
For some time, he worked with the Great Indian Peninsular Railway. After his wife died when he was 25 years old, he joined Mahatma Gandhi's Sabarmati Ashram.
He was a dedicated worker and Gandhi is said to have remarked of him, "If only I have eleven more followers like Sreeramulu I will win freedom [from British rule] in a year."
In 1946, he returned to Nellore and started working for the welfare of Dalits and also promoted khadi and village industries.
Between 1946 and 1948, he carried out three fasts in Nellore for the temple entry of Dalits.
After independence, the modern state of Andhra Pradesh (along with Telangana) was divided between the Nizam's Hyderabad State and the northern districts of Madras State.
There was a growing demand for the formation of states on the basis of languages.
Telugu-speaking people wanted a separate state but the C Rajagopalachari-led Madras State was not particularly sympathetic to this demand. This was especially because the city of Madras (now Chennai) was a contentious factor with both Telugu and Tamil populations staking claim for it.
There were agitations going on for this and as part of the agitation, Sreeramulu started a fast on 19 October 1952.
During this fast, the then prime minister Jawaharlal Nehru assured his support for the creation of Andhra Pradesh but Sreeramulu continued with his fast because of the lack of a formal statement.
Agitations continued in the Andhra region and Sreeramulu's fast created a lot of public unrest.
Finally, he died on 15 December 1952 after about 58 days of commencing his fast.
This resulted in widespread rioting and violence in many regions in Andhra. A few people were killed in firing by the police.
Protests continued for about four more days and on 29 December, Nehru announced his decision to form a separate Andhra state.
Accordingly, on 1 October 1953, the Andhra State was formed with its capital at Kurnool.
Later, as per the States Reorganisation Act, Andhra Pradesh was formed by merging this Andhra State with Hyderabad. The Kannada and Marathi- speaking regions of Hyderabad were merged with Mysore State and Bombay State respectively. Later on in 2014, Andhra Pradesh was split into two separate states, Andhra Pradesh and Telangana.
The house in which Sreeramulu died is preserved by the Andhra Pradesh state government.
He has been given the title, "Amarajeevi" for his sacrifice for the cause of Andhra.
The formation of states on the basis of language was an important step towards the preservation and propagation of regional languages and cultures.
Also on this day




---