In the final UPSC Exam Results 2020 declared on 24th September 2021, Pooja Gupta secured All India Rank (AIR) 42. She was already an IPS officer when she cleared the IAS Examination. 
Read on to know more about Pooja Gupta's background, optional subject and other important details.
Read about 2015-2020 IAS Toppers (AIR 1) from the links below:
Pooja Gupta IAS Topper Background
Pooja  Gupta is a graduate in Bachelor of Dental Science from ESIC Dental College, Delhi.
Her mother, Rekha Gupta is an Assistant Sub-Inspector with the Delhi Police while her father, Rajkumar Gupta works in the private sector. Her husband, Shakti Avasthi is an IPS officer.
She initially got the IPS post in her first attempt when she got the 147th rank, but wanting the coveted IAS post, she would try and succeed for the third time in 2020 when she succeeded in scoring a higher rank of 42.
Her primary inspiration to be a part of the civil service was her mother's service in the police force.
Pooja Gupta's UPSC Journey
Pooja Gupta walked on the similar path as her husband. He too had a similar experience like hers, where despite getting into the Indian Revenue Services (IRS) he wanted to get into the IPS, which he did at his second attempt.
He groomed her for the IAS Interview and shared the necessary material which would be crucial for Pooja Gupta in helping her crack the UPSC exam a third time.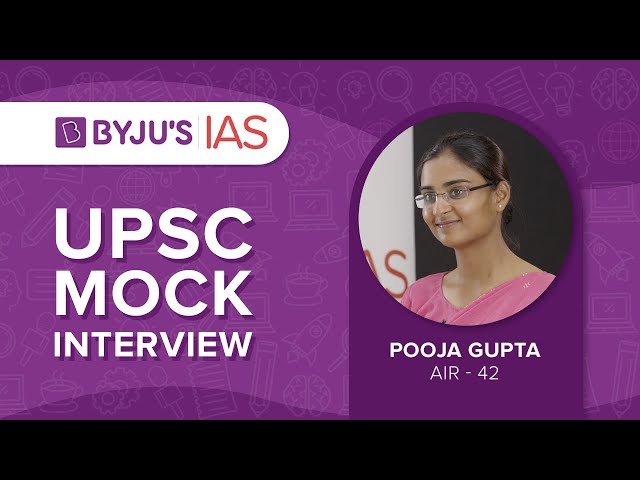 Pooja Gupta IAS Strategy
Apart from the usual UPSC Booklist, Pooja Gupta referred to IAS toppers interviews as well
Like every other pragmatic candidate, she put extensive efforts in solving previous years UPSC Question Papers.
She relied on NCERT Notes for basic concepts and newspapers for Current Affairs
She also recommends watching government websites like PIB and Rajya Sabha TV in order to know more about government policies and news.
According to Pooja Gupta, her interview consisted of questions regarding her tenure in the IPS. She was also queried on Anthropology, her optional subject
Pooja Gupta's message to future aspirants is: "External motivation will not take you far.So, motivation should come from inside you. Ask yourself why you are getting up early in the morning and studying!"
To read more such IAS Success Stories, check the linked article.
Aspiring candidates who wish to secure top ranks in the Civil Services Examination are advised to go through the following links: