Every year, UPSC marksheets are released on the official website (upsconline.nic.in) after the entire exam process for a particular year is over. The Union Public Service Commission (UPSC) conducts exams for various posts in the Indian government. The commission is also tasked with the recruitment of IAS, IPS officers along with other Group A (and some Group B) posts. The Civil Services exam is conducted every year for which lakhs of hopeful candidates apply.
Out of lakhs of candidates, barely 1000 or so qualify for the coveted jobs. For e.g., there are only 782 vacancies for UPSC Civil Services exam 2018. Check the UPSC Cut off 2018.
Download the final mark sheets of selected candidates in UPSC 2018.
Download UPSC Marksheet for 2018 –Download PDF Here
Common doubts related to UPSC Marksheets
Seeing one's marks gives some indication regarding the areas which need improvement. However, UPSC does not declare the marks until the exam process is over. Here are answers to some common doubts faced by candidates.
Doubt 1 – I gave UPSC Civil Services (Prelims) in 2018 and I did not qualify for mains. When can I see my prelims marks?
Ans – UPSC will release the marksheet after the entire exam process is over. Refer the sequence given below for clarity:
UPSC CSE Prelims 2018 (June 2018)
UPSC Prelims Result
UPSC Mains 2018 (held in September 2018)
UPSC Mains 2018 result (December 2018)
IAS Interview 2018 (scheduled for February – March 2019)
UPSC Final Result and Merit List (tentative schedule in April-May 2019)
You can download the UPSC 2018 Marksheet for Prelims, Mains and Interview when they are available on the official website in May-June 2019
---
Doubt 2 – I gave the UPSC Prelims 2018 and qualified for the Mains 2018. However, I could not clear the Mains, when can I see my Prelims and Mains marksheet?
Ans – As mentioned above, the marksheet for prelims (for both successful and unsuccessful candidates) will be released after the Final Result (after the interview) for that exam year is declared. So, you can see your Prelims 2018 marks in May-June 2019.
The Mains marks for unsuccessful candidates are similarly declared after the Final Result of that exam year.
---
Doubt 3 – UPSC has released the Prelims marks. Where and how can I access them?
Ans – The official websites (upsc.gov.in and upsconline.nic.in) will have links to access the marks if they have been declared. No marks for UPSC 2018 will be declared as of now (January 2019) as the exam process is still underway. However, UPSC 2017 results were out last year (2018), so those marksheets are available. Below is an example to illustrate how you can check your marks:
First check the official website (either upsc.gov.in or upsconline.nic.in). You will then reach the page shown below in the image.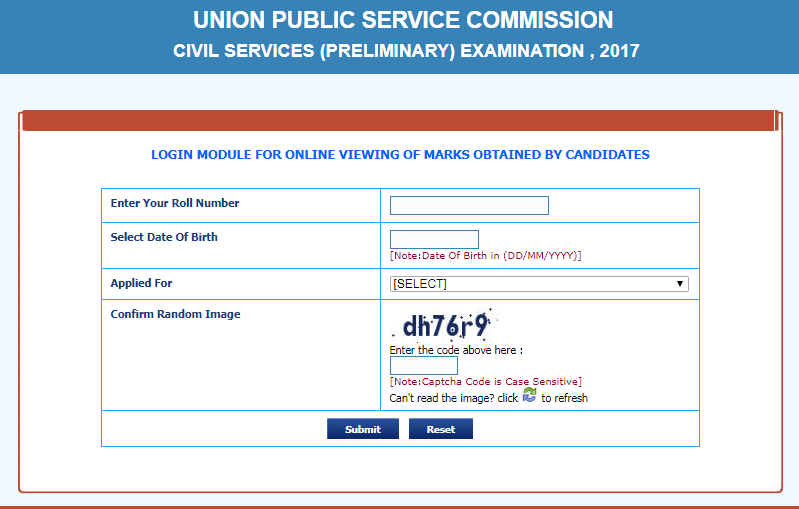 Enter Your UPSC Civil Services Preliminary Exam 2017 Roll Number.
Select your Date Of Birth.
Select if your applied for CSE(P), Indian Forest Service or both.
Enter captcha code and submit.
You should then see something like the image below.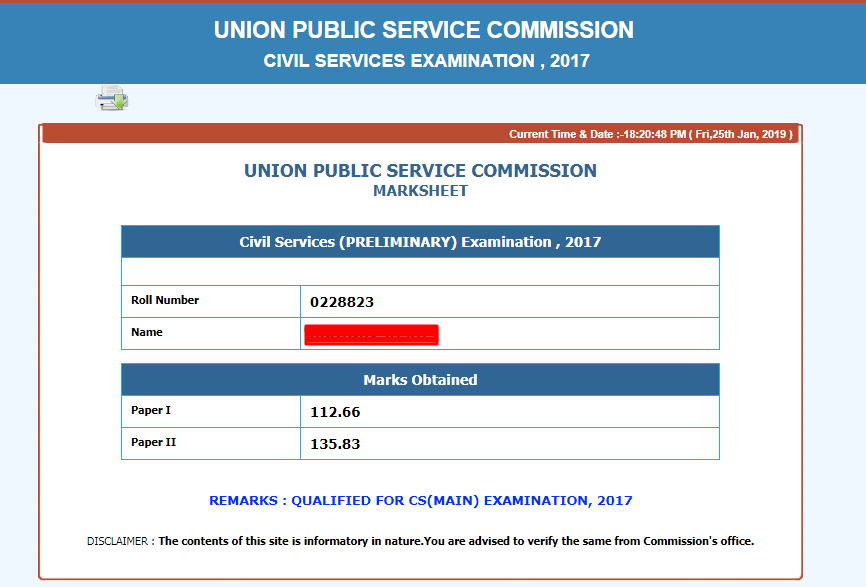 ---
Doubt 4 – I did not qualify for interview stage. How can I download marksheet of UPSC Mains?
Ans – You will first have to register on the official website (upsconline.nic.in), following which UPSC will send the login credentials to your mail. This process usually takes less than five minutes. After that, you can login to the official website and see the marks.
Note: The latest marks will be of UPSC 2017 as UPSC 2018 exam process is still underway.
---
Doubt 5 – I was not recommended for the final list. How to download marksheet of Mains + Interview?
Ans – The procedure is same as mentioned above.
Register on website
UPSC will email the login credentials
Login and see the marks
The mark sheet in this case will contain the marks for individual Mains papers and the interview marks along with the UPSC's recommendation. For e.g., see the image below.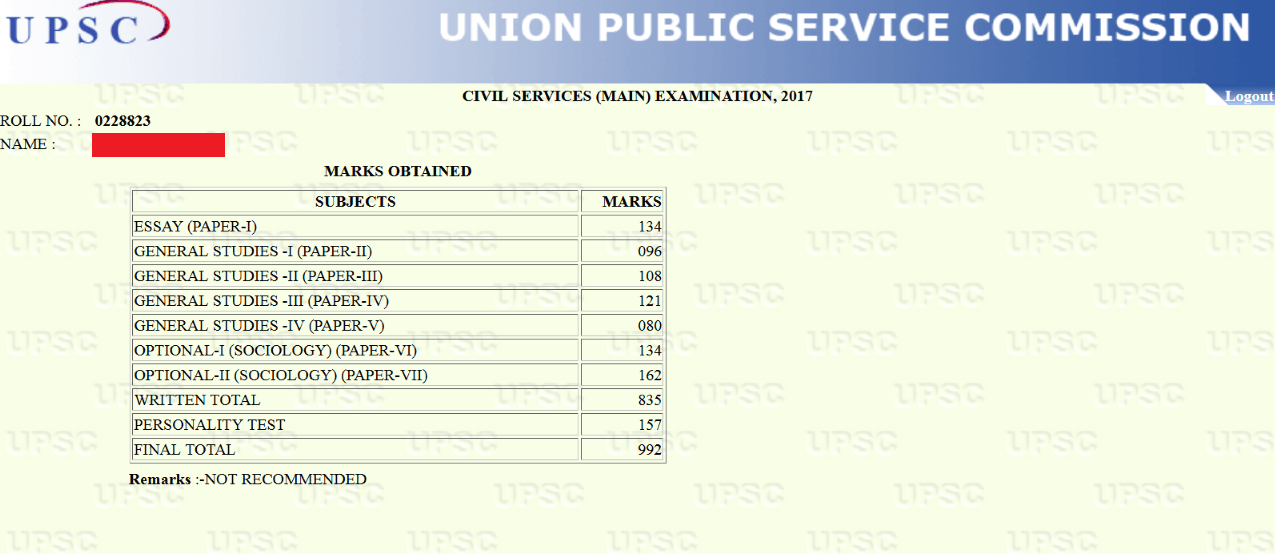 ---
Doubt 6 – Why can't I see the marks of my Language papers (compulsory) in Mains?
Ans – As those are qualifying papers, UPSC does not release the marks for them. However, in case a candidate has not secured the qualifying marks in them, the Mains marksheet will not have marks for the other papers as well.
---
Doubt 7 – How can seeing the marks help me form the exam strategy for UPSC 2019?
Ans – The marks are a quantified expression of a candidate's performance in a given exam for the given year. However, the goal is to score above the cut off and not do PhD level research on a particular subject.
First, the qualifying papers (prelims and Language papers in Mains) should be a top priority especially for Mains as marks for other papers are not disclosed if a candidate fails to clear the qualifying papers.
For other papers, marks should be seen in perspective with the syllabus, and grasp of current affairs related to that paper (GS-II, GS-III in particular). The aim should be to complete the whole question paper, for e.g., instead of writing 12/20 answers perfectly, try to answer all 20 questions with as much quality as you can muster. Candidates invariably find to their dissatisfaction that even after writing perfect answers they still scored on the lower end of the spectrum and the subsequent year, they spend an inordinate amount of time on that subject at a cost to other papers. Having the relevant information and presenting the information in the exam are two separate things.
Interview marks are similarly subjective (the outcome of 20 minutes in front of a panel) and hence, the focus should be more on the soft skills instead of mugging reams of theoretical content for the Personality Test.
So, a candidate should reflect after seeing their marks whether it's about lack of knowledge or an improvement in presentation skills (soft skills, tables, maps, diagrams, underlining the important information, etc.) that is required.
Also, read: