The Essay Paper in the UPSC civil services mains exam is sometimes overlooked by candidates thinking that all they have to do is write on a topic from material that they have learnt for the general studies papers. They take it easy thinking it doesn't require any additional preparation. But, read on to understand why the essay paper is important and should not be ignored.
Aspirants would find this article very helpful while preparing for the IAS Exam.
Aspirants should begin their preparation by solving
UPSC Previous Year Question Papers
now!!
To complement your preparation for the upcoming exam, check the following links:
On the other hand, this paper can also rattle candidates who are unnerved by the 'lack of a concrete syllabus' for the UPSC essay paper. Both the extremes should be avoided and candidates are advised to put in the right effort and the right amount of effort needed for this paper. IAS toppers Chandra Mohan Garg and Mittali Sethi aced the essay paper and scored 149 marks and 160 marks respectively out of a total of 250.
Essay Tips from Chandra Mohan Garg (AIR 25; CSE 2015)
Choose your topic wisely. You should have a holistic understanding of the topic. Avoid thinking that a common topic cannot do you good since most candidates would opt for it. Take an unconventional topic only if you are most comfortable with it.
After topic selection, brainstorm for fodder material like keywords, quotes, examples, illustrations, case studies, facts and figures, etc.
Also, think about the past, present and future scenario related to the topic.
Structure your essay properly. Have an introduction, body and a conclusion. In the body, you must write about both sides of view as illustrated below: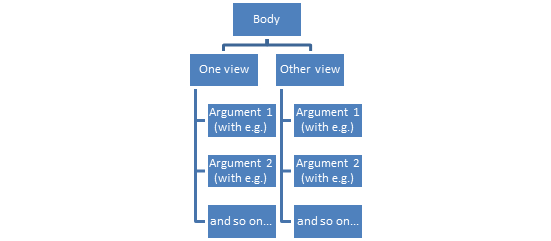 Keep your language simple with short sentences and small paragraphs.
Mention examples, government schemes and plans in your essay.
Always cover the social, economic, political, cultural, legal, international and humanistic perspectives of the topic.
There should be a definite flow to the essay.
The essay should reflect your vision and ideas rather than display your knowledge.
Your introduction should be impressive. Include striking quotes or illustrations here. Also, it should outline your essay and tell the reader what to expect in reading further.
Try to conclude your essay with a positive or visionary note.
When you read the newspaper for your IAS preparation, note down good lines and examples.
Prepare some fodder about general topics like education, women, healthcare, internet, technology, democracy, etc. Stay updated on all the important UPSC current affairs with our daily current affairs features.
Before your exam, you should practice writing at least 5 – 6 essays.
Download the 2019 UPSC Essay Paper at the linked article.
Essay tips from Mittali Sethi (AIR 56; CSE 2016)
Your introduction and conclusion should stand out. Psychologically, a person remembers what is at the beginning and at the end. So, try to impress the examiner when you write the introduction and the conclusion. It would leave a good impression if you portray your compassionate and empathetic side in the beginning of the essay itself.
You should connect to the topic as a HUMAN. Avoid writing mechanically.
You should conclude the essay on a positive note. You could give possible solutions or also end with a futuristic vision.
You can make a rough flowchart before you begin writing your essay so that you can outline what you will be writing where. This will make your essay more structured and also ensure that you don't forget important points and perspectives.
Write in simple English but make you don't make any grammatical errors. Put in efforts to improve your language if you feel you need to. Wrong language/grammar can change the meaning of a sentence.
You can have strong opinions on a topic but make sure you are not just opinionated but also informed.
Don't just crib about things, also present solutions.
Make sure your quotes are correct verbatim otherwise, don't quote them. You can get some good and authoritative quotes for UPSC exam at the linked article.
Try to be concise so that you can cover maximum dimensions and also avoid repetitions.
Try to cover multiple perspectives like social, economic, political, cultural, linguistic, local, international and humanistic ones.
The above details would help candidates prepare for UPSC 2021.
Related Links