The UPSC result 2020 was declared in September 2021, and Divyanshu Choudhary, with All India Rank 30 cracked the civil services exam in the second attempt. Such IAS Success Stories, like Divyanshu's, can be inspirational for many candidates aspiring to join the administrative services. Discussed further below is his biography, educational background, optional subject, UPSC preparation strategy and more. 
To read more about the other IAS Toppers for 2020, refer to the links given below:

Divyanshu Choudhary – Bio & Background 
Educational Qualifications – UPSC 2020 was Divyanshu Choudhary's second attempt to crack the exam. In terms of education, he completed his BTech from BITS Pilani and then did his Masters in Business Administration (MBA) from IIM, Calcutta. 
Optional Subject in UPSC – Mathematics (He scored 285 out of 500 in his optional paper in 2020)
Work Experience – He had worked for a year in HSBC Bank but later resigned to pursue his dream of cracking the civil services exam. 
Hobbies – Playing Sports, Writing Hindi stories, and also keen interest in Indian Mythology.
A few of his stories have also been published in the regional newspapers. 
Scores in UPSC Mains 2020 – Overall scores for mains was 1006 and secured 206 marks in the Personality Test.
Candidates can also review Divyanshu Choudhary's Mock Interview that he took at BYJU'S IAS Interview coaching. This will act as guidance for aspirants appearing in UPSC Interview for the upcoming recruitments: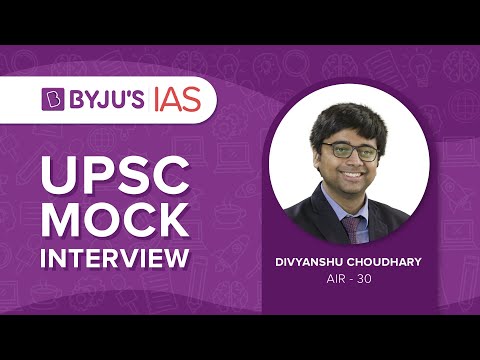 UPSC Preparation Strategy – Divyanshu Choudhary
Divyanshu usually devoted 6 to 7 hours a day for preparation, of which 60% of the time was dedicated to the optional subject (mathematics). This time automatically varied between 8 to 9 hours during the exam days.  
The main focus was on reading the newspapers diligently and spent 2 hours carefully going through every corner of the paper. The Times of India and The Hindu are the two newspapers he read for IAS preparation. 
He also restricted his resources and did not study from multiple books. Divyanshu made solving mock tests a habit and had attempted over 50 practice tests for the prelims examination. Another tip suggested by him to score more in the objective paper is to use the eliminate strategy.
When talking of change in strategy from the first to the second attempt, Divyanshu believes that he learnt from his mistakes and changed his plan of preparation. He started studying the same topic objectively for prelims and subjectively for mains, by preparing proper notes. 
Divyanshu Choudhary kept his preparation strategy very simple and did not take too much pressure during the course of preparation and tried to remain as calm as possible. The support from his family and self-motivation is what kept him ongoing.