When the 2019 UPSC results were announced, Delhi resident Himanshu Jain achieved national fame for securing an amazing all India rank of 4 in the UPSC exam. Jain achieved this feat in only his second attempt. In this article, you can read all about IAS topper Himanshu Jain's journey towards IAS success, motivation and preparation strategy.
Himanshu Jain IAS Topper Background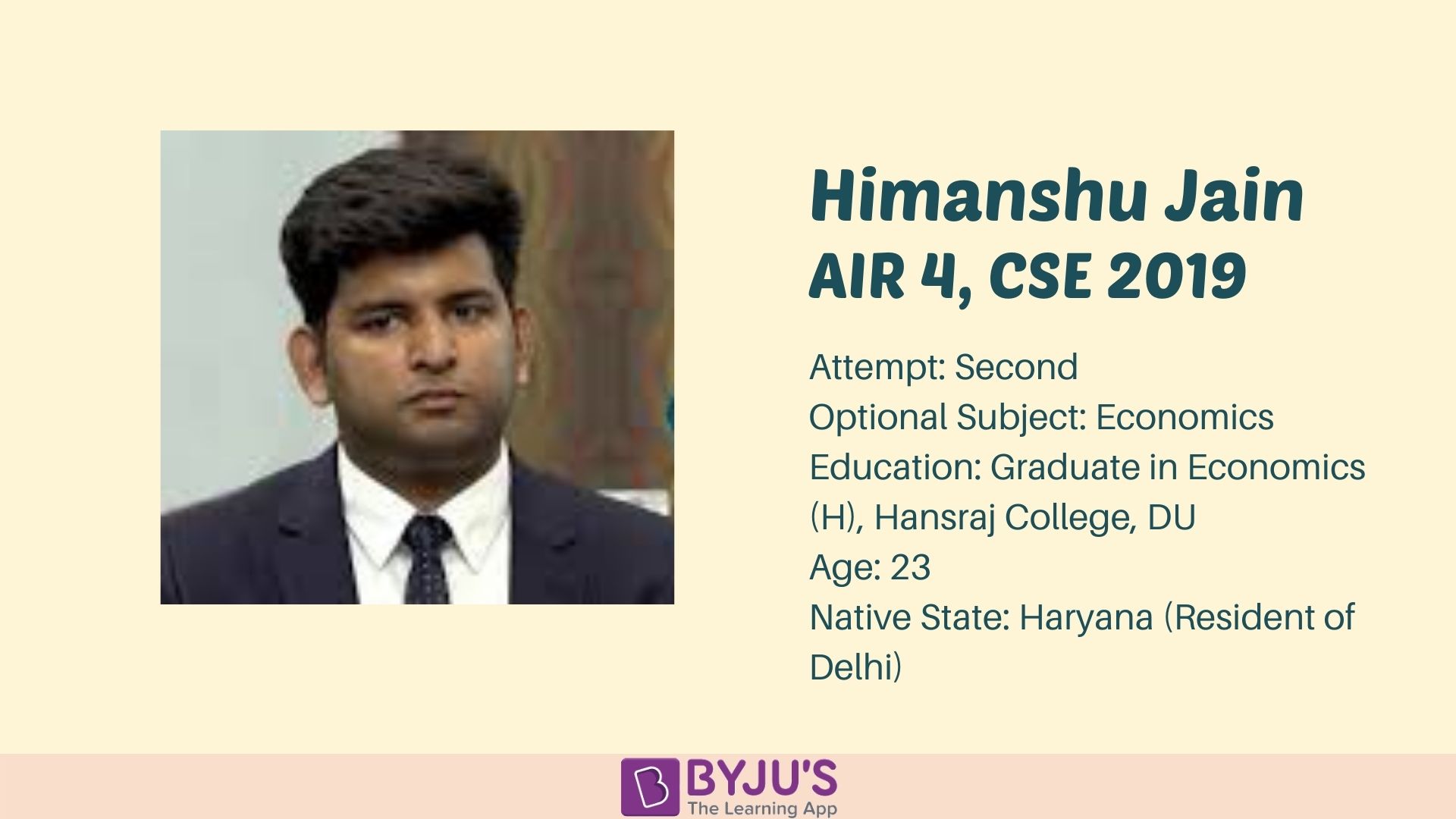 Himanshu Jain is a resident of Delhi where his father owns a shop. His mother is a homemaker. The family is originally from Haryana's Palwal district. They moved to Delhi when Jain was about 13 years old.
Himanshu Jain finished his schooling from Delhi's Lovely Public School securing a CGPA of 10 in tenth standard and a brilliant 96.4% in twelfth standard. After that, he pursued his Economics Honours from DU's Hansraj College.
Post his graduation, he decided to prepare for the IAS exam. It was his grandfather's dream too that Jain becomes a civil servant.
After deciding during his standard XI that he will join the civil services, he stuck to his dream through his graduation and then pursued it with zeal.
Himanshu Jain Previous Attempts
Despite a strong resolve, Jain says he did not work adequately for his first attempt of the UPSC exam in 2018. Hence, he did not even clear the IAS Prelims. However, he did not repeat the same mistake the second time, which became his last attempt as well, since he came out with flying colours.
23-year old Jain's mantra for IAS success is self-analysis, previous years' UPSC question papers, and toppers' advice.
IAS Topper Himanshu Jain's Exam Strategy
Himanshu Jain shares some handy tips for fellow aspirants to help them succeed in the IAS exam.
Stick to a few resources and do indefinite revisions.

Since the

UPSC syllabus

is really huge, a strategy is needed to cover it all. Chart out a plan and stick to it, otherwise covering the whole syllabus would be impossible. He also says that specific terms in the syllabus are important and that while writing answers, it is important to use those terms for scoring extra marks.

Jain focused his IAS preparation on the

UPSC Mains

. For the prelims, he advises spending 50 to 60 days alone since it can be covered in these many days if a strategy is followed.

For the mains, more time should be devoted for the optional subject since the optional syllabus generally tends to be vast.

The major

UPSC Books

that Jain followed are the NCERTs (VI to XII), Spectrum for History and Laxmikanth for Polity.

For factual information, he relied on government websites, PIB publications, etc. You can read the gist of PIB for the IAS exam

here

.

For current affairs, Jain's chief source was the daily newspapers.

Finally, Himanshu Jain advises all candidates to stay healthy during the preparation time.
Himanshu Jain prefers the Haryana cadre as he is familiar with the issues there and hopes to get it because of his high rank.