The International Fund for Agricultural Development (IFAD) is a specialized agency of the United Nations. International organizations are important for the UPSC exam, especially in the International Relations segment. In this article, you can read all about the IFAD, its functions, and work with India.
IFAD UPSC Notes:- Download PDF Here
Aspirants can find the structure and other important details of the IAS Exam in the linked article.
Aspirants should begin their preparation by solving 
UPSC Previous Year Question Papers
now!!
To complement your preparation for the upcoming exam, check the following links:
International Fund for Agricultural Development (IFAD)
The IFAD is an international financial institution working in the field of poverty eradication in the rural areas of developing countries. It is a specialized United Nations agency created in 1977 engaged in providing grants and loans with low interest for allied projects.
The IFAD works with rural people allowing them to enhance their food security, improve nutrition and raise their incomes.

It also helps people to expand their businesses.

The organization is an outcome of the World Food Conference of 1974.

It is headquartered in Rome and headed by a President.

It has 177 member countries.

It works with marginalized and vulnerable groups such as farmers with small holdings, foresters, pastoralists, fishermen and small scale entrepreneurs by giving them disaster preparedness, access to weather information, technology transfer and social learning.

IFAD brings out the Rural Development Report every year.
To get a list of reports published by international organizations, click on the linked article.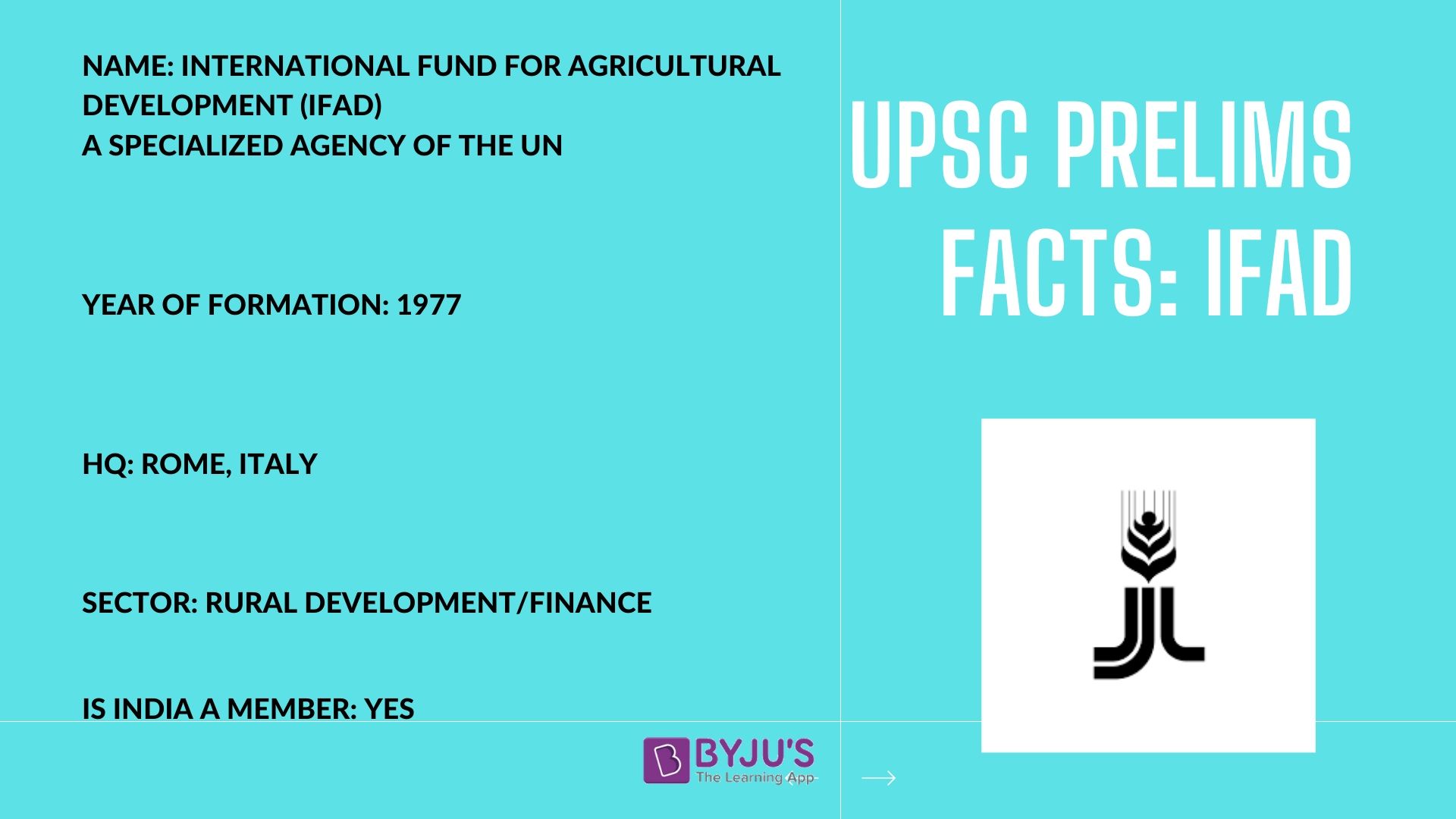 IFAD Objectives
The objectives of the IFAD are three-fold:
To increase the productive capacity of poor people.

To increase benefits for them from market participation.

To strengthen the environmental sustainability & climate resilience of their economic activities.
IFAD and India
IFAD has been in India since 1979. In India, the organization focusses on enhancing the access of poor people in rural areas to technological advancement in agriculture, financial services, natural resources and value chains.
It also works in sharing knowledge & learnings on nutrition security and poverty alleviation.

The focus in India is on tribal communities, smallholder farmers, women, scheduled castes, etc.

IFAD is located in New Delhi.

IFAD Focus areas in India:

Rural poverty

Agriculture

Tribal development

Women's empowerment

The nodal agency for the IFAD in India is the Department of Economic Affairs, Finance Ministry, GOI.
Aspirants can check the following links to prepare well for the upcoming Civil Services Exam-
Frequently Asked Questions on International Fund for Agricultural Development
Q 1. What is IFAD?
Ans. IFAD or the International Fund for Agricultural Development invests in rural people, empower them to increase their food security, improve the nutrition of their families and increase their incomes.
Q 2. When was IFAD established?
Ans. The International Fund for Agricultural Development was established in December 1977 in Rome, Italy.