Jatin Kishore, a native of Delhi, secured the second rank in the All India Civil Services exam 2019. The UPSC civil services exam is attempted by lakhs of aspirants every year, but only a handful make the cut at the end. Find out how IAS topper Jatin Kishore realised his IAS dream in this article.
Jatin Kishore IAS Topper Background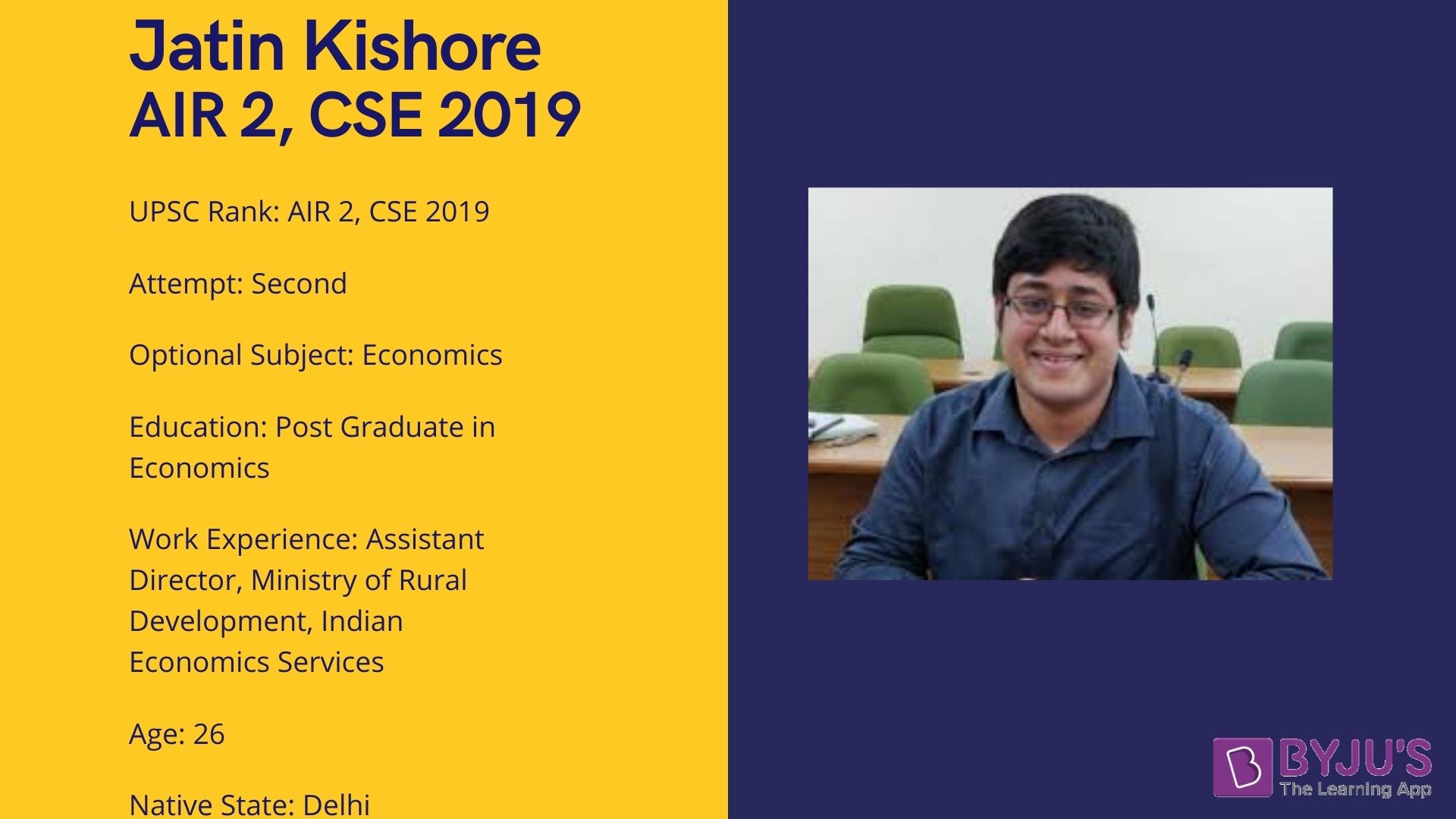 26-year old Jatin Kishore is a resident of Delhi and completed his education from the city. After finishing school from Birla Vidya Niketan, Kishore pursued his graduation in economics from St. Stephen's College. After that, he completed his postgraduate degree in the same subject from the prestigious Delhi School of Economics.
Kishore achieved the amazing rank of AIR 2 in his second attempt. What makes this special is that in his first attempt, he had failed to even clear the UPSC Prelims. In 2018, Jatin Kishore had secured the first rank in the Indian Economics Services (IES) exam. When the UPSC results 2019 were announced, Kishore was posted as an Assistant Director with the Ministry of Rural Development.
Also read: IAS Success Stories of Working Professionals
Kishore says that it is natural to feel bad when your attempts don't yield results, but it is important not to stop trying. He credits his family's support for his stupendous IAS success story. His father is an employee of the Revenue Department while his mother is a teacher.
IAS Topper Jatin Kishore's UPSC Strategy
Jatin Kishore shares a few of his preparation strategy points for fellow aspirants.
The most important aspect of the UPSC preparation is keeping a tab on the current affairs. Aspirants can stay up-to-date with the daily

current affairs

in the linked article.

He also stresses the importance of supplementing the daily newspaper with a good

monthly current affairs magazine

.

Jatin Kishore did not make detailed notes of what he learnt although he underlined the important points in the books itself. However, he points out that having short notes of important topics would be handy for a last-minute revision of the subjects.

He says that revising the same book multiple times is better than reading several

UPSC books

together. 

As far as answer writing practice is concerned, Kishore is of the opinion that candidates should ideally cover a good portion of the UPSC syllabus before embarking on mains answer writing. He also says that only constructive criticism of government policies should be given, if at all criticism is to be given, and that solutions should also be offered for any given problem.

Strategy for essay paper – Kishore says it is important to spend at least 15 to 20 minutes deciding the structure of the essay to be written for the exam. He also says that several dimensions of the same topic should be covered in the essay. For more tips on the

UPSC essay paper

, click on the linked article.

For the ethics paper, Kishore suggests quoting famous personalities like Mahatma Gandhi in the paper to fetch better marks. He considers this a difficult paper and says that the basic concepts should be very clear.
UPSC Topper Jatin Kishore prefers the AGMUT cadre but says he is ready to serve anywhere in India.