Gaurav Singh Sogarwal's IAS success story is inspirational. Read on for the IAS success story of Gaurav Singh Sogarwal – IAS success stories without coaching in Hindi.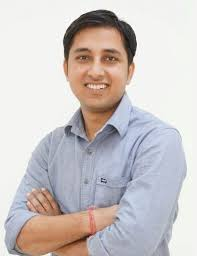 IAS Topper Story – Sogarwal's Background
Sogarwal hails from a rural agricultural family in Bharatpur, Rajasthan.
He studied in a Hindi medium school and completed his BE in Electrical Engineering from Bharati Vidyapeeth, Pune.
He lost his mother at the tender age of 3 and was raised by his stepmother and father. Unfortunately, his father died when Sogarwal was 14 years old and in the tenth standard, and he had to shoulder the responsibilities of running the household since then.
He had to do agricultural work and also take care of his elder sister and younger brother.
Despite hardships and personal tragedies, Sogarwal moved ahead in life, his guiding light being the values imbibed in him by his parents and his late father's dream of Sogarwal clearing the civil services exam.
When his college friends and classmates partied and were busy enjoying life and youth, Sogarwal had no time for all these distractions. He had to study and also earn money for the education of his siblings and himself.
He also had to meet household expenses. His day would start at 5:00 AM when he took tuitions for school children.
He would then attend his classes and also finish off his assignments in college itself since he had to take tuitions in the evenings as well.
He would return to his hostel only at 9:30 PM to gear up for another hectic day.
After graduating from college, Sogarwal started teaching at the Narayana IIT Academy at Delhi.
He had moved to Delhi as part of his civil services preparation for IAS coaching. At this time, he got a teaching position at ETOOS Coaching Institute, Kota with a substantial annual pay packet of Rs.20 lacs.
This eased his constraints and he continued teaching at the institute for two years. During this time, he arranged his sister's marriage and also enabled his brother to get an MBA degree.
But Sogarwal, although financially secure, veered towards his calling which he knew was the civil services.
Sogarwal started his series IAS preparation in 2012 staying at Delhi's Mukherjee Nagar.
He again started taking tuitions since he faced some financial issues and had already quit his job.
During this time, he qualified for the Assistant Commandant exam. However, he was denied entry to the academy because he was late by one day due to some unforeseen events.
Completely shattered, Sogarwal requested the BSF DG for consideration and after some reluctance, he was allowed to join the academy.
Fate had other plans for the gritty 27-year-old though.
On his first day of training, Sogarwal received the news that he had cleared the 2015 civil services exam with a rank of 99. In 2016, he bettered his rank to an amazing 46 and became an IAS topper!
In 2016, the IAS exam was topped by K R Nandini. Read more about Nandini here.
Tips for Hindi Medium Students
Read 'The Hindu' or 'The Indian Express'. You can stay updated with the daily current affairs with our current affairs features.
Avoid using Google translator for translating English pages to Hindi. They sometimes change the meaning and the crux of the matter is invariably lost.
The below link talks about another Hindi medium topper:
Anirudh Kumar – IAS Hindi Medium Topper 2017
Sogarwal had opted for Sanskrit literature optional. You can check out more about the Sanskrit Literature optional subject here.

FAQ about Gaurav Singh Sogarwal Air 46 CSE 2016
Is Hindi Medium good for IAS?
. A little effort is required for Hindi medium students in CSE prelims paper II. Otherwise, it is not difficult to crack IAS from hindi medium.
What is the success rate of Hindi medium student in IAS?
The success rate of Hindi medium student in IAS Exam is 10 to 15%.
For more UPSC-related preparation material, visit the links given in the article below:
Related Links