The Madhya Pradesh Public Service Commission (MPPSC) published the Calendar for State Service Exam (Pre and Mains) 2019 on 31 December 2018. MPPSC had notified the dates of Pre and Mains to be in April 2019 and July 2019 respectively. However, both the exams stand postponed due to awaited update in the maximum age limit. New MPPSC 2019 Notification is still awaited.
MPPSC 2019 Calendar: –Download PDF Here
MPPSC Recruitment (Year-Wise)
To avoid any confusion for MPPSC Notification 2019, let us check the recent trends in its notification updates and dates of MPPSC Exam.
Tables below will brief you to understand the MPPSC Calendar (Consists of notification of application form, MPPSC admit cards, prelims and mains exam and result dates) over the years, following which, the probability of missing out the important forms is the least:
MPPSC Notification 2019

MPPSC 2019 Notification Date
31-12-2018
Release Of Admit Card
Postponed
MPPSC Application Form
Not Out
Prelims Date
April 2020 (Tentative)
Mains Date
July 2020 (Tentative)
For new MPPSC 2019 Notification (Pre and Mains), candidates should keep checking MPPSC online website- mppsc.nic.in, mponline.gov.in and mppsc.com. Download the MPPSC Admit Card 2019 from the official websites or check here for any new update.
MPPSC Notification 2018

MPPSC Notification Date
12-12-2017
Application Form
08-01-2018
Release of Admit Card
01-02-2017
Prelims Date
18-02-2018
Mains Date
23-07-2018

onwards
Final Results of MPPSC 2018 (State Service Exam) was announced on 11-02-2018
MPPSC Notification 2017

MPPSC Notification Date
05-12-2016
Release of MPPSC Admit Card
20-01-2017
MPPSC Prelims Date
10-02-2017
MPPSC Prelims Result
31-03-2017
MPPSC Mains Date
03-06-2017 onwards
Final Results of MPPSC 2017 (State Service Exam) was announced on 23-12-2017
Check the MPPSC Eligibility in the linked article.
Who all are recruited by MPPSC?
Madhya Pradesh Public Service Commission annually conducts exams for different posts in the various governmental departments. MPPSC Posts list is given below:
To get the detailed MPPSC Syllabus 2019 for Prelims and Mains State Service Exam, check the linked article. Candidates can also refer to the official sites of MP Public Service Commission (PSC) for any further updates.
As per MP General Administration Department (GAD) Notification 2012, MPPSC conducts a Combined Competitive Examination for the below posts: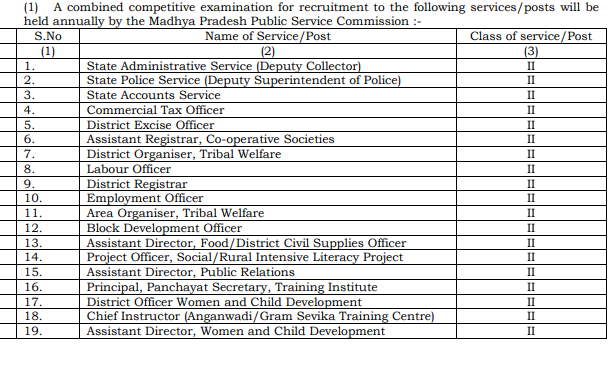 MPPSC Vacancy 2019
The commission recruits some of the following for MPPSC (State Service Exam):
Deputy Superintendent of Police (DSP)
Commercial Tax Officer
District Collector
Medical Officer — (Recruitment form for 67 Backlog Posts was out on 27-02-2019)
Check the MPPSC Posts Salary below:
Following the 7th Pay Commission, the posts of Deputy Collector, Commercial Tax Officer, District Jail Commissioner and Deputy Superintendent Of Police will draw a salary as below:
Pay Matrix Level- Level12/Class II/ Group B
Basic Pay- Rs. 56100/- (Approx)
Minimum Gross Pay- Rs. 63000/- (Approx)
Below table will also help you to know the number of MPPSC Vacancies for its State Service Exams over the years:
MPPSC Vacancy 2019

Number Of Posts
To Be Announced
MPPSC Vacancy 2018
Number Of Posts
202
MPPSC Vacancy 2017
Number Of Posts
190
MPPSC Online Application
On the lines of IAS Exam, the Madhya Pradesh Public Service Commission allows candidates to apply online for State Service Examination. Once MPPSC Application Form will be out, candidates need to log in to the official website of the commission, fill the form and pay the application fee.
Candidates may check the MPPSC application 2019 fee below:
MPPSC Application 2019 Fee
General Category
Rs.500
SC/ST/OBC/PWD
Rs.250
To simplify the strategies for MPPSC Exam Preparation, you may click the linked article.