MPPSC 2020 notification is yet to be released. With the recent advertisement, MPPSC has announced the postponement of the MPPSC Exam 2020, details of which aspirants can find in the linked article.  MPPSC 2019 Notification [Revised] was released on 14th November 2019 and the MPPSC Calendar for State Service Exam (Pre and Mains) 2019 on 31 December 2018. Read on to get information on MPPSC notification year-wise.
MPPSC Recruitment (Year-Wise)
MPPSC 2020:
The details of the MPPSC notification 2020 will be updated on this page once the commission releases the latest notification of the State Service Exam also called MPPSC Rajya Sewa Pariksha. For an update in MPPSC 2020 Notification (Pre and Mains), candidates should keep checking MPPSC online websites:
https://mppsc.nic.in/
https://mponline.gov.in/
and https://mppsc.com/.
MPPSC 2019:
As mentioned earlier, the MPPSC notification was released on 14th November 2019. The MPPSC conducted Prelims 2019 on 12th January 2020. MPPSC Admit Card 2019 was made available on the official websites from 08 January 2020 to 11 January 2020. The results of the MPPSC Prelims Exam were announced on 29th June 2020 which candidates can check on our MPPSC Result post.
Tables below will brief you to understand the MPPSC Calendar (Consists of notification of application form, MPPSC admit cards, prelims and mains exam and result dates) over the years, following which, the probability of missing out the important forms is the least:
MPPSC Notification 2019
MPPSC 2019 Notification Date
14 November 2019
Release Of Admit Card for MPPSC Prelims
08 January 2020
MPPSC Application Form
20 November 2019
Prelims Date
12 January 2020
Mains Date
To be announced
MPPSC Calendar 2019-20:- Download PDF Here
MPPSC Notification:- Download PDF Here
MPPSC Vacancy 2019
Madhya Pradesh Public Service Commission has notified 330 vacancies for the 2019 State Service Exam. The details of the vacancies are given below:
| | |
| --- | --- |
| Post | Vacancy |
| Finance Department (Subordinate Account Service) | 88 |
| Revenue Department | 71 |
| School Education Department | 60 |
| Finance Department | 30 |
| State Administrative Service | 27 |
| State Police Service | 22 |
| Social Justice and PH Welfare Department | 19 |
| Public Relation Department | 11 |
| Food and Civil Supply and Consumer Department | 2 |
| Total | 330 |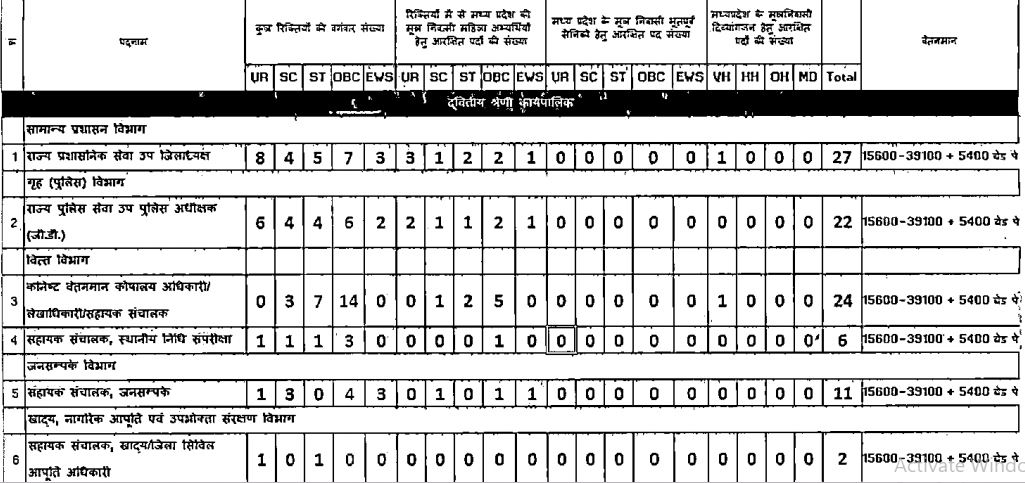 Update in MPPSC Vacancy 2019 – The commission through an official notification had revised the vacancies for the posts of 'Assistant Director – Department of Food and Public Distribution' & 'MP Subordinate Accounting Service.' Earlier, there were two vacancies under the post of Assistant Director, one for general category and one for ST. After the revision, that one seat is open for the general category has been transferred to the Economic Weaker Section (EWS) category. The number of vacancies still remain the same, i.e. 2.
For the post of Subordinate Accounting Service, the changes are as mentioned in the image below:

MPPSC 2018
MPPSC Notification 2018
MPPSC Notification Date
12-12-2017
Application Form
08-01-2018
Release of Admit Card
01-02-2017
Prelims Date
18-02-2018
Mains Date
23-07-2018 onwards
Final Results of MPPSC 2018 (State Service Exam) was announced on 11-02-2018. MPPSC Vacancy 2018 was 202.
MPPSC 2017
MPPSC Notification 2017
MPPSC Notification Date
05-12-2016
Release of MPPSC Admit Card
20-01-2017
MPPSC Prelims Date
10-02-2017
MPPSC Prelims Result
31-03-2017
MPPSC Mains Date
03-06-2017 onwards
Final Results of MPPSC 2017 (State Service Exam) was announced on 23-12-2017. MPPSC Vacancy 2017 was 190.
Check the MPPSC Eligibility in the linked article.
Facts about MPPSC Recruitment
Who all are recruited by MPPSC?
Madhya Pradesh Public Service Commission annually conducts exams for different posts in the various governmental departments. MPPSC Posts list is given below:
As per MP General Administration Department (GAD) Notification 2012, MPPSC conducts a Combined Competitive Examination for the below posts: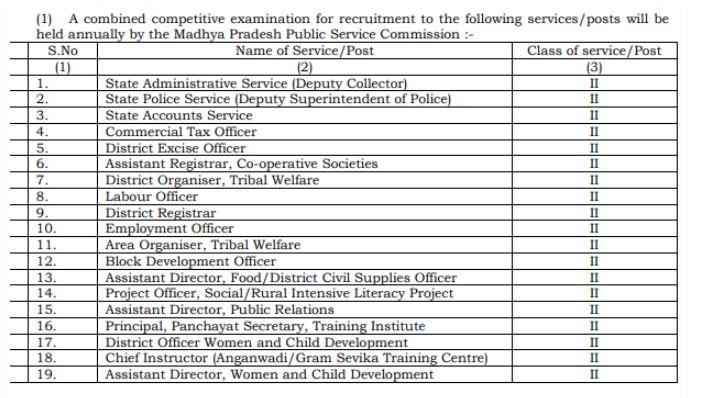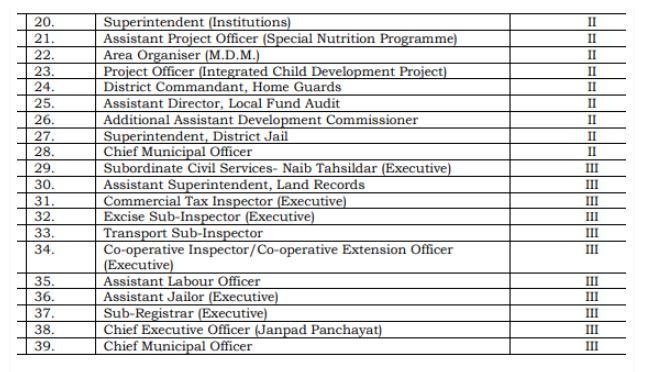 To get the detailed MPPSC Syllabus 2020 for the Prelims and Mains State Service Exam, check the linked article. Candidates can also refer to the official sites of the MP Public Service Commission (PSC) for any further updates.
Check the MPPSC Posts Salary below:
Grade 2 Jobs – Salary is in the range of Rs 15,800 to Rs 39,100 with grade pay of Rs 5400
Grade 3 Jobs – Salary is in the range of Rs 9,300 to Rs 34,800 with grade pay of Rs 3600
Following the 7th Pay Commission, the posts of Deputy Collector, Commercial Tax Officer, District Jail Commissioner and Deputy Superintendent of Police will draw a salary as below:
Pay Matrix Level- Level12/Class II/ Group B
Basic Pay- Rs. 56100/- (Approx)
Minimum Gross Pay- Rs. 63000/- (Approx)
MPPSC Online Application
On the lines of IAS Exam, the Madhya Pradesh Public Service Commission allows candidates to apply online for State Service Examination. MPPSC Application Form was out on 20 November 2019 and was available till 09 December 2019. Candidates were needed to log in to the official website of the commission, fill the form and pay the application fee.
Candidates may check the MPPSC application 2019 fee below:
| | | |
| --- | --- | --- |
| Exam Name | SC/ST/OBC/Phy.Disabled (MP Domiciles) | General Category + Other Categories (Outside MP) |
| State Service Exam | 750 | 1500 |
| State Forest Exam | 750 | 1500 |
| State Service Exam + State Forest Exam | 1000 | 2000 |
To simplify the strategies for MPPSC Exam Preparation, you may click the linked article.
One of the best sources to know about the demand of the examination is the previous year question papers. The benefits of solving and analysing old question papers are:
Alignment of preparation – A candidate learns to align his/her preparation as per the need of the questions already asked in the exams before. That furthers his/her modification in one's strategy.
Learn the strengths – A candidate can see from which area of the subject, he/she is able to answer more questions.
Learn the weaknesses – A candidate can also learn about his/her weak subject areas and can work on them before the examination.
Feel of the exam – An aspirant gets the feel of the actual examination and can learn to be calm, composed and prepared for the D-Day.
To get MPPSC Previous Year Question Papers, aspirants can check the linked article where all old question papers PDF from 2015-2019 are provided.