19 August 1757
The first Rupee coin was minted in Kolkata by the East India Company.
---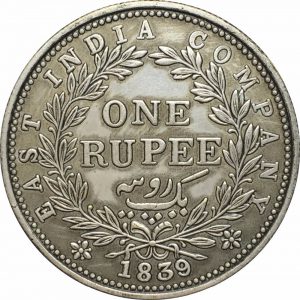 What happened?
The East India Company minted the first Rupee coin or sicca in the Calcutta Mint which it had established under a treaty with the Nawab of Bengal. It forms an interesting part of modern Indian history for the IAS exam.
First Rupee Coin Minting – Background
The Calcutta Mint was established by the Company as per a treaty with the Nawab of Bengal.
When Fort William was established by the Company in 1700 at Calcutta, it had no right to its own mint. In 1717, the British acquired the rights to mint coins under the name of the Mughal Emperor.
It used to send silver and gold bullions to the Surat mint controlled by the local Nawab (Governor of the Mughal Emperor) to be minted into coins.
Later, the Ahmedabad mint was also used in order to fulfil the higher demand.
All the coins in the Bengal Presidency were issued in the name of the Mughal Emperor, Alamgir II and later Shah Alam II.
The Battle of Buxar resulted in the East India Company being granted the Diwani of Bengal, Bihar and Orissa. Thereafter, the coins were issued in the name of the Company itself.
In the early years, the three presidencies of Bengal, Madras and Bombay were issuing their own coins. It was only after the Calcutta Mint was started that a uniform coinage was adopted. This began in 1835 and the coins had the head of the British sovereign King William IV on them.
After the Indian Mutiny of 1857 and the power transfer from the Company to the British Crown, the mints issued coins in the name of the British monarch.
Gold, silver, copper and tin coins were minted.
Till 1957, the following monetary system was prevalent in India:
1 pie = 1/12 anna
1 pice = ¼ anna
1 anna = 1/16 rupee
15 rupees = 1 mohur
The Calcutta Mint closed operations in 1952 when a new mint was established at Alipore.
Also on This Day 


---


1916: Birth of former Indian President Dr Shankar Dayal Sharma.
1919: Afghanistan gains independence from Britain as per the Rawalpindi Treaty.
1991: K R Narayanan becomes the ninth President of India.
See previous 'This Day in History' here.