Bihar Public Service Commission (BPSC) admit card is a hall ticket that is released on its official website prior to the preliminary examination and mains examination. Without the BPSC Admit Card, candidates are not allowed to sit for the Combined Competitive Examination (CCE) which is usually conducted every year. Currently, the BPSC 65th CCE examination is under process. Read on to get the details of the BPSC Admit Card for 65th CCE and 66th CCE.
Get BPSC Exam related details from the links provided below:
How can you check your BPSC Admit Card?
As the upcoming examination will be 65th CCE Mains, the BPSC admit card will be released almost 3 weeks prior to the date of the examination. Mains Examination dates are not released yet as the examination stands postponed. (The details on BPSC Exam Dates can be checked in the linked article.) BPSC Admit Card download option is given to the candidates. Detailed steps to download BPSC Admit Card PDF are given below:
Steps to Download BPSC Admit Card
Candidates have to log in to the official BPSC Website – https://bpsc.bih.nic.in/ or https://onlinebpsc.bihar.gov.in/
In the second step, candidates will have to click the latest BPSC notice stating, 'Information related to 65th Combined Mains (Written) Competitive Examination Admit Card'. The notice will state the important details of the BPSC Admit Card.
Then, candidates have to log in the following important credentials:

Username – This is the username that a candidate chooses while registering for the application. The same username has to be used for BPSC Admit Card download.
Password – The password secured by the candidates while the BPSC online registration has to be used.
Security
Captcha

Once a candidate types all these credentials, he/she will be taken to a new dashboard window. Here, the candidate can see the option of 'Admit Card', clicking which he/she will be able to download.
The candidates have to take a print out in "Letter Page Size" only
The BPSC Admit Card will contain two pages. The first page will have all the exam-specific details, date and candidates' information while the second page has important information for candidates
Candidates should go through the instructions carefully
Candidates can reach out to the BPSC in case of any difficulties.
Candidates can refer to the image (reference only) below to get a clear idea:
Any notice regarding the Admit Card will be shown on the official website of BPSC. As an instance, the latest update related to the BPSC Admit Card was on 12th February 2020. It was related to the 65th CCE Prelims Re-Examination.

Similarly, when the BPSC 65th CCE Admit Card is out, a new notice will be issued against the date of the issue.
The details of any notice regarding BPSC Admit Card will read like this: (The image is for reference only.)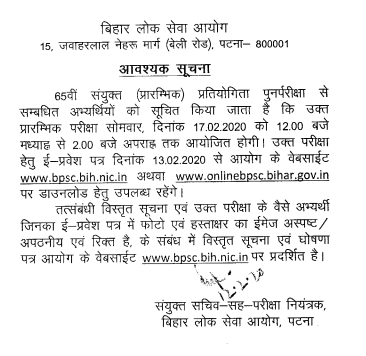 Then the candidates will have to log in using the credentials, shown in the image below: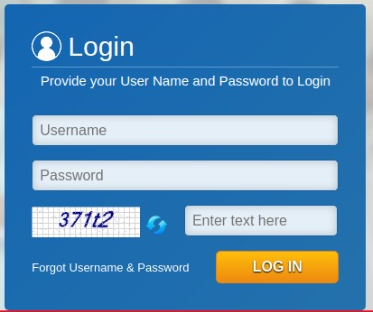 BPSC Admit Card Download
BPSC 66th CCE Exam Dates and 65th CCE Mains Exam Date have yet not been announced. Candidates can check the table below and download the BPSC Admit Card as and when it is out:
BPSC Admit Card Dates – 65th & 66th CCE
Exam
BPSC Admit Card Download Date
66th CCE Prelims
Will be released after the announcement of the Prelims Exam Date

Check BPSC Notification in the linked article.

66th CCE Mains
Will be released after the result of 66th CCE Prelims Examination

Check BPSC Results in the linked article.

65th CCE Prelims
9th July 2019
65th CCE Mains
To be released
For other PSC Exams and Government Exams, check the linked articles below: