WBCS Admit Card for West Bengal Civil Services (Executive) ETC. (Prelims) Examination 2022 has been released and can be accessed from 31st May 2022 onwards. The WBPCS Prelims is going to take place on 19th June 2022. 
Direct Link to Download WBCS Prelims 2022 Admit Card [Active]
Learn important details about WBPSC Civil Services Admit Card in this article.
Meanwhile, to get full details about the WBCS Examination, its syllabus, notification, preparation, result, and eligibility; candidates can check the articles linked below:
WBCS Admit Card 2022
The aspirants who are going to appear for WBCS 2022 can keep a track of admit card release dates for various stages from the table given below:
WBCS Admit Card 2022
Events
Important Dates

WBCS Prelims 2022 Admit Card

31st May 2022

WBCS Prelims 2022 Exam Date

19th June 2022
Steps To Download WBCS Admit Card 2021
Follow the below-mentioned steps to download the WBPSC Hall Ticket for Civil Services Examination 2020 and 2021.
1. Candidates are required to visit the official website of WBPSC, mentioned above.
2. The commission provides an active link regarding the announcement of the release of the WBCS admit card. For instance, for mains examination 2020, the commission released a notice, images of which can be referred to below:

3. Candidates have to then log in with their credentials like enrolment number, date of birth, and any other details being asked.
4. As the last step, candidates have to download WBCS Admit Card and later print it out to carry it along on the examination day.
Note:
Candidates must ensure that the important details printed on the admit card are correct. For example, the name of the candidate should be correctly spelt; the date of birth should be mentioned correctly, the enrolment number should be printed right, and any such detail which can later be an issue should be checked and if found should be communicated to the commission at the earliest.
Candidates should carry a valid photo ID proof like PAN Card/Passport/Driving Licence/Voter's Card/Bank Passbook for verification process at the examination centre.
Candidates must ensure to read the instructions mentioned on the admit card that is to be fully adhered to.
For the last stage of the examination, that is, the interview, aspirants will have to download call letters similarly. He/she has to provide the name and date of birth to download the WBCS call letter. Check the image below (for reference only.):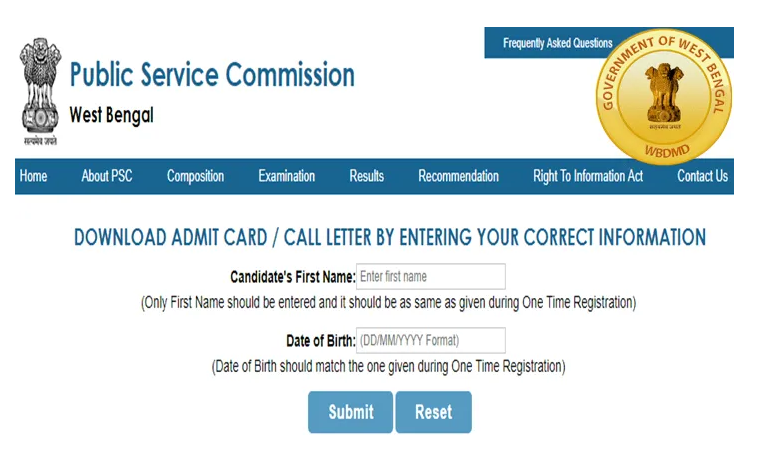 WBCS Admit Card Download Dates
The table below mentions the dates on which WBCS Admit Cards for each stage are released:
WBCS Admit Card 2021 Dates
WBCS Prelims 2021 Admit Card
6th August 2021
WBCS Mains 2021 Admit Card
Last Week of November or 1st Week of December (Tentative)
WBCS (Executive) ETC. Interview
Will be updated after the Mains Result
WBCS Admit Card 2020 – Dates
WBCS (Executive) ETC. (Preliminary) Examination
27th January 202o
WBCS (Executive) ETC. (Main) Examination
16th August 2021
WBCS (Executive) ETC. Interview
Will be updated after the Mains Result
For reference, candidates can see the WBCS Admit Card 2019 release dates:
WBCS Admit Card 2019 – Dates
WBCS (Executive) ETC. (Preliminary) Examination
22nd January 2019

(Prelims examination took place on 9th February 2019)

WBCS (Executive) ETC. (Main) Examination
11th July 2019

(Mains examination took place from 25th July 2019 onward)

WBCS (Executive) ETC. Interview
20th February 2020

(Interview took place from 25th February 2020 onward)
Candidates can check the other state PSC exam admit card details from the articles linked below: