West Bengal Public Service Commission (WBPSC) released its 2020 Civil Services Notification on 4 November 2019. WBCS (Exe.) etc. examination takes place as Combined Competitive Examination. The Recruitment takes place for four groups – A, B, C & D.
According to the WBPSC 2020 Notification, the Combined Competitive Examination's Prelims was scheduled on 09 February 2020. Admit card for WBCS Prelims were out on 27 January 2020. In the recent notice, the commission has announced the dates of the WBCS Mains 2020. The dates of WBCS (exe.) etc. (Main) Exam are – 27-28 June 2020 & 04-05 July 2020. 
The WBCS Prelims 2019 also took place on 09 February of 2019. The result of WBPSC Prelims was announced on 16 May 2019. The Mains Examination 2019 recently took place from 25 July 2019 to 28 July 2019. The admit cards for Mains examination were out on 10 July 2019.
WBPSC Notification 2020:- Download PDF Here
Candidates may check the details of WBPSC recruitment 2020 notification in the table below:
WBPSC 2020 Notification
WBPSC released its notification on
04 November 2019
Commencement of submission of online application
05 November 2019
Closing date for submission of online application 
25 November 2019 (up to 12-00 midnight)
Closing date for submission of fees through online 
25 November 2019 (up to 12-00 midnight)
Closing date for submission of fees through offline 
26 November 2019
WBCS Prelims took place on
09 February 2020
Challan must be generated by
25 November 2019
WBCS Admit Card was released on
27 January 2020
WBCS Mains will take place on
27-28 June 2020 & 04-05 July 2020
Following the table above, candidates who are preparing for WBPSC 2020 can keep on checking the official website-https://www.pscwbonline.gov.in/apps/home/
Update on WBPCS 2020:
The WBCS Mains 2020 dates announced (Check above)
WBCS Prelims 2020 Answer Key was released
The commission uploaded the schedule of forthcoming examinations for WBCS 2020. Candidates can download the schedule below:
WBCS Schedule 2020:-  Download PDF Here
WBPSC Year-Wise Notification Details
The West Bengal Public Service Commission (WBPSC) annually releases its official notification in November. The examination takes place in Two Tiers– Written and Personality Test. The written test comprises of Preliminary Stage and Mains Stage, exams of which usually takes place in January and July respectively. The pattern for written test slightly relates to IAS Exam.
Candidates may check the table below to understand the year-wise WBPSC notification details:
Year
Notification Date
Prelims Date
Prelims Result
Mains Date
WBPSC 2020
4 November 2010
9 February 2020
May 2020
27-28 June 2020 & 04-05 July 2020
WBPSC 2019
6 November 2018
9 February 2019
15 May 2019
25 July-28 July 2019

WBPSC Mains 2019 Answer Keys:-Download PDF Here

WBPSC 2018
10 November 2017
28 January 2018
21 June 2018
17 August-20 August 2018
WBPSC 2017
4 November 2016
29 January 2017
13 April 2017
15 July-19 July 2017
To know the WBCS Eligibility for an aspirant to sit for its Civil Services Exam, check the linked article.
WBPSC Posts
The WBPSC Combined Competitive Examination is divided into four groups- A, B, C, D. Candidates can compete for any group by applying for any one of the four. There are various posts in the four groups.
Check below to get the details:
WBPSC 2020 Posts
Group A
6 posts;

West Bengal Civil Service (Executive)
Assistant Commissioner of Revenue in the integrated West Bengal Revenue Service
West Bengal Co-operative Service
West Bengal Labour Service
West Bengal Food and Supplies Service
West Bengal Employment Service [Except the post of Employment Officer (Technical)]

Group B
West Bengal Police Service
Group C
9 posts;

Superintendent, District Correctional Home / Deputy Superintendent, Central Correctional Home
Joint Block Development Officer
Deputy Assistant Director of Consumer Affairs and Fair Business Practices
West Bengal Junior Social Welfare Service
West Bengal Subordinate Land Revenue Service, Grade-I
Assistant Commercial Tax Officer
Joint Registrar (West Bengal State Consumer Disputes Redressal Commission)
Assistant Canal Revenue Officer (Irrigation)
Chief Controller of Correctional Services

Group D
3 posts;

Inspector of Co-operative Societies
Panchayat Development Officer under the Panchayat and Rural Development Department
Rehabilitation Officer under the Refugee Relief and Rehabilitation Department
To know the best strategies for WBCS Exam Preparation, candidates may check the linked article.
WBCS Scale of Pay
The different posts attached to Groups A, B, C, D of WBPSC have a different scale of pay.
As per the official notification, check below the pay matrix of various posts attached to different groups:
Scale of Pay for WBCS Group A officers: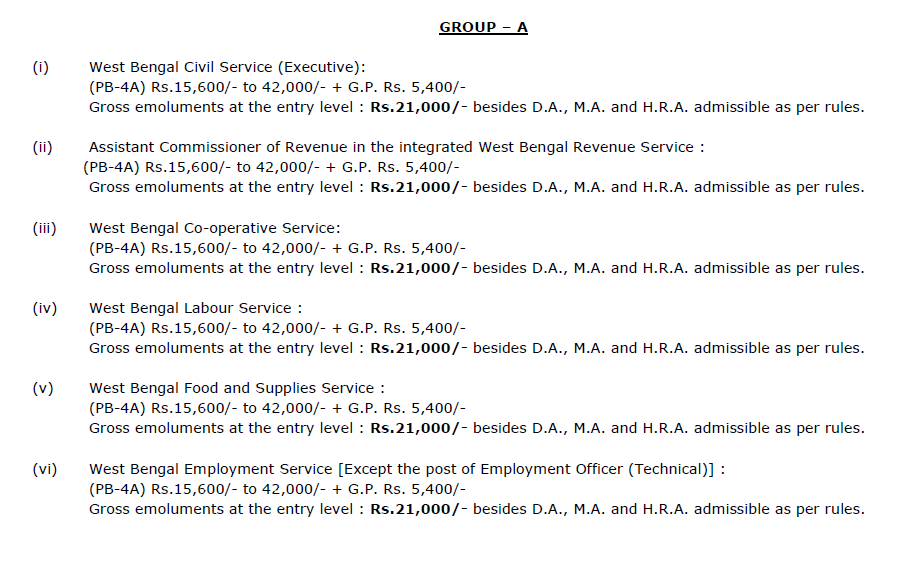 Scale of Pay for WBCS Group B officers:

Scale of Pay for WBCS Group C officers: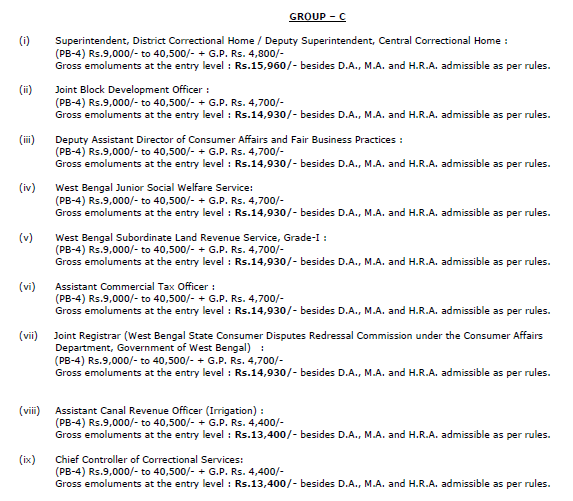 Scale of Pay for WBCS Group D officers:

WBCS Vacancy
As per the WBCS 2020 notification, details on vacancy are given below:

How can candidates apply for the WBCS Exam?
Apply online – Candidates have to log in to https://pscwbonline.in and fill the form. (Make sure to fill only one application form as more than one form on a candidate's name is liable to be cancelled.)
Pay the Fees– Rs. 210 (Excluding 1 per cent of a service charge of the examination fee only for online payment + GST as applicable by Govt./Service Charge of Rs.5 only for net banking/Service Charge of Rs.20 for offline payment)
The result of WBCS 2019 Personality Test will be out soon.
Candidates may also check the WBCS Syllabus in the linked article.