Andhra Pradesh Public Service Commission (APPSC) has notified the postponement of Group 1 examination due to the pandemic Coronavirus. The commission mentioned that to contain and arrest the spread of Covid-19, it has decided to postpone the APPSC Group I 2019 Mains examination that was scheduled from 7th April 2020 onward. Check the notice below: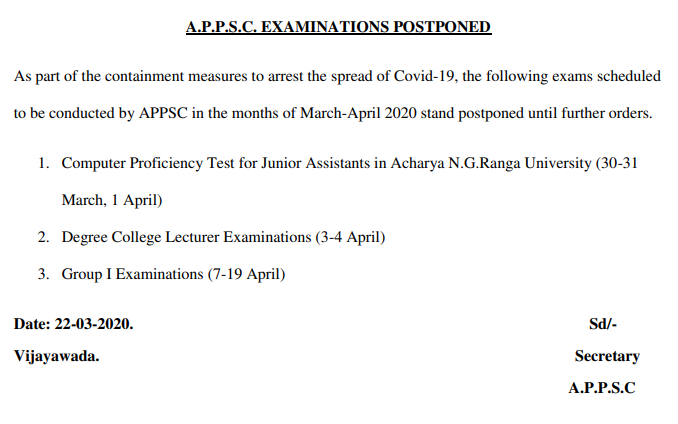 APPSC Latest Notification – APPSC Group 1 Notification
The commission on 23rd January 2020 published a web note revising the dates of APPSC Group 1 Mains Examination 2019. The change in dates are as follows:
APPSC Group 1 Notification – Mains Examination 2019  
Earlier Schedule
Revised Schedule
4th February 2020 – 6th February 2020
7th April 2020 – 19th April 2020 (7 Sessions)
The revised timetable for APPSC Group 1 Examination is given below:
Note: These dates are postponed due to the Coronavirus pandemic, and the revised dates will be released by APPSC in its official website – https://psc.ap.gov.in/
Revised Time Table for APPSC Group 1 Mains Examination 
Name of the Paper
Date of the Examination
Paper in Telugu (Qualifying Nature)
07.04.2020
Paper in English (Qualifying Nature)
08.04.2020
Paper-I
11.04.2020
Paper-II
13.04.2020 FN
Paper-III
15.04.2020
Paper-IV
17.04.2020
Paper-V
19.04.2020
APPSC Group 1 2019 Mains Examination – Revised Time Table:-Download PDF Here
APPSC Notification – List of Centres
APPSC Group 1 Mains Examination Centres:
The commission has notified seven centres for the provisionally qualified candidates for Mains Written Examination. Earlier, there were only four centres. The written examination centres have now increased from four to seven. Check the APPSC Group 1 Mains Exam centres below:
APPSC Group 1 Mains Examination Centres 
1.
Visakhapatnam
2.
Rajahmundry
3.
Vijayawada
4.
Nellore
5.
Tirupati
6.
Kurnool
7.
Hyderabad
APPSC Group 1 Preliminary Examination Centres:
There are 13 centres for APPSC Prelims examination:
APPSC Group 1 Prelims Examination Centres 
1.
Srikakulam
2.
Visakhapatnam
3.
Vizianagaram
4.
Kakinada
5.
Eluru
6.
Vijayawada
7.
Guntur
8.
Ongole
9.
Nellore
10.
Tirupathi
11.
Kadapa
12.
Anantapur
13.
Kurnool
APPSC Notification (Year-Wise)
APPSC Notification 2020
The Group 1 Notification for the year 2020 has yet not been released. The release date can be further extended due to the Coronavirus pandemic, hence candidates are advised to keep checking the official website for any such updates or visit APPSC Group 1 Exam page in the linked article.
APPSC Notification 2019
APPSC 2019 Notification:-Download PDF Here
The details of the APPSC Notification 2019 are given in the table below:
Name of the Examination 
Group-I Services
Who conducts the Group-I examination?
APPSC
When was the APPSC Notification 2019 released?
7th January 2019
What was the last date to apply for the Group-I examination?
7th February 2019
What was the last date of the payment of the fees?
6th February 2019
When did APPSC Group 1 Prelims/Screening Test 2019 take place?
26th May 2019
When was the APPSC Group 1 Prelims result out?
1st November 2019
When will APPSC Group 1 Mains Examinations take place?
APPSC Group 1 Mains 2019 have been postponed.

Original Dates – 7th April 2020 onward

Revised Dates – To be announced
APPSC Notification – Posts & Vacancies
There are a total of 44 Carried Forward (CF) vacancies and 125 fresh vacancies:
APPSC 2019 Notification – CF Vacancies 
APPSC Post Code No.
Name of the APPSC Post
No. of Vacancies
1.
Deputy Collectors in A.P. Civil Service (Executive Branch)
–
2.
Assistant Commissioner of State Tax in A.P. State Tax Services
03
3.
Deputy Supdt. of Police (Civil) Cat-2 in A.P. Police Service
04
4.
Deputy Supdt. of Jails (MEN) in A.P. Jail Service
01
5.
District Fire Officers in A.P. Fire Service
–
6.
Asst. Treasury Officer/Asst. Accounts Officer in A.P. Treasury & Accounts Service
–
7.
Regional Transport Officers in A.P. Transport Service
–
8.
Assistant Prohibition & Excise Superintendent in A.P. Excise Service
1
9.
Mandal Parishad Development Officer in A.P. Panchayat Raj and Rural Development Service
12
10.
District Registrars in A.P. Registration Service
01
11.
District Employment Officer in A.P. Employment Exchange Service
02
12.
Deputy Registrars in A.P. Cooperative Service
02
13.
District Tribal Welfare Officer in A.P. Tribal Welfare Service
01
14.
District Social Welfare Officer in A.P. Social Welfare Service
01
15.
District B.C. Welfare Officer in A.P. B.C. Welfare Service
01
16.
District Panchayat Officers in A.P. Panchayat Raj & Rural Development Service
01
17.
Municipal Commissioner Grade-II in A.P. Municipal Administration Services
01
18.
Administrative Officer / Lay

Secretary & Treasurer Grade.II

in A.P. Medical and Health

(Administration) Service

06
19.
Assistant Audit Officer in A.P. State Audit Service
07
APPSC 2019 Notification – Fresh Vacancies 
APPSC Post Code No.
Name of the APPSC Post
No. of Vacancies
1.
Deputy Collectors in A.P. Civil Service (Executive Branch)
30
2.
Assistant Commissioner of State Tax in A.P. State Tax Services
05
3.
Deputy Supdt. of Police (Civil) Cat-2 in A.P. Police Service
24
4.
Deputy Supdt. of Jails (MEN) in A.P. Jail Service
01
5.
District Fire Officers in A.P. Fire Service
01
6.
Asst. Treasury Officer/Asst. Accounts Officer in A.P. Treasury & Accounts Service
13
7.
Regional Transport Officers in A.P. Transport Service
05
8.
Assistant Prohibition & Excise Superintendent in A.P. Excise Service
10
9.
Mandal Parishad Development Officer in A.P. Panchayat Raj and Rural Development Service
36
10.
District Registrars in A.P. Registration Service
–
11.
District Employment Officer in A.P. Employment Exchange Service
–
12.
Deputy Registrars in A.P. Cooperative Service
–
13.
District Tribal Welfare Officer in A.P. Tribal Welfare Service
–
14.
District Social Welfare Officer in A.P. Social Welfare Service
–
15.
District B.C. Welfare Officer in A.P. B.C. Welfare Service
–
16.
District Panchayat Officers in A.P. Panchayat Raj & Rural Development Service
–
17.
Municipal Commissioner Grade-II in A.P. Municipal Administration Services
–
18.
Administrative Officer / Lay

Secretary & Treasurer Grade.II

in A.P. Medical and Health

(Administration) Service

–
19.
Assistant Audit Officer in A.P. State Audit Service
–
APPSC Notification – Posts & Age Limit
The table below mentions the age limit for various APPSC Group-I posts:
APPSC 2019 Notification – Age Limit 
APPSC Post Code No.
Name of the APPSC Post
Age as on 1st June 2018 (Min-Max)
1.
Deputy Collectors in A.P. Civil Service (Executive Branch)
18-42
2.
Assistant Commissioner of State Tax in A.P. State Tax Services
18-42
3.
Deputy Supdt. of Police (Civil) Cat-2 in A.P. Police Service
21-28
4.
Deputy Supdt. of Jails (MEN) in A.P. Jail Service
18-28
5.
District Fire Officers in A.P. Fire Service
21-26
6.
Asst. Treasury Officer/Asst. Accounts Officer in A.P. Treasury & Accounts Service
18-42
7.
Regional Transport Officers in A.P. Transport Service
18-42
8.
Assistant Prohibition & Excise Superintendent in A.P. Excise Service
18-26
9.
Mandal Parishad Development Officer in A.P. Panchayat Raj and Rural Development Service
18-42
10.
District Registrars in A.P. Registration Service
18-42
11.
District Employment Officer in A.P. Employment Exchange Service
18-42
12.
Deputy Registrars in A.P. Cooperative Service
18-42
13.
District Tribal Welfare Officer in A.P. Tribal Welfare Service
18-42
14.
District Social Welfare Officer in A.P. Social Welfare Service
18-42
15.
District B.C. Welfare Officer in A.P. B.C. Welfare Service
18-42
16.
District Panchayat Officers in A.P. Panchayat Raj & Rural Development Service
18-42
17.
Municipal Commissioner Grade-II in A.P. Municipal Administration Services
18-42
18.
Administrative Officer / Lay

Secretary & Treasurer Grade.II

in A.P. Medical and Health

(Administration) Service

18-42
19.
Assistant Audit Officer in A.P. State Audit Service
18-42
APPSC Notification – Posts & Salaries
Name of the APPSC Post 
Scale of Pay (Rs.)
Deputy Collectors in A.P. Civil Service (Executive Branch)
40,270-93,780/-
Assistant Commissioner of State Tax in A.P. State Tax Services
40,270-93,780/-
Deputy Supdt. of Police (Civil) Cat-2 in A.P. Police Service
40,270-93,780/-
Deputy Supdt. of Jails (MEN) in A.P. Jail Service
37,100-91,450/-
District Fire Officers in A.P. Fire Service
37,100-91,450/-
Asst. Treasury Officer/Asst. Accounts Officer in A.P. Treasury & Accounts Service
35,120-87,130/
Regional Transport Officers in A.P. Transport Service
37,100-91,450/-
Assistant Prohibition & Excise Superintendent in A.P. Excise Service
35,120-87,130
Mandal Parishad Development Officer in A.P. Panchayat Raj and Rural Development Service
35,120-87,130
District Registrars in A.P. Registration Service
37,100-91,450/-
District Employment Officer in A.P. Employment Exchange Service
35,120-87,130/-
Deputy Registrars in A.P. Cooperative Service
37,100-91,450/
District Tribal Welfare Officer in A.P. Tribal Welfare Service
37,100-91,450/
District Social Welfare Officer in A.P. Social Welfare Service
37,100-91,450/
District B.C. Welfare Officer in A.P. B.C. Welfare Service
37,100-91,450/
District Panchayat Officers in A.P. Panchayat Raj & Rural Development Service
37,100-91,450/
Municipal Commissioner Grade-II in A.P. Municipal Administration Services
35,120-87,130/-
Administrative Officer / Lay

Secretary & Treasurer Grade.II

in A.P. Medical and Health

(Administration) Service

35,120-87,130/-
Assistant Audit Officer in A.P. State Audit Service
35,120-87,130/-
APPSC Notification – Application Fees
There are two fees – Application Processing Fees & Examination Fees:
Application Fees – Rs. 250
Examination Fees – Rs. 120
Following are exempted from the payment of Examination Fees (have to pay Application Fees):
SC, ST, BC, PH & Ex-Service Men
Families having a Household Supply White Card issued by the Civil Supplies Department, A.P. Government. (Residents of Andhra Pradesh)
Unemployed youth as per G.O.Ms.No.439, G.A (Ser- A) Dept., dated: 18/10/1996 should submit a declaration at an appropriate time to the Commission
Note:
Applicants belonging to the categories mentioned above (except Physically Handicapped Persons & Ex-Service Men) hailing from other States are not entitled for exemption from payment of fee and not entitled for claiming any kind of reservation.
Candidates belonging to other States shall pay the prescribed fee of Rs.120/- (Rupees one hundred and twenty only), along with processing fee of Rs. 250/- (Rupees two hundred and fifty only)
APPSC Group 1 Exam Related Articles: