On 4 September 1825, the 'Grand Old Man of India', Dadabhai Naoroji was born in Mumbai. In today's edition of 'This Day in History', you can read about one of the most important leaders of early Indian nationalism, Dadabhai Naoroji. This article briefly takes you through his initial days, his education, initial academic life, his foray into business and political field.
Aspirants would find this article very helpful while preparing for the IAS Exam.
Aspirants should begin their preparation by solving
UPSC Previous Year Question Papers
now!!
To complement your preparation for the upcoming exam, check the following links: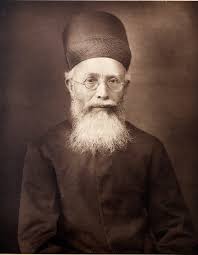 Dadabhai Naoroji Biography
Dadabhai Naoroji was born to a Gujarati-speaking Parsi family in Bombay, British India.
In 1855, he became a Professor of Mathematics and Natural Philosophy at Mumbai's Elphinstone College. He was the first Indian to hold such a position. Later on, Naoroji also became a professor of Gujarati at the University College London.
He was also a partner in the firm Cama & Co., which became the first Indian company to be established in Britain. He was a keen businessman and had his own cotton trading company as well.
His political career began as the Dewan of the Maharaja of Baroda in 1874.
He formed the London India Society in 1865 to put forth views on Indian political, social and literary subjects.
He also founded the East India Association in 1867 with the purpose of putting across Indian viewpoints across to the British public. This association won support from many prominent Englishmen and was able to wield some influence on the British Parliament. Importantly, this was the first organisation with members from different Indian provinces.
He also became a member of the Legislative Council of Mumbai during 1885 – 88.
He was a founder-member of the Indian National Congress which he formed in 1885 along with Dinshaw Wacha and Allan Octavian Hume.
Notably, he was the first Asian to become a British MP when he was elected to the House of Commons in 1892. He had been elected from Finsbury Central as a Liberal Party representative.
Naoroji authored many books and papers, but the most significant one was 'Poverty and Un-British Rule in India' in which he talked about the drain of wealth out of India created by the British rule.
During his stint in the British Parliament, Naoroji talked about this wealth drain, the benefits of giving equal employment opportunities to Indians and industrialisation of the country.
As a result of his work on the drain theory, a Royal Commission on Indian Expenditure was set up in 1896. Naoroji himself was a member of this commission which reviewed the financial burdens on India.
In his many papers and speeches, he gave statistical data to prove his drain theory. He got his figures from authentic sources like the Parliamentary Returns of Indian Accounts and the Second Customs Report, 1858. He is credited to be the man who brought statistics into politics.
He was the President of the Congress Party in 1886, 1893 and 1906.
He also founded the Rahnumae Mazdayasne Sabha in 1851 to revive the Zoroastrian religion. The society is still functional in Mumbai.
Naoroji was one of the first Indian political activists. He was a moderate leader in the Congress although he was very vocal in his criticism of British policies in India.
He acted as a mentor to Mahatma Gandhi, Bal Gangadhar Tilak and Gopal Krishna Gokhale.
He died in 1917 in Bombay aged 91.
Dadabhai Naoroji will always be remembered as the astute Indian academician and politician who championed India's cause in Britain and other countries, and as one of the trio who co-founded the Indian National Congress.
Also on this day 
---
1665: The Treaty of Purandar was signed between the Rajput ruler Raja Jai Singh I (as Commander of the Mughal Empire) and the Maratha leader Chhatrapati Shivaji Maharaj. 1882: The first commercial electrical power plant by Thomas Edison started operation. 1993: Lawyers in India abolished titles such as 'My Lord' and 'Your Lordship' and use only 'Sir' and 'Your Honour'. 1998: Google founded by Larry Page and Sergey Brin.
See previous 'This Day in History' here.
The above details would help candidates prepare for UPSC 2023.
Related Links