India Meteorological Department is a government agency that deals with everything related to meteorology and other associated fields of study. In the IAS exam, a decent knowledge about these bodies would help in writing good, substantiated answers, thereby fetching more marks.
Aspirants should be aware of important governmental organizations and bodies as questions can be asked in the UPSC prelims exam about their functions, mandate, etc. India Meteorological Department (IMD) is a part of the Geography segment in General Studies paper 1 of the UPSC Syllabus.
What is Meteorology?
The branch of science dealing with the atmosphere and its various phenomena, along with weather and weather forecasting can be defined as Meteorology. Other subjects related to meteorology are Seismology, Geography, Geology, etc.
Get the complete List of Government Departments in India for UPSC Preparation.
India Meteorological Department (IMD)
Formed in 1875, the India Meteorological Department (IMD) is the national meteorological service of the country and it is the chief government agency dealing in everything related to meteorology, seismology, and associated subjects. 
The administrative responsibilities of the Department are under the supervision of the Ministry of Earth Sciences of the Indian Government. The IMD is headquartered in New Delhi.
IMD Mandate
The mandate and functions of the IMD are discussed below.
Taking meteorological observations and providing current information and forecasting information for the most favorable operation of weather-dependent activities such as irrigation, agriculture, aviation, shipping, offshore oil exploration, and so on.

Giving warnings against severe weather phenomena such as tropical cyclones, dust storms, heat waves, cold waves, heavy rains, heavy snow, etc.

Providing met-related statistics needed for agriculture, industries, water resources management, oil exploration, and any other strategically important activities for the country.

Engaging in research in meteorology and allied subjects.

Detection and location of earthquakes and evaluation of seismicity in various parts of the country for developmental projects.
India Meteorological Department (IMD) and Agriculture
India Meteorological Department (IMD) provides direct services to the farming community. 
Set up in 1932, the Division of Agricultural Meteorology has its office in Pune.

It was established to minimize the impact of adverse weather on crops. 

IMD also provides information to take advantage of favorable weather conditions that may result in a boost in agricultural yield.
Services of the Division can be listed as follows:
Gramin Krishi Mausam Seva

Dissemination of Agromet Advisories

Feedback & Awareness of Agromet Service

Training Programme to AMFUs (Agro-Meteorological Field Units)
UPSC aspirants can also refer to the following links for prelims and mains exam preparation:
India Meteorological Department (IMD) and Aviation
The International Civil Aviation Organisation (ICAO) and the Director-General of Civil Aviation of India (DGCA) call for services and data that are crucial to the national and international civil aviation sector.
The India Meteorological Department (IMD) monitors the development of tropical cyclones in its area of responsibility and provides advisory information to ICAO, DGCA, Meteorological Watch offices in the country and neighbouring countries as well.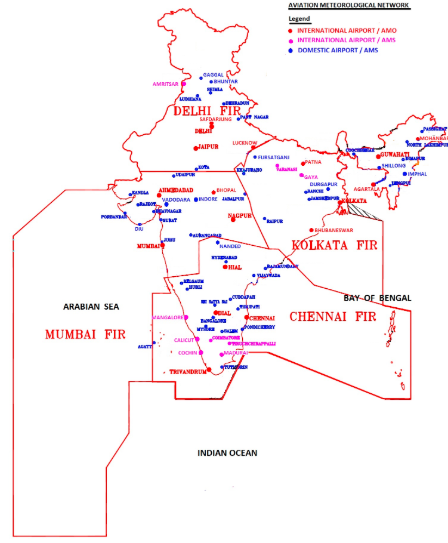 India Meteorological Department (IMD) and Water Issues in the Country
IMD renders assistance and advice on the meteorological aspects of hydrology, water management, and multipurpose river valley project management. These services are utilized by the Central Water Commission, Ministry of Agriculture, Ministry of Water Resources, Railways, Damodar Valley Corporation Flood Control Authorities, and the State Governments. The Hydromet Division of IMD offers information on various rainfall projects through its 'Customised Rainfall Information System (CRIS)', in the form of reports and maps on the CRIS portal.
Read more about the Rainfall In India for UPSC GS Paper 1.
IMD UPSC Notes:- Download PDF Here
Frequently Asked Questions about India Meteorological Department
Q1
How many meteorological departments are there in India?
There are 6 Regional Meteorological Centres, each under a Deputy Director General with headquarters at Mumbai, Chennai, New Delhi, Calcutta, Nagpur and Guwahati.
Q2
When was the India Meteorological Department established?
India Meteorological Department was established in 1875. It is the National Meteorological Service of the country and the principal government agency in all matters relating to meteorology and allied subjects.