The Union Public Service Commission (UPSC) sets the CAPF syllabus and exam pattern. Knowing the syllabus and CAPF exam pattern will help candidates make a strategy for preparation in a systematic manner.
Union Public Service Commission released the UPSC CAPF 2023 Notification and application form for UPSC CAPF Exam 2023 on its official website on 26th April 2023. The UPSC CAPF exam is scheduled to be conducted on 06th August 2023. Candidates awaiting the UPSC CAPF Notification 2023 filled up the application form online on the official website of UPSC. The last date to submit the CAPF online Application form is 16th May 2023. Candidates can visit the given link to go through the detailed notification on  UPSC CAPF Notification page linked here.
The constitutional body, Union Public Service Commission conducts UPSC CAPF exam for the merit-based selection of Assistant Commandant (Group A) Officer in BSF, CISF, ITBP, CRPF, SSB, NSG and AR. Candidates should check the linked article to know detailed information on CAPF Exam.
The official notification released by UPSC mentions the CAPF syllabus and exam pattern in detail, which generally is the same every year. Candidates applying for UPSC CAPF exam must know the detailed Assistant Commandant syllabus and the CAPF exam pattern 2023.
Hence, the article aims to upkeep candidates with the syllabus and the exam pattern of CAPF so that they can start their preparation early to stay ahead of the competition.
Candidates can download the CAPF Syllabus PDF given below for reference.
UPSC CAPF Syllabus 2023 PDF:-Download PDF Here
Important dates related to UPSC CAPF exam 2023:
UPSC CAPF 2023 Exam Dates

UPSC CAPF official notification released

April 26th 2023

Last date to fill CAPF Application Form

May 16th 2023

Admit Card for CAPF 2023

July 2023 

Date of UPSC CAPF exam

August 6th 2023
Candidates can keep track of CAPF admit card for the latest information on the same.

CAPF Exam Pattern
The UPSC exam for CAPF comprises 2 Papers both in written format.
Paper-I tests the general ability and intelligence of the candidates based on a multiple-choice question format.
Paper-II is descriptive and tests the language proficiency of the candidate.
Candidates get 2 hours to complete 200 questions in paper-I carrying 250 marks and 3 hours to complete 6 descriptive type questions in paper-II carrying 200 marks.
UPSC CAPF Exam Pattern
Name of the exam
Central Armed Police Force Assistant Commandant Exam (UPSC CAPF AC Exam)
Conducting Body
Union Public Service Commission
Selection
Three rounds
First Round
Paper-I based on General Ability and Intelligence (Objective)

Paper-II based on General Studies, Essay and Comprehension (descriptive)

Negative Marking
Only for Paper-I of first-round; (0.33) marks deducts for each wrong answer
Second round
Physical Ability Test
Third round
Interview/Personality Test
The detailed CAPF exam pattern for Assistant Commandant Exam is below: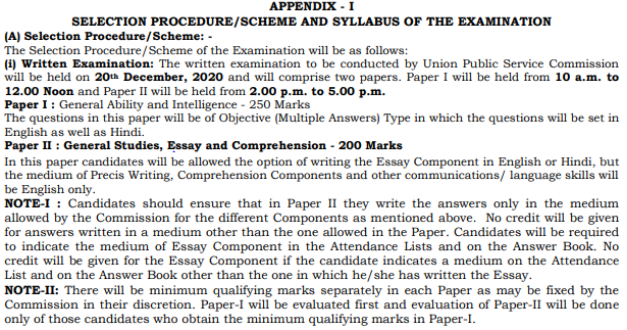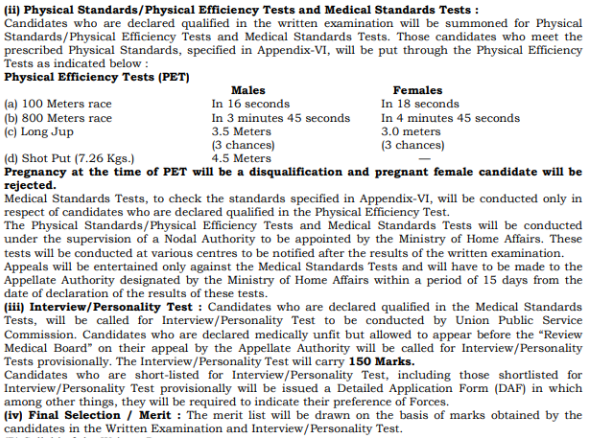 Candidates who wish to take the Central Armed Police Force exam must check the CAPF eligibility criteria over here.
Aspirants of UPSC CAPF, check the links given below for assistance in preparation:
UPSC CAPF Syllabus For Assistant Commandant Exam
UPSC CAPF Syllabus 2022 for Paper-I tests the General Ability and Intelligence of the candidate. The section carries 125 questions with a total weightage of 250 marks.
The objective type questions with multiple choices in CAPF Paper-I cover the following topics:
General Mental Ability: The questions designed in this will relate to logical reasoning, quantitative aptitude, data interpretation and numerical ability. Candidates can check essential topics for Reasoning section:
For more such articles on relevant reasoning topics, visit the Logical Reasoning page on the given link.
General Science: This section test the knowledge of comprehension and appreciation of scientific phenomena of everyday observation, general awareness and scientific temper including new areas of importance like Biotechnology, Information Technology and Environmental Science. The best way to prepare for the General Science is to go through the NCERT Notes For UPSC, wherein you will get the detailed basic concepts.
Current Affairs of National and International Importance: The questions of this section tests the awareness of the candidate of current events related to national and international level. Broadly it covers the area of culture, literature, music, arts, sports, societal and developmental issues, governance, business, industry, globalisation, and interplay among nations. Candidates can go through a few related topics given below:
For the preparation of Current Affairs in CAPF exam candidates can follow the links regularly:
Indian Polity and Economy: This section aims to test candidates' knowledge of the political system and the constitution of the country, public administration, social system and economic development of the country, human rights and its indicator, last but not the least regional and international security issues.
Check out a few crucial articles to prepare for this section-
History of India: It covers the subject in its social, economic and political aspects and also includes the areas of freedom movement and growth of nationalism.
Indian and World Geography: Questions in Indian and world geography cover the economic, social and physical aspects of geography relating to India and the World.
Given below are some of the relevant topics that can assist candidates in their preparation of CAPF exam.
More such topics that can help you complete the CAPF Syllabus conveniently check the Static GK page.
Candidates can check the detailed CAPF preparation tips and strategies in the linked article.
CAPF Syllabus Paper II
Paper-II of CAPF exam is of descriptive type. The CAPF Syllabus for paper-II covers General Studies, Essay and Comprehension carrying a total weightage of 200 marks.
CAPF AC Syllabus for Paper II has two parts:
Part‐A – Totals 80 marks comprise essay questions. Candidates have to answer the questions in narrative form, either in Hindi or English.
The indicative topics in UPSC Assistant Commandant syllabus for the essay are geography, polity, modern Indian history especially of the freedom struggle, economy, analytical ability, knowledge of security and human rights issues.
Part‐B – Total of part B is 120 marks covering questions related to comprehension, precis writing and other communication or language skills.
Candidates can go through the links provided below for assistance:
Also, check a few important topics that are not directly asked but form a significant part of comprehensions, essays and precis writing. It is useful to upkeep with these.
For more such important English topics visit the General English for Competitive exams page.
The part II is to be attempted only in English. The topics covered in CAPF AC syllabus in this part are Comprehension passages, precis writing, simple grammar, developing counter-arguments and other aspects of language testing.
UPSC CAPF Syllabus 20221 for Assistant Commandant Exam
Paper-I
General Ability
Analogies, Arrangements, Syllogisms, Spatial Orientation, Problem Solving, Space Visualization, Arithmetical Reasoning, Decision Making, Analysis, Ranking, Visual Memory, Arithmetic Number Series, Coding and Decoding, Figural Classification, Statement Conclusion, Relationship Concepts, etc.
Intelligence
General Mental Ability, Current Events of National and International Importance, General Science, Indian Polity and Economy, Indian and World Geography and History of India
Paper-II
General Studies
Indian History, Indian Geography, Indian National Movement, National and International Current Affairs, Eminent Personalities, Cultural Heritage, About India, Environment, General Polity, General Science, Science and Technology, Economy, Indian Constitution, etc.
Comprehension and Essay and English Language
Comprehension, Essay Writing, Precis Writing, Report Writing, Counter Argument, Language and Communication Skills, Grammar, Vocabulary, etc.
UPSC CAPF Syllabus PDF:-Download PDF Here
UPSC CAPF AC Exam Marking Scheme
Besides knowing the CAPF exam pattern and UPSC Assistant Commandant Syllabus for CAPF recruitment Exam, candidates must also know the marking scheme of CAPF exam.
Given below is the CAPF marking scheme in detail:
Negative marking is applicable only for objective type paper, i.e. Paper-I.
For each wrong answer, 1/3rd i.e. (0.33) marks will be deducted.
If a candidate gives more than one answer for any question, it will be treated as a wrong answer and 1/3rd marks will be deducted for it, no matter if one of the answers marked happens to be correct.
If a question is left blank i.e. no answer is marked by the candidate for a particular question, there will be no deductions for that question.
Paper-II is descriptive type, hence no negative marking is applicable.
Related Links:

Frequently Asked Question – UPSC CAPF Syllabus & Exam Pattern
Q1
Q.1. How many parts are there in Paper II of CAPF syllabus?
Ans. The CAPF Syllabus Paper II is divided into two parts. Part A carrying 80 marks requires the candidate to write 4 essays either in English or Hindi, while Part B that carry 120 marks tests candidates on language skills, Comprehension and précis writing.
Q2
Q.2. Is there any personality test in the CAPF exam?
Ans. Yes, UPSC conducts an interview in the CAPF exam for the final selection of the candidates.
Q3
Q.3. What type of questions are asked in the CAPF interview?
Ans. The questions asked in the interview round of CAPF exam might be from the current events or related to some security issues or from the operational behaviour of CAPF.
Q4
Q.4.What is the scheme of negative marking in CAPF exam?
Ans. Paper I of CAPF exam has negative marking. candidates will lose 1/3 of marks i.e. for each wrong answer, 33% of marks assigned to that will be deducted.
Q5
Q.5. Who sets the Syllabus for CAPF exam?
Ans. CAPF Syllabus is decided by the Union Public Service Commission. The commission releases the detailed syllabus for CAPF examination on the Official Notification.
Q6
Q.6. How many marks do the Physical efficiency test and medical exam carry in the CAPF examination?
Ans. After clearing Paper I and Paper II of CAPF exam candidates have to undergo the PET – Physical Efficiency and Medical Standard Test. These tests are only qualifying in nature and candidates are required to meet the standards prescribed by the UPSC in the notification.
Q7
Q.7. Candidates who get selected in CAPF exam will join at which post in Indian Armed Force?
Ans. The Candidates who make it to the final selection of the CAPF examination will Join the Indian Security Forces as Assistant Commandant. These candidates will be the commanding officer of an armed force unit.