The best IAS Coaching in Ahemdabad for civil service exam preparation not just provide assistance with the administrative exam, but also with the Public Service Commission exam of Gujarat. Aspirants looking forward to applying in the coming years and in need of assistance have landed on the correct page.
The IAS Exam conducted by the Union Public Service Commission is said to be one of the toughest examinations conducted in the country. Proper guidance and support can make the path of achieving their goals, slightly less challenging. 
Discussed below in this article are the benefits and advantages of opting for one of the top UPSC coachings in Ahmedabad, along with the preparation provisions, etc. available for the convenience of candidates. 
Candidates can refer to the links given below and know about the BYJU'S IAS Coaching centres in India:
All About the Best UPSC Coaching in Ahmedabad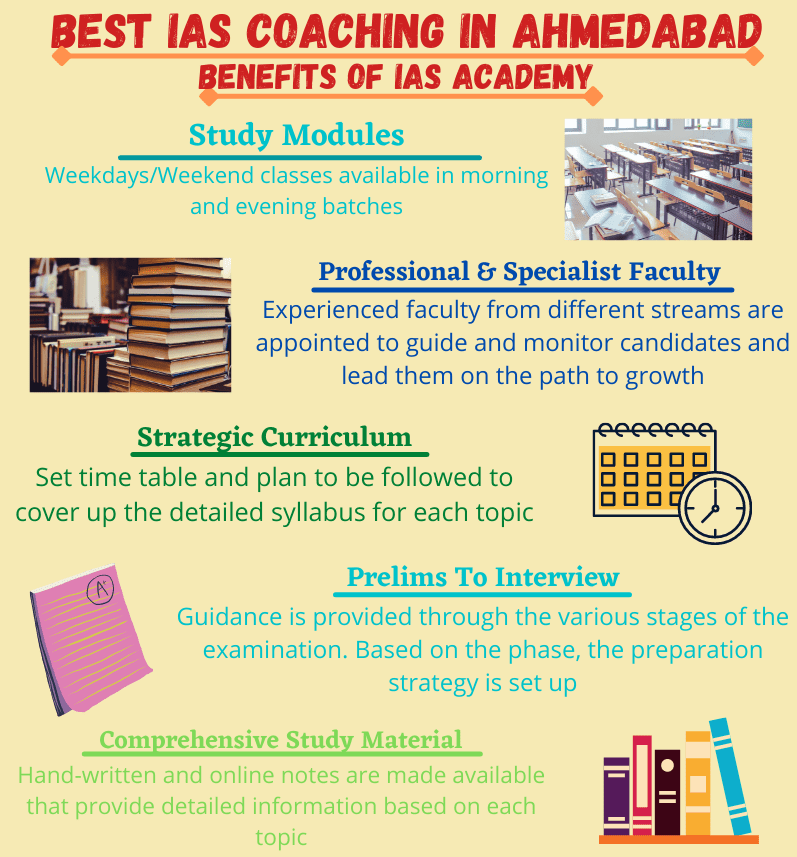 Furthermore, to know about the best IAS Coaching in India, aspirants can visit the linked article. 
Which is the best IAS Coaching in Ahmedabad?
When it comes to civil service preparation, there are a variety of options available for candidates where they can enrol themselves to enhance their UPSC preparation. The biggest advantage is that 24×7 assistance is provided by these institutes, through their online and offline programs. This way, candidates can have easy access to all the study material throughout the day and throughout the year.
Considering the similarity between the UPSC and the Gujarat Public Service Commission exam, candidates can get help for both at the same place. Candidates preparing for either the IAS exam or the GPSC Exam can get the required assistance with the common topics from the syllabus. 
Also, an opportunity for one-on-one interaction with the expert faculty will also be provided to the candidates which will help not just the students but also the experts in analysing and monitoring an individual's aptitude and accordingly help them sail through the preparation.
Visit BYJU'S office in Ahmedabad for information related to its online and offline programs for UPSC preparation:
Address – 2nd floor, Sun avenue one, Nr. Shreyas Foundation, Manekbug Road, Satellite, Ahmedabad – 380015
For any more information, visit BYJU'S and get updates about the upcoming competitive exams.