Union Public Service Commission Registration
The civil services exam is conducted by the Union Public Service Commission (UPSC) every year to recruit officers into the Indian civil services as IAS, IPS, IFS, IRS officers, etc. The exam is held in three stages namely, the prelims, mains and the personality test (board interview). UPSC accepts only online application for the civil services exam or CSE. This article gives you a general guidance on how to apply online for UPSC IAS examination.
It is advised that you read the instructions on how to fill the online application form carefully before applying. You should visit the UPSC official website for the instructions and also for applying online.
All candidates will have to pay a fee of Rs.100/- as application fee for the UPSC CSE. Those candidates exempt from paying this amount are candidates belonging to SC, ST, physically handicapped and female candidates.
Candidates should know that although the application form is available in both English and Hindi, it must be filled only in English.
Read on for the steps to follow for UPSC online application:-
Log in to the UPSC official website (upsc.gov.in).
On the home page, there is an icon 'Apply Online'. Click on this icon.

Now, you will come to the following page:

4. Click on "Online Application for Various Examinations of UPSC". Then you will be directed to a page where there will be two parts for the registration process – Part I registration and Part II registration as shown below.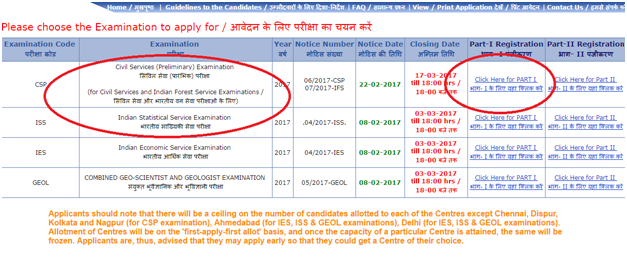 5. Once you click on Part I, you will be taken to a page wherein you should fill in all details accurately. You should also mention the exam for which you are taking the prelims, i.e., whether for the civil services, forest services or both the exams. The screen shot is given below: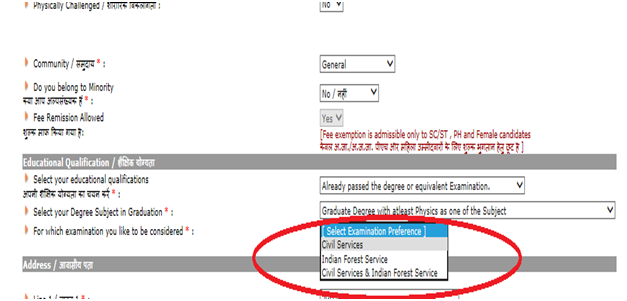 6. After filling Part I, you will be taken to a page where you have to select from the drop down if you are eligible for any age-relaxation. Then, click on 'continue'.

7. In the next page, candidates will have to select the exam centre, optional subject for the mains (papers VI and VII), language medium of exam for mains (papers I to VII), and the compulsory Indian language (Paper A). After this, click on 'SUBMIT' button. Then you will come to a page as follows: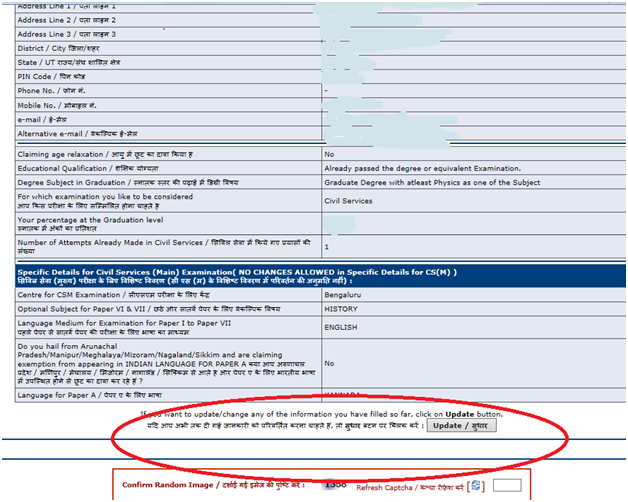 As you can see, this page gives all the details you had filled. If there are any mistakes or changes to be made, click on 'Update'. Once you have made the changes, click on 'Submit' after entering the captcha code.
8. After this, you will get a 11-digit Registration ID as shown below: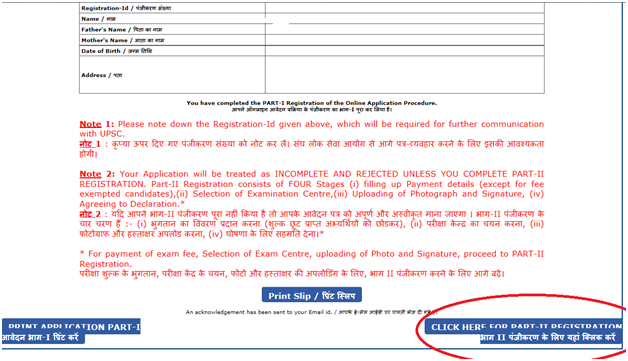 Then you must continue with the Part II registration. The registration ID should be noted by the candidate as it is required for further communication with the UPSC. The ID will be sent via SMS and email to the candidates as well.
9. Part II registration deals with the payment of exam fees, selection of exam centre, and uploading of the photo and signature images.
10. You can pay the fee (unless you are exempt) either online or offline. While application is online, the fee payment can be through online or offline mode. For details of fee payment, click here.
11. Then you will have to select the exam centre. It is allotted on a first-apply-first-allot basis.
12. After this step, you have to upload a photograph and signature image. Check details of the images to be uploaded here.
13. In the last step, you have to click on 'I Agree' button.
Visit BYJU'S Website for strategy and articles on free IAS prep and all the latest on UPSC IAS exam.