The Union Public Service Commission conducts one of the highest grade examinations in the country, the IAS Exam. Every year lakhs of candidates apply for the exam with an aspiration to enter the Indian bureaucracy. However, the path to the final destination is slightly challenging and requires thorough preparation and a lot of hard work. 
In such circumstances, IAS Coaching can be of great help. Aspirants must know that various prestigious institutes have their coaching centres in Ranchi for UPSC preparation. These can guide you through the recruitment procedure until you achieve your final goal. 
Considering the UPSC Syllabus, which is extensively curated by the conducting body, looking for means to simplify the preparation process is of utmost importance, and the best IAS Coaching in Ranchi and help you in cracking the examination. Further in this article, we shall discuss the importance of civil services classes for preparation and how they can benefit the students. 
Also, refer to the links given below:
IAS Coaching Classes in Ranchi & Its Benefits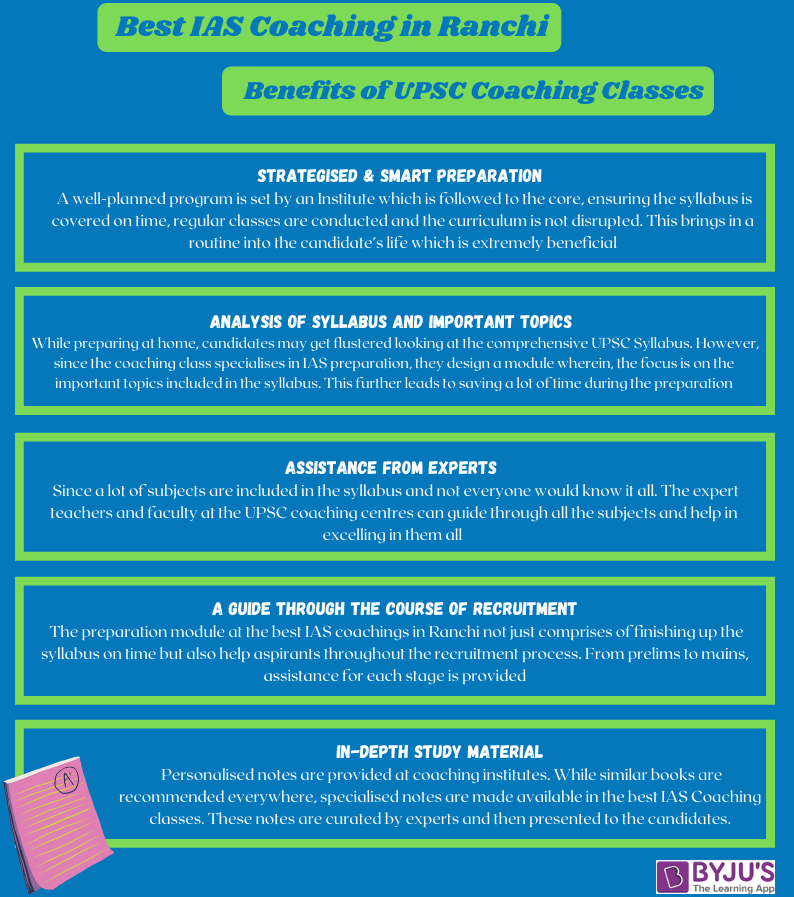 **Aspirants looking forward to joining BYJU'S IAS online or offline classes in Ranchi can visit Unit 302 & 303, 3rd Floor, Pranami Height, Circular Road, Lalpur, Ranchi – 834001 for any queries. 
Scope of IAS Coaching in Ranchi
As per the 2019 final UPSC result, over a dozen candidates from Jharkhand were selected for the post of IAS officer. This proves that aspirants from cities within the state aspire to join the administrative arm of the All India Services. This also implies that the scope of IAS coaching in Ranchi is extremely preferable and candidates must opt for joining the best civil services coaching classes in the city. 
Thus, candidates can analyse all the important factors like the preparation module, batch timings, fee structure, location, faculty, previous year results, etc. and then make the decision to choose the best IAS coaching in Ranchi for UPSC Preparation.
For the latest exam updates or other preparation-related tips, visit BYJU'S.