TNEA 2023: Tamil Nadu Engineering Admissions 2023 is an undergraduate entrance examination conducted by the Directorate of Technical Education, Tamil Nadu state.
Tamil Nadu Engineering Admissions (TNEA) is conducted once a year to select candidates in the various engineering colleges in the state. Those candidates aspiring to pursue their engineering courses in top engineering colleges of Tamil Nadu State can now easily apply for this entrance examination. Talking about the exam, TNEA is a testing mechanism used by colleges to provide admissions to eligible candidates for various engineering courses. This exam is open to all candidates who are a citizen of India. As per the records, around 1.5 to 2 lakh students appear for this exam every year.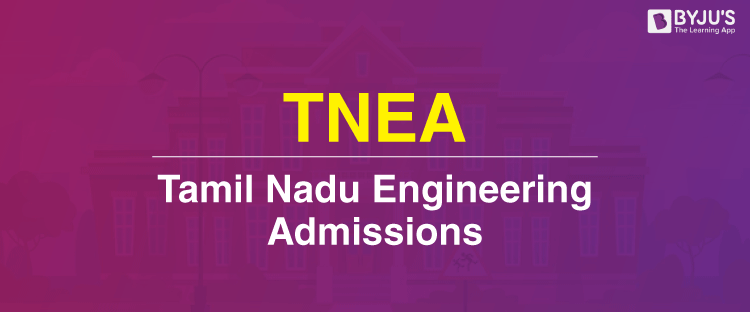 Here are some important details regarding the TNEA 2023.
| Name of the Examination | Tamil Nadu Engineering Admissions |
| --- | --- |
| Admission Frequency | Once a year |
| Admission Mode | Online |
| Mode of Application | Online |
| Application Fee | General – INR 500 Reserved – INR 250 |
| Test Takers | 1.5 lakh (approx.) |
| Accepting Colleges | 500 colleges |
| Total Seats Offered | 9450 (including government and private colleges) |
| Applications Per Year | 1.5 lakh (approx.) |
| Official Website | www.tneaonline.org |
| TNEA Helpline | 044-22351014 | 044-22351015 |
In this article, we will talk about the exam in detail below:
TNEA- Tamil Nadu Engineering Admissions
TNEA – Tamil Nadu Engineering Admissions examination is conducted for aspirants who want to get admitted to engineering courses at various engineering colleges in Tamil Nadu state.
Once successfully completing the examination, candidates will be eligible for admission in BE and B.Tech courses.
The admission will be given to the students based upon the examination result and the marks they have obtained in their Class 12 examination.

TNEA 2023 Important Dates
Students can find all the important dates for TNEA 2023 below.
TNEA 2023 Events
TNEA 2023 Dates (Tentative)
TNEA 2023 Notification
Second week of June 2023
TNEA application process
Third week of June 2023
Last date to submit the application form
Third week of July 2023
Commencement of uploading original certificates
Third week of July 2023
Last date for uploading original certificates
Fourth week of July 2023
Assigning TNEA random number
Fourth week of July 2023
Publication date of TNEA Rank list
Second week of August 2023
TNEA counselling 2023 for Special Reservation categories
Third week of August 2023
Commencement of Counselling

(Academic & Vocational)

Fourth week of August to the Second week of October 2023
Supplementary Counselling (Online)
TBA
SCA to SC counselling (Online)
TBA
Last date for TNEA counselling 2023
Third week of October 2023
TNEA Application Form 2023
Once the application forms are released, students can fill up the application form for this entrance examination by visiting the official website of the organisation and entering all of the essential specifications regarding their academic and personal information.
Candidates planning to write the TNEA 2023 exam must first visit the official website and register themselves.
During registration, candidates have to provide details like
Name
Date of birth
Contact details like email ID and valid mobile numbers.
The Directorate of Technical Education (DoTE) Tamil Nadu will release the TNEA 2023 application form on the official website. The TNEA Application form for 2023 will be available on the official websites from the third week of June, and the last date for submission of application forms will be the third week of July 2023. Along with the filled application form, candidates are required to pay the application fee of Rs. 500 for general candidates and Rs. 250 for reserved candidates.
Once after successful registration, candidates will be allotted a random number. This random number should be kept safely till the declaration of the final result.
Students can follow the steps below to fill out the application form for TNEA 2023.
Step 1: Visit the Official Website
Step 2: Click on the option given – Click Here to New User Registration for TNEA 2023.
Step 3: Enter the required details, including personal information, particular reservation information, scholarship information and other academic information.
Step 4: Click on the OTP option.
Step 5: Enter the OTP received and click on the Register option
Step 6: Check for all the registration details and click on the "OK" button.
Step 7: Now, with the TNEA login credentials, candidates can log in to the TNEA website and complete the online payment process.
Step 8: Once the payment process is completed, download the Application form.
Step 9: Take the printouts of the downloaded application form
Step 10: Click on the logout button.

TNEA Eligibility Criteria 2023
Those candidates appearing for Tamil Nadu Engineering Admissions should fulfil the following eligibility criteria set by the authority.
The TNEA eligibility criteria are given below:
Age criteria
As per the TNEA rules, the age criteria should be between 18 and 25 years.
Academic Qualifications
Candidates must have passed their intermediate or Class 12 from a recognised board with Chemistry, Physics, and Mathematics as compulsory subjects.
The minimum mark required for TNEA admissions is 50% in intermediate or Class 12.
Domicile Criteria
Candidates should be native of Tamil Nadu state and have completed their intermediate or Class 12 from the state of Tamil Nadu.
Candidates from the state of Tamil Nadu who have completed their Class 12 or intermediate education from another state are also eligible to apply for TNEA 2023. These candidates must submit a native certificate as proof to the conducting authority.
Candidates who are the children of employees working for the central government or whose parents are All India Service Tamil Nadu Cadre Officers can also apply for TNEA 2023 by submitting the parent's native certificate as proof of who has been serving the state of Tamil Nadu constantly for the last five years.
TNEA Rank List
The TNEA rank list will be released by the Directorate of Technical Education (DoTE), Tamil Nadu, by the second week of Aug 2023 at the official website- tneaonline.org. The TNEA rank list is used to determine the eligibility of the candidates for the TNEA counselling process.
Those candidates who appeared for TNEA 2023 should use the TNEA login credentials to check their TNEA 2023 rank list.

TNEA Online Counselling
The TNEA 2023 counselling process will also be done in online mode.
Candidates need to use the TNEA login portal for the online counselling sessions.

TNEA Reservation for Sports Quota
Sports Quota Reservation is a special category reservation reserved for all sportspersons. As per the rules, a two per cent seat is allowed for admission.
Sports candidates in the Tamil Nadu state can get the Sports Quota Reservation by submitting all sports achievements certificates with the necessary forms.
Listed below are the names of some available sports to get admission through the sports quota in this examination for the engineering courses.
| Chess | Shooting |
| --- | --- |
| Cricket | Volleyball |
| Cycling | Swimming |
| Tennis | Badminton |
| Hockey | Basketball |
| Kabaddi | Table Tennis |
| Kho Kho | Yoga Asanas |
| Football | Billiards and Snooker |
TNEA 2023 Courses Offered
Through TNEA, candidates will be offered various undergraduate courses in engineering like BE and BTech in different specialisations. Listed below are a few specialisation courses.
Food Technology
Civil Engineering
Chemical Engineering
Automobile Engineering
Information Technology
Electrical Engineering
Mechanical Engineering
Biotechnology Engineering
Computer Science Engineering
Electronics & Communication Engineering
Vocational Courses
The following list of courses is available for the candidates to choose from as their vocational subject:
| Group Code | Name of Vocational Subject |
| --- | --- |
| 421 | General Machinist |
| 422 | Electrical Machines and Appliances |
| 423 | Electronic Equipment |
| 424 | Draughtsman Civil |
| 425 | Auto Mechanic |
| 426 | Textile Technology |
Participating Colleges of TNEA 2023
Altogether, around 510 to 520 colleges in Tamil Nadu accept TNEA admission for BTech admission. Given below is the list of the top 10 participating Colleges of TNEA.
| List of Few Top Institutes Accepting TNEA | Number of Seats Available |
| --- | --- |
| St.Joseph's College of Engineering, Chennai | 540 |
| Velammal Engineering College, Chennai | 600 |
| Coimbatore Institute of Technology, Coimbatore | 700 |
| Thiagarajar College of Engineering, Madurai | 860 |
| Madras Institute of Technology, Chennai | 900 |
| Dr. Mahalingam College of Engineering and Technology, Coimbatore (MCET) | 1110 |
| Kumaraguru College of Technology, Coimbatore | 1200 |
| College of Engineering, Anna University, Chennai | 1290 |
| Adhiyamaan College of Engineering, Hosur | 1380 |
| Kongu Engineering College, Erode | 1680 |
TNEA 2023 Fee Structure
Given below is the fee structure for TNEA 2023.
Particulars
Fees
Total Fees
Rs. 9180 – General
Rs. 7180 – SC/ST
Rs. 7180 – First Graduate General
Amount to be paid at the time of counselling
Rs. 5000 – General
Rs. 1000 – SC/ST
Rs. 5000 – First Graduate General
Balance amount to be paid at the time of admission
Rs. 6180 – General
Rs. 4180 – SC/ST
Rs. 2180 – First Graduate General
Frequently Asked Questions on Tamil Nadu Engineering Admissions 2023
Q1
What is the official website of TNEA?
The official website of TNEA is – tneaonline.org.
Q2
What are the credentials required for TNEA Login?
The candidate's credentials required to log in to the TNEA window are email address and password.
Q3
On what basis the TNEA 2023 rank list will be published?
The rank list of TNEA 2023 will be prepared based on the total marks of 200.
Q4
When will the TNEA 2023 supplementary counselling date be released?
TNEA 2023 supplementary counselling dates will be released after the general counselling is over.
Q5
What is the admission process for TNEA 2023?
The admissions for TNEA 2023 are based on the score or rank achieved by the candidates in the exam. There are also centralised counselling sessions conducted for candidates during which they can understand the colleges and finalise their choice.
Q6
When will the counselling process for TNEA 2023 begin?
The schedule for the counselling process for TNEA 2023 will be available on the official website. However, the counselling process is expected to start in the 3rd weeek of August 2023.
Stay tuned with BYJU'S for detailed information about the TNEA 2023 important dates, syllabus, counselling procedure, eligibility criteria, application form, required documents, etc.