The Secondary School Certificate Exam for Maharashtra State is conducted by the Maharashtra State Board of Secondary and Higher Secondary Education who also holds the responsibilities of formulating academic policies, syllabus and curriculum amendments for the students.
The SSC Board:
The Maharashtra SSC board conducts SSC exam every year that the candidates need to pass before pursuing higher education in their preferred streams. The SSC exam is very crucial as the merit in Maharashtra Board SSC Result is considered by the schools while allocating academic streams.
The MSBSHSE Class 10 exam consists of various subjects of science, arts and selected languages in which the students are required to score 35% (including theory and practical) to pass the exam. Nearly 1.7 million candidates appear for the Maharashtra SSC Board every year from all across the state.
SSC Maharashtra Year-wise Comparison:
Total Number of Students:
With the increase in the number of student enrollments every year, the Maharashtra SSC exam has become extremely competitive at present. The total number of students have notably increased in 2017 after a significant decrease in 2015 and 2016. The number for the year 2018 is 17.51 lakh students. Here a year-wise comparison of the total number of students appeared for Maharashtra SSC Board.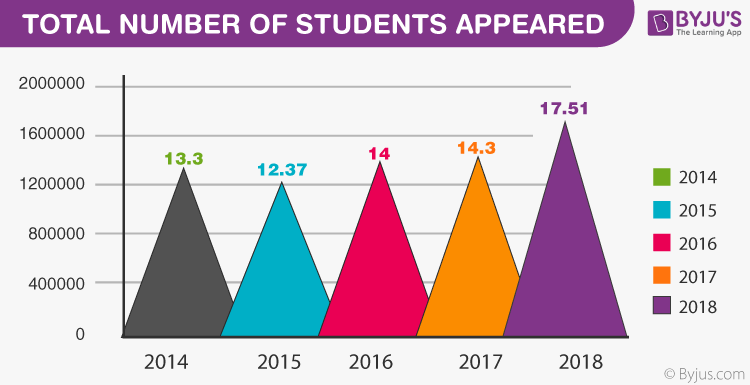 Overall passing Percent:
The performance of students in SSC Maharashtra has always been noteworthy with a high passing percentage. In 2015, the passing percentage was excellent with 91.46% which decreased in the next year. The passing percentage for the year 2018 is 89.41%. Below is a comparison of the passing percentage of the students year-wise.

Maharashtra SSC Board Exam and Results
MSBSHSE or the Maharashtra State Board of Secondary and Higher Secondary Education conducts the SSC exam every year for the students of class 10. The Pune based board also adapts various new amendments for the students to effectuate their learning. To know more about the different subjects and syllabus for the exam check out Maharashtra State Board Syllabus Class 10
The SSC exams are tentatively released within a month of conduction of the exam. The candidates can check their results on the official website after the release and take a printout of the same.
Stay tuned with Byju's get various engaging videos to learn more effectively. Also, get the latest updates on Maharashtra SSC Board exams along with the latest syllabus as mentioned by the board.
Some important links: