Indian Institute of Management Bodh Gaya (IIM-BG) is the 16th IIM in India. It is established in the year 2015 and is located at Bodh Gaya, Bihar in India. IIM Calcutta is now mentoring IIM-BG after successfully mentoring IIM Ranchi in the past. Like all the IIMs, IIM Bodh Gaya also consider CAT scores as one of the shortlisting criteria.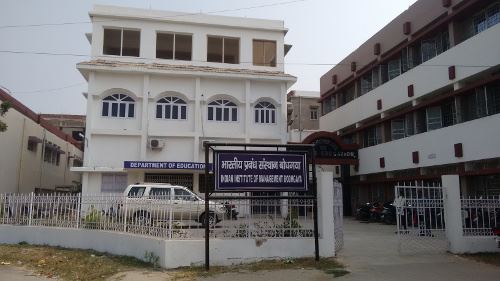 Bodh Gaya is the place where Mahatma Buddha obtained his enlightenment and hence it is the place of international tourist attraction.
Accademic Programme
IIM Bodh Gaya offers the Post Graduate Programme (PGP) in Management. The institution is expected to provide the standard specializations such as Finance, Marketing and HR.
Admission Policy for the PGP
Part A: Short-listing for Personal Interview (PI) and Written Ability Test (WAT)
Short-listing for PI and WAT comprises candidates achieving the minimum section-wise and overall percentile in CAT 2015 as per the table below:
Minimum Percentile for short-listing the candidates for PI and WAT stage
Category
Section – I

Verbal Ability

Section – II

Data Interpretation & Logical Reasoning

Section – III

Quantitative Ability

Overall
OPEN
≥ 70
≥ 70
≥ 70
≥ 96
NC-OBC
≥ 58
≥ 58
≥ 58
≥ 77.5
SC
≥ 50
≥ 50
≥ 50
≥ 59
ST
≥ 30
≥ 30
≥ 30
≥ 40
DA
≥ 30
≥ 30
≥ 30
≥ 45
Candidates securing the above-mentioned minimum percentile in each category in CAT will only be considered for calculation of their composite score in Part B. The actual section-wise and overall percentile of a short-listed candidate may be much higher than the above-mentioned minimum percentile.
Part B: Criteria for Final Selection for PGP
A candidate's final score for selection is calculated by allotting points for 10th Class and 12th Class percentages of marks.
Part C: Criteria for Final Selection for PGP
The final selection list will be based on merit in each category; minimum qualification on the above-mentioned criteria would not automatically qualify the candidate for admission into IIM Bodh Gaya.
More details about the admission policy is available in the IIM Bodh Gaya official site.
IIM Bodh Gaya Address
Indian Institute of Management Bodh Gaya
Directorate of Distance Education Building
Magadh University Campus
Bodh Gaya – 824234,
Bihar, INDIA
Prepare for CAT exam in a more effective and personalized way with BYJU'S. Keep visiting and download the app now to start preparing for CAT and ace it easily. With a proper CAT score, the chances of getting shortlisted for IIMs increases.